Be the envy of the neighborhood with the $34 Oxyled Waterproof LED Projector Light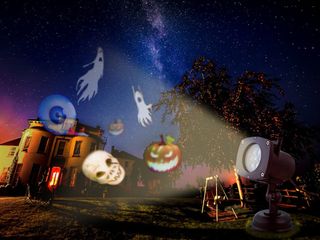 Amazon has the Oxyled Waterproof LED Projector Light (opens in new tab) on sale for $34.49 using coupon code TTQBPLM6 during checkout.
I love this projector light! It makes a great addition to your party lights and decor. You can skip the lights and decor altogether and just use this projector and your house will still look mighty festive. This projector includes 12 slides, ranging from Christmas to Halloween and snowflakes to stars images. You are set to be festive all year long.
Choose between the 4 working modes for slow, medium, fast or fixed images. The timer allows for an automatic 6-hour loop so no need for other programming. This projector is safe to use indoors and waterproof for use outdoors.
It's is easy to install, too. It is recommended to place the lamp 10 - 15 feet away from the surface you want to have it display on, and you can either set it on the ground or use the included stake to secure it. The 16.4-foot power cable is convenient for a hard-to-reach power socket. And that's it, the installation is complete.
I have a few useful tips for first-time projection users to reach the optimum projection performance. You will want to pick a surface area that can be easily seen from a distance and has nothing blocking it. Be sure your space is dark with little to no light around so you can see the projection clearly. With this particular projection light, it is suggested to not be over 16 feet away from your projection surface area.
With Halloween right around the corner grab a gallon of Great Party & DJ Fog Juice (opens in new tab) too add to your fog machine to make your house extra spooky.
TL;DR
What makes this deal worth considering? - With this offer, you are getting $20 off its sale price. This projector also has a nice 4.2-star rating

(opens in new tab)

.
Things to know before you buy! - You can use this projector for more than the obvious holidays and occasions. It includes slides such as butterflies, lipstick, stars and more.
See at Amazon (opens in new tab)
More from Thrifter:
For more great deals be sure to check out our friends at Thrifter now!
Jessica Bodey graduated in 2008 with a degree in Business, but with an economy collapsing all around her, and a fear of not being able to buy those overpriced designer handbags she loves so much, she quickly started looking for deals. She has never looked back. In her free time she enjoys spending time with her husband and 2 children, one human and one bull dog.
Get the best of iMore in in your inbox, every day!
Thank you for signing up to iMore. You will receive a verification email shortly.
There was a problem. Please refresh the page and try again.