With Bell's Fibe now on Apple TV, is this the beginning of a beautiful friendship?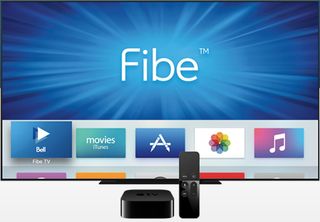 That's the headline you see when perusing the press release for Bell's new Fibe TV app, which came to the fourth-generation Apple TV earlier this week.
For those not in the know (or living outside of Canada), Bell is the country's largest IPTV television provider. The company has been working over the past two years to modernize the experience — and delivery — of television. Its Fibe TV service is slick, and perhaps one of the best IPTV implementations in the world: It supports wireless streaming to a number of set-top boxes, even over 4K; it allows for the pausing and resumption of live television, or the caching of whole live shows that can be restarted at any time; and it has a full suite of mobile apps for existing subscribers, including excellent iPhone and iPad versions.
And now it has an Apple TV app — the first in Canada. The app itself is quite nice, a hybrid of Fibe TV's native interface and Apple's standard Apple TV influence. If you're a Fibe TV subscriber, which requires not only a set-top box rental but one of Bell's internet packages, you can log into the app and stream as you would with any other receiver — minus the $20/mo. rental fee.
Admittedly, there are some shortcomings: Not all channels are available, only about 450; you can't restart shows or rent movies on demand; and you cant yet pause live channels or watch recordings stored on other boxes. The latter two features will be added in a future update.
Ultimately, though, this is good news for the generally slow-moving Canadian media landscape dominated by Bell, Rogers and Shaw in most of the country. Bell in particular has been haphazard in its support of over-the-air content distribution, choosing to tether its internet services as much as possible to a television subscription. You can't, for example, subscribe to TSN, the company's sports package, without a TV package. Only CraveTV, its Netflix competitor, can be accessed like Netflix or Hulu for a modest $7.99 per month.
Rogers, Bell's biggest competitor in the space, has experimented with untethered content offerings, bringing Sportsnet to anyone wants it for $24.99 per month, and its now-doomed Shomi service for the cost of a monthly Netflix subscription. Bell has offered a TMNGo app for Xbox for some time, but hasn't yet brought that one over to the Apple TV, either. Let's hope this move is a portent to a more meaningful investment in set-top boxes by the company, and the Canadian market as a whole.
The addition of an Apple TV app is Bell's way of testing the waters of such a strategy, to figure out whether the boxes subscribers already have in their homes — a $200 box that does far more than just pick up a TV signal — can satisfy the often-demanding needs of a very connected Canadian population.
Get more iMore in your inbox!
Our news, reviews, opinions, and easy to follow guides can turn any iPhone owner into an Apple aficionado
Daniel Bader is a Senior Editor at iMore, offering his Canadian analysis on Apple and its awesome products. In addition to writing and producing, Daniel regularly appears on Canadian networks CBC and CTV as a technology analyst.
Thanks for the article, Daniel. So it looks like you can only use the App if you're subscribing to the service already - that is, can't subscribe to just the app? But do you need their box? I'd just as happily always watch through Apple TV and not hook up the direct TV service at all...

Unfortunately you not only need Bell's television service but its internet service, too, to be able to use the Fibe TV app.

Just today i signed for EBOX's 120mbps unlimited service, i have fibe TV and internet at home right now and the app is actually making me reconsider my decision, bell's truly horrific customer service drove me to make the change and now the app is making me reconsider my decision

wonder what the chances of this working on Bell Aliant will be. I doubt it will but can't wait to get home and try.

From what I can tell it's currently limited to Bell-branded Fibe, no support for Aliant-branded FibreOP.

yep quebec and ontario only :(

What else is new, both rogers and Bell screw us east coast customers all the time!