Best cheap iPhone deals and sales November 2022
Finding the best prices on the best phone for you.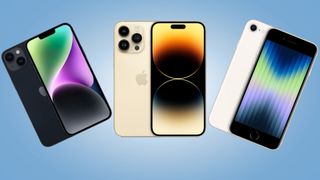 (Image credit: Future/ iMore)
There are often plenty of fantastic deals going on all of Apple's best iPhones, which is why it pays to shop around for a great deal. In this day and age, there's no excuse for paying full price for an iPhone, which is why we collate all of the best iPhone deals so you don't have to go searching.
Whether you want a contract, a phone to buy outright, trade-in support, or anything in between, we've got you covered.
Today's best iPhone deals at a glance
iPhone 14 Pro deals
So long notch! The iPhone 14 Pro is the smaller of the two more powerful iPhones, offering the same processing juice as its bigger sibling but in a smaller footprint. The screen is larger than last year, and that ever-controversial notch has been replaced with the 'Dynamic Island' - a black pill shape at the top of the screen that holds the front cameras and sensors along while acting like a new part of the user interface. Full price is $999, but there are some great offers already to get some money off. Make sure you're protecting your phone with one of the best iPhone 14 Pro cases.
These are the best iPhone 14 Pro deals around various retailers.
iPhone 14 Pro Max deals
When only the biggest and best will do then the iPhone 14 Pro Max is the way to go. The cameras are beefier than ever, and that new 'Dynamic Island brings all the UI improvements to the top of the screen. All this does come at a price - one to the tune of around $1099, and even more if you want the enhanced storage options. Thankfully, one of the best iPhone 14 Pro Max deals should set you on the right path to saving some money on Apple's "best iPhone yet". Oh, and before we forget, make sure you're protecting that massive screen with one of the best iPhone 14 Pro Max cases.
Best iPhone 14 deals
While it may not be the most powerful iPhone released this year, the iPhone 14 has a beautiful Retina display, excellent build quality, and some nice new cameras on the back. Does it look much different to the iPhone from the year before? Well, no, but it's still better. It'll set you back $799 full price, but here are some of the best iPhone 14 deals to make sure that you're not paying full price. Always worth grabbing one of the best iPhone 14 cases to keep that new phone safe as well.
Best iPhone SE Deals
The iPhone SE is for those that love iPhones but don't want to spend loads of money. They're still plenty powerful, sporting the same chip as the iPhone 13, as well as a nice small form factor. Is it the best iPhone ever? For some, it may well be, and given it only costs $429 full price, its pretty light on the wallet too. That doesn't mean you should be paying full price for one - not when there some of the best iPhone SE deals out there waiting for you to find them. Make sure you keep that iPhone nice and safe with one of the best iPhone SE cases as well.
Best iPhone 13 & 13 mini Deals
The iPhone 13 may now be last year's model, but there's still plenty to like. They launched in 2021, and tend to retail for around $699 for the larger 13 and $599 for the smaller mini. If you want a small iPhone, then the mini is your last hope - the mini model was swapped out for the new iPhone 14 Plus this year.
The powerful A15 bionic chip is under the hood, powering the smartphone's slick UI - according to Apple, with a 50% boost in processing power over the previous model. There's also an excellent camera on the back, improved battery life, and a brighter screen.
Don't forget to protect your new iPhone 13 - here are the best iPhone 13 cases. Bought a mini? No worries - these are the best iPhone 13 mini cases.