Best charging docks for Nintendo Switch Lite 2022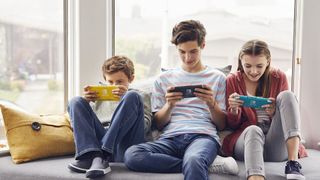 (Image credit: Nintendo)
While the Switch Lite from Nintendo is primarily a handheld device, if you want to play it with friends or with an external controller, you will need a good charging dock to keep it powered while you play. The TNE Switch Lite charger stand is an excellent choice with colors to match every device and a light strip that looks cool and will help you find it in a dark room.
You got the power
Why you can trust iMore Our expert reviewers spend hours testing and comparing products and services so you can choose the best for you. Find out more about how we test.
While there are many charging docks out there, they are mostly the same thing from different manufacturers. These are the nicest ones we could find for you to use without doubling up on docks. The TNE Switch Lite charger stand is our staff pick as it has a great viewing angle and a light that both looks cool and makes it easy to find your Switch Lite in a dark room. It's also designed specifically for the handheld and comes in matching colors. The Meneea charging dock is another great choice since it's also color matching and is so small you can fit it in your pocket.
These accessories also can protect your device from power surges, give you extra battery life, and store game cartridges. Whichever dock you choose, you'll be able to keep your Switch Lite charged and ready to go at a moment's notice.
Samantha Nelson writes about gaming and electronics for iMore, Windows Central and Android Central while also covering nerd culture for publications including IGN and Polygon. She loves superheroes, RPGs, cooking, and spending time outside with her dog. You can follow her on Twitter @samanthanelson1.
Thank you for signing up to iMore. You will receive a verification email shortly.
There was a problem. Please refresh the page and try again.