How to use a PS4 controller with Nintendo Switch
For those who just can't get enough of those shapes.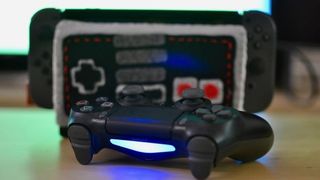 (Image credit: iMore)
How do you use a PS4 controller with Nintendo Switch?
Best answer: With the help of a wireless adapter, you can successfully connect your PS4 controller to your Nintendo Switch and get to gaming!
The Nintendo Switch's Joy-Cons are clever little devices with impressive haptic feedback and sweet motion controls. However, their small size means they can quickly become uncomfortable while playing your favorite Switch games. Sure, you could purchase the Pro Controller, but that's pretty expensive. If you already happen to have a PS4 controller lying around, here's how to use your DualShock PS4 Controller with your Nintendo Switch.
How to use a PS4 Controller with Nintendo Switch consoles
Why you can trust iMore Our expert reviewers spend hours testing and comparing products and services so you can choose the best for you. Find out more about how we test.
Keep this in mind: Wireless adapters only work while the Switch is connected to the Dock or with a USB-C adapter.
1. Plug your wireless adapter into one of the USB ports on the side of the Switch dock.
2. On your Switch, go into the System Settings.
3. Scroll down and select Controllers and Sensors from the menu.
4. Select Pro Controller Wired Communications to turn it on.
5. With your Switch docked and awake, push the Pairing button on your wireless adapter.
6. On the PS4 DualShock Controller, hold down the PS button and Share button simultaneously. The indicator light will blink white to show it's in pairing mode.
7. Once the white blinking on the PS4 DualShock controller turns solid blue, it should be paired. If it's not, follow the steps again.
So, there you have it. Now you know how to use a PS4 controller with Nintendo Switch consoles. Now, it's time to play some of the best Nintendo Switch games. The Joy-Cons are certainly fun, but sometimes you might want a controller with a little more heft to it. This is a great workaround if you don't want to plunk down some cash on a Nintendo Pro Controller.
Our top equipment picks
8Bitdo Wireless USB Adapter
Designed with Nintendo in mind
While many other adapters will certainly work, the 8BitDo wireless adapter is specifically designed to be used with the Switch. This makes it a great choice for pairing a DualShock with the Nintendo.
DualShock 4 Wireless Controller
Your Joy-Con replacement
The DualShock 4 is the workhorse of the PS4. It's a great controller to employ on your Switch as well. If you don't already have one, you can pick one up for a reasonable price on Amazon.
Other wireless Switch options
If you don't want to go with the 8BitDo wireless adapter, here are some other options to consider.
Mayflash wireless adapter
Connect in a flash
This wireless adapter has a USB port on the other side, so you can plug in your Xbox One or PS4 controller to pair it. Once paired, you can unplug the wired connection.
(opens in new tab)
Skywin Wireless controller adapter
Triple threat
The Skywin Wireless Controller Adapter has a USB port on the other side and works with wired or wireless controllers. You can switch between modes using the convenient button on the side.
Nintendo Switch Pro Controller
Officially a classic
If using an adapter sounds like too much of a hassle, you might as well get the Pro Controller. It has an ergonomic design that's more in line with traditional gamepads. Plus, it was specifically designed for the Switch.
Comfort from your very own couch
Connecting controllers to your Nintendo Switch is easy — it's remembering where the X button is that's the hard part. Once you've got an adapter of your choosing, connecting is a breeze. For those who need something bigger than the Joy-Con controllers that come with the Nintendo Switch, this may be the key to enjoying the great games that the Switch has to offer.
If you've upgraded to the PS5, check out our guide for connecting your DualShock PS5 Controller to your Switch. If you're more of an Xbox fan, we also have a guide for connecting your Xbox One S/X controller with Nintendo Switch consoles.