Best educational games for kids for Nintendo Switch 2022
By Alex Huebner last updated
Your kids can learn while they play these Nintendo Switch titles.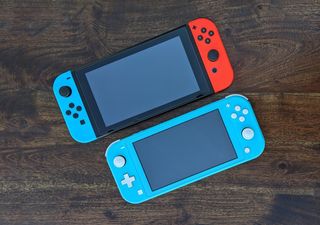 (Image credit: Rebecca Spear / iMore)
The Nintendo Switch is a great console for kids. Aside from setting your child's console up with one of the best Switch cases to keep it protected, the next best thing to is to set it up with some educational games for Switch. This way, your kids can play in a way that's good for their brain instead of just traveling a fantasy land saving a princess, although that is fun too. With the best educational games for Switch, your kids will have so much fun, they won't even know they're learning. Here are a few we recommend.
BodyQuest
This science-based game is for kids age 6+ with different content for age groups 6-7, 8-9, and 10+. Players are trying to save their friend Finn from an evil infection! They are shrunk down to fight off bacteria and viruses. Along the way, they learn about the musculoskeletal, digestive, circulatory, respiratory, and nervous systems.
BodyQuest
Finn caught an infection! Luckily for him, you are able to shrink down to the bacteria's size and fight off the virus while learning about the body.
Buy at: Nintendo (opens in new tab)
Game Builder Garage
Learn what it takes to make a game with this visual, step-by-step guide to programming and game design. Through fun, game-like lessons, players will be able to create their own games and play them when they're complete! This is a fun option for middle-school kids, parents, and grandparents alike to enjoy some time together learning a new skill.
Eat Your Letters
Teaching kids to clean their plates and how to look for words in letters all in one! This cute game is all about figuring out how many words you can spell when given a select few letters. Find them all to get to the next level! There is a selection of difficulty levels, so both younger and older children will get just the right level of challenge in the 540 available levels.
Eat Your Letters
In this fun food-based game there are puzzles where you have to find all the words in letters to clean your plate. Choose a difficulty level and dig in!
Buy at: Nintendo (opens in new tab)
Little Mouse's Encyclopedia
Explore nature as Little Mouse! While you find new things among nature, a new encyclopedia page with all kinds of information on the plants, animals, and other items you discover is created. This children's book illustration style world has four fun areas to see.
Little Mouse's Encyclopedia
An interactive encyclopedia where players go through the pages as a little mouse, learning about the nature around him along the way.
Buy at: Nintendo (opens in new tab)
Abbie's Farm for kids and toddlers
Being on the farm includes a lot of chores every day learning! Kids will have a great time learning about animals, how to grow food, counting and cooking in the kitchen, and more. These simple games are easy and fun for little kids to play and learn.
Abbie's Farm for kids and toddlers
Abbie takes kids on a journey of learning through daily activities. Help her out around the farm and in the kitchen and learn about every step along the way.
Buy at: Nintendo (opens in new tab)
Educational Games for Kids
This game offers 20 different games for kids ages 3-11. Playing these games will help kids learn math, logic, reflexes, memory, and more. It will even keep track of your child's progress so you can see what they're learning.
Educational Games for Kids
Enjoy 20 activities available for kids from ages 3-11. Track progress along the way and see how far your child comes from the beginning!
Buy at: Nintendo (opens in new tab)
Memory Lane
A great game for all ages, Memory Lane is a simple test of memory. Cards are laid out across beautiful, peaceful backgrounds with a match to each card. Select two and find the one that matches. Remember where you found the matching pair and clear the board!
Memory Lane
A memory game for players of all ages! There are beautiful cards and backgrounds to choose from while you try to find the matching pairs.
Buy at: Nintendo (opens in new tab)
while True: learn()
Get artsy

Make education creative with Colors Live! Follow the color quests to create different images based on the prompts and learn how to use the different tools together. This game comes with a special pen to use with your Switch to draw on it.
In this cute coding game, you play as a coder whose cat is also good at coding. Build a cat-to-human speech recognition system so you can talk to your cat! This silly game actually teaches kids about coding and programming and how machine learning works.
while True: learn()
Cuteness, cats, and coding all come together in while True: learn(). Learn coding while you try to build a system that will allow you to talk to your coding cat.
Buy at: Nintendo (opens in new tab)
Jeopardy!
Jeopardy! is a long-time family favorite TV game show with trivia in many areas. Get everyone involved with family mode, adapted for family play.
Jeopardy!
Bring a game show favorite into your own home for your family to join in on. Test your trivia skills and earn the most points to win!
Buy at: Best Buy (opens in new tab)
TRIVIAL PURSUIT Live!
Another classic trivia option with family mode is TRIVIAL PURSUIT Live! You can choose which categories you want to play, the way your question and answers are entered, and difficulty level.
Big Brain Academy: Brain vs. Brain
Train your brain with a variety of games and watch your Big Brain Brawn score rise. You can play together as a family, each with your own score and difficulty level, or play online against other players in Ghost Clash.
Fun for everyone
These video games help give kids something fun and educational to do on the Nintendo Switch. Our favorite is Game Builder Garage, as it shows the behind-the-scenes of the games they enjoy playing. Another option for behind-the-scenes tech is while True: learn() plus it has the bonus of having a cat in the game; who doesn't want to talk to their pet? For more traditional topics get into BodyQuest and have them learn about their body inside and out!
If you are looking for something for a bit of a younger audience, get a case on your Switch and check out Abbie's Farm for Kids and Toddlers for simple gameplay that's educational and easy to learn. Or get the whole family involved with the classics, Jeopardy! and TRIVIAL PURSUIT Live! These show that learning can be fun, and video games don't have to be mindless. Your kids are sure to enjoy learning as they play.
Alex has been working with iMore as a Freelance Gaming Writer for three years. You can also find a few articles of hers on Android Central and Windows Central. She regularly covers Nintendo Switch games and accessories as well as iOS game apps. In addition to the Nintendo Switch, you may also find her playing on the PlayStation and PC. When she doesn't have a controller in hand she likes to spend her time with her husband, son, and dogs, exploring new places, or hiding away with a book (or comic book). A few of her favorite games include the Zelda franchise, Little Nightmares, and Animal Crossing.
Get the best of iMore in in your inbox, every day!
Thank you for signing up to iMore. You will receive a verification email shortly.
There was a problem. Please refresh the page and try again.