Best Game Builder Garage IDs 2021: From Mario Kart to Zelda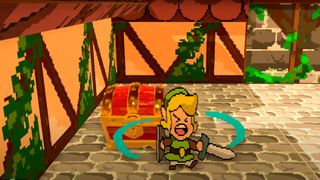 (Image credit: iMore)
Nintendo's Game Builder Garage has finally released, making it possible for players to easily create their very own video games. Unfortunately, the game doesn't allow you to simply browse other people's projects like Super Mario Maker 2 does. However, if you know someone's Game Builder Garage ID or Programmer ID, you can play their creation. So whether you're looking for something fun to play or for inspiration for your own creations, here are the best Game Builder Garage creations we've seen. Of course, we've included an ID code whenever possible.
Game Builder Garage isn't a very big game as it only takes 1.0 GB, but still, it's a good idea to have a good-sized microSD card if you're going to be playing any Nintendo Switch games.
Make it yourself
(opens in new tab)
Controls for making your own games

Game Builder Garage is a simplified video game-making software that helps step you through the creation process little by little. You'll be making your own games in no time.
ID: G-000-2HV-VLG
The classic shooter has been recreated by @MrTiffles on Twitter. Get blasting those enemies while dodging their projectiles.
from GameBuilderGarage
ID: G-007-J4D-M3G
To start things off, @ u/zocker9000 on Reddit shared this fantastic recreation of Chrome's Dinosaur Game. But your internet doesn't have to be down to play it. Check it out with this code.
https://twitter.com/Jojosnonozone/status/1403378796368044036
ID: G-004-5JR-906
Remember how Nintendogs were some of the cutest games Nintendo ever made? Well, now @ichrin_anemone has recreated a version for Game Builder Garage.
ID: G-007-XVM-D6R
Looking at @Aybee9298's Mario 64 recreation fills me with nostalgia. Check it out and see what you think.
ID: G-002-KNG-M24
This is one of the most enjoyable sidescrollers to make its way onto Game Builder Garage so far. Check @Tanfor Dev's creation out for yourself.
ID: G-004-R4R-MCJ
Though this game is definitely well suited to creating sidescrollers, there are a few games with a more 3D feel, including this stealth game by @OniLink. See if you can beat it.
ID: G-007-6CF-DC0
@ShuggyTheBuggy has created this awesome top-down version of GTA V. Check it out to see why so many people have been loving it.
ID: G-008-1WD-PCT
Itching for a new Sonic game? This awesome creation lets you run around a large area collecting rings and shooting off platforms. Check it out!
ID: G-002-HVR-0JL
Feel the SNES nostalgia of the original Mario Kart with @BeardBear's creation. It looks so incredibly good!
ID: G-000-BF3-2CD
Break pots and chase down Cuccos in this awesome Zelda game created by @Giulytsme. There are even NPCs to see and hidden treasure chests to find.
A world of pure imagination
It hasn't been out for very long, but people have already created some awesome games for others to play. I'm sure we'll continue to be blown away with people's projects as time goes on and will continue to add a new Game Builder Garage ID when we see something awesome.
If I missed a creation that you think is really cool, let us know about it in the comments below.
Amazing gaming
(opens in new tab)
Popular gaming console

There are so many hits on the Nintendo Switch, and since you can play it both on the go and while docked to your TV, it's the ultimate gaming system.
Updated June 2021: Added even more wonderful games to the list.
Rebecca Spear is the dedicated gaming editor for iMore who loves playing games on Switch and iOS. She is a Zelda nut through and through and can also talk for hours about her favorite Pokémon games. She's written hundreds of guides and reviews over the last six years to the point that if you get stuck in a game somewhere, she can help you out. On any given day, you'll find her following the latest tech, digitally drawing with her iPad Air and Apple Pencil, reading a good book, or - you guessed it - playing video games. Follow her on Twitter @rrspear (opens in new tab) to see her post about her corgi, foster kitties, art, and favorite video game characters.
Get the best of iMore in in your inbox, every day!
Thank you for signing up to iMore. You will receive a verification email shortly.
There was a problem. Please refresh the page and try again.