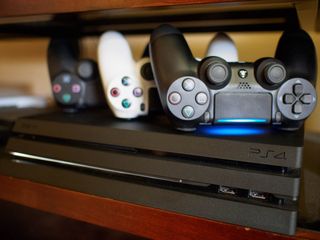 Choosing a game console right now is difficult. There are so many amazing games to play these days, but frequently these titles are limited to a single platform in one way or another. Choosing the right game console for you depends a lot on the kind of gaming you prefer to do and where you like to play.
With that in mind, here's our collection of the best game consoles!
Best Overall: PlayStation 4 Pro
If you want to play a ton of great games, have access to a decent online service, and stream everything in 4K HDR, PlayStation 4 Pro is the way to go.Sony's flagship console has been built from the ground up to do a little bit of everything. PlayStation has the best lineup of single-player, story-driven games that don't force you to be online to have fun. If online gameplay is your thing, there are a bunch of titles for that as well. It offers high-end hardware for those ready to plug into a 4K television, and if you want to go one step further with immersive gaming, the PlayStation VR upgrade is a ton of fun for just about every age.The biggest flaw to this console right now? It doesn't play well with others. If you have a game and your friend with an Xbox has the same game, you can't play online together. This problem is, in many cases, specifically limited to the PlayStation, and most reports suggest it's because Sony doesn't want to play well with others.But if you're looking to have the best overall gaming experience, this is the best place to spend your $400. Of course, if you don't want the same boring flat black version everyone else has, there are epic limited edition versions you can pick up for a little more.
Why PlayStation 4 Pro is the best
You can always trust iMore. Our team of Apple experts have years of experience testing all kinds of tech and gadgets, so you can be sure our recommendations and criticisms are accurate and helpful. Find out more about how we test.
Put simply, you can do the most gaming on a PlayStation right now. If you want to dive into a game solo and crush some skulls in God of War for a while, you can. If you want to play online, there are lots of options. If you are ready to explore VR gaming, PlayStation is the best place to start. If you want to stream games from your PlayStation 4 to your phone or laptop, it's super easy.
The PlayStation 4 Pro is the console with the most options for people who enjoy games. That doesn't mean it's the best in every category, just that it offers the most options and each of those options are a lot of fun on their own.
Best for Online Multiplayer: Xbox One X
Microsoft's flagship console is a heavy hitter in every way possible. It has a massive collection of 4K HDR games for fans to enjoy, the console itself is technically superior to its PlayStation counterpart in several important ways, and the new design is incredibly compact compared to the original Xbox One.But where Xbox as a platform really shines these days is online gameplay, due in no small part to the massive community paying for an Xbox Live subscription each month. Xbox is the destination for great online experiences, from a clean and well-implemented chat system to the fantastic track record of stability, even during huge game launches. Xbox Live is the golden standard other online gaming platforms get compared to, and in many cases, it isn't even close.As a result, a lot of the games which really stand out on Xbox are designed for online gameplay and straight up aren't as much fun to play by yourself. If that's cool with you, there's an Xbox One X waiting for your $500.
Best for Portability: Nintendo Switch
The downside to having most game consoles is how much work it is to bring the thing with you somewhere. Sure, you can make a PlayStation sort of portable with a bunch of other accessories, but it's hardly worth the experience unless you're going on vacation somewhere for an extended period of time. And honestly, if you're on vacation, you probably have more exciting things to do most of the time right?What makes Nintendo's latest console so brilliant is the way it was built for portability. You start off with the console connected to your television through a special dock, and when you want to leave the living room you just pull the console out and walk away. You don't even need to pause the game. It just immediately moves the display from the TV to the Switch. Most games drop from 1080p to 720p in visual quality when switching to the portable mode, but in exchange, you get a full game console which can deliver at least four hours of modern gaming right in your hands. Best of all, the controllers on either side of the console are unlike anything else you've ever used. These things combine full motion control functionality with a custom vibration system that makes everything feel more real than any other console.The Switch is an all around great experience, but especially if you're not at home often. And at $300, it's noticeably cheaper than the other heavyweight consoles you can buy today.
Best for Casual Gameplay: Apple TV 4K
There are those who consider themselves "gamers" and those who enjoy playing the occasional game. Not everyone who fits in that second category wants a big game console in the living room, and for those people I'd recommend picking up an Apple TV.As a streaming box goes, Apple TV offers everything you expect to see in a Smart TV but optimized for the Apple ecosystem. If you own an iPhone, you'll feel right at home with this system and all of your music and movies will be here for you to enjoy. But even if you're not deep in the Apple game this is a solid system for all of the other streaming apps. And if you grab a controller for your Apple TV, you actually get a decent little game console out of it. Games like Octodad: Dadliest Catch and Geometry Wars sit alongside classics like Sonic the Hedgehog to offer a diverse library to enjoy when you have a couple of minutes to yourself on the couch.Best of all, Apple TV fits in the palm of your hand. That means it's easy to make disappear on your entertainment center instead of taking up all of that space like a traditional console would. For $180, you're not going to find a better casual gaming set up for your television.
Conclusion
Everyone games a little differently, which is fantastic. And the coolest part of the gaming ecosystem right now if how many incredible options there are to have fun, either by yourself or with friends. But if you're looking for one machine to deliver something great from the whole gamine spectrum, Sony's PlayStation 4 Pro is where you want to be right now.
Master your iPhone in minutes
iMore offers spot-on advice and guidance from our team of experts, with decades of Apple device experience to lean on. Learn more with iMore!
Russell is a Contributing Editor at iMore. He's a passionate futurist whose trusty iPad mini is never far from reach. You can usually find him chasing the next tech trend, much to the pain of his wallet. Reach out on Twitter!