Best Nintendo Switch heavy duty cases 2022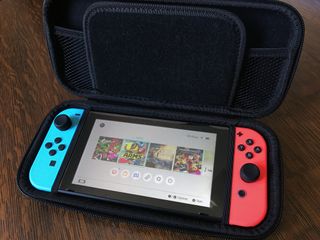 (Image credit: iMore)
There are plenty of Nintendo Switch cases that emphasize style and portability. Still, if you're paranoid or taking your Switch somewhere it might get seriously jostled or exposed to the elements, you're going to need something designed for serious protection. These are the best heavy-duty cases for Nintendo Switch, and by investing in one, you're less likely to need to pay to replace the whole console.
Safety first
The Nintendo Switch is an expensive and in-demand system, so you really don't want to seriously damage it when you're taking it on the go. Picking up one of the best heavy-duty Nintendo Switch cases will keep your device safe even if you drop it or spill something. Our top pick is the Deruitu Carrying Case because it's a compact way to safely carry your Switch along with some games, a charger, and extra Joy-Cons.
Beyond protection, these cases can also offer a great way to organize your games and accessories on the go. The Zadii Hard Carrying Case is the perfect pick if you're traveling with your dock, Pro Controller, and other key accessories. The RDS Industries Officially Licensed Switch Carrying Case is another strong choice since it's got room for game cartridges and microSD cards and also provides an adjustable stand to make playing more comfortable. Whichever case you pick, the purchase should give you more peace of mind when you take your Switch out of the house.
Get the best of iMore in in your inbox, every day!
Samantha Nelson writes about gaming and electronics for iMore, Windows Central and Android Central while also covering nerd culture for publications including IGN and Polygon. She loves superheroes, RPGs, cooking, and spending time outside with her dog. You can follow her on Twitter @samanthanelson1.
Thank you for signing up to iMore. You will receive a verification email shortly.
There was a problem. Please refresh the page and try again.