Best LED Flashlights in 2020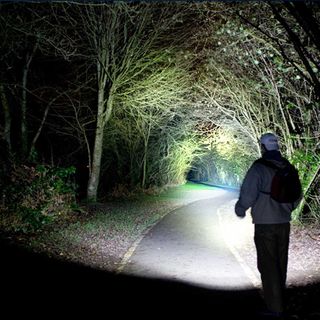 (Image credit: EcoGear FX)
LEDs (light-emitting diodes) are everywhere these days and has revolutionized many aspects of our lives. One thing that has greatly benefitted from LEDs — the flashlight. Flashlights are something that we all use, but generally don't think of when it comes to LEDs. LEDs allow for longer battery life and can give exceptional brightness from smaller packages. The best overall LED flashlight you can get is the EcoGear FX TK120, (opens in new tab) due to its high brightness, compact size, and flexible battery options. Below are a few of the best options out there when it comes to LED Flashlights to help you find what works best for your needs.
Best Overall: EcoGear FX TK120
A great flashlight is one that is reliable, durable, long-lasting batteries, and can work in a variety of situations. The EcoGear FX TK120 checks all of those boxes. Cranking out 1000 lumens of brightness with its included 18650 rechargeable battery — charger also included — you're sure to see whatever you point this flashlight at.
Built from solid, high-quality aluminum, this flashlight's body is both weatherproof and drop resistant. The EcoGear FX TK120 also has an adjustable zoom to get just the right spotlight or floodlight for your situation. There are five different light modes built-in: high, medium, low, strobe, and SOS signal.
The flashlight comes in a kit that includes a lanyard, an adapter to use standard AAA batteries, a battery storage case, a dual battery charger, two rechargeable 18650 lithium-ion batteries, and of course, the flashlight.
EcoGear FX TK120
Flashlight in full FX
Reasons to buy
+
High luminosity in a small package
+
Includes charger and rechargeable batteries
+
Zoomable light beam up to 1000ft
Reasons to avoid
-
The included rechargeable batteries aren't common
-
Requires adapter to use AAA batteries
-
Would prefer a dedicated mode switch
The bright LED, durable case, included charger and batteries make this compact flashlight an easy buy for next everyday carry.
Runner-up: GearLight S2000
In a close second place is the GearLight S2000, firing up to 1200 lumens from the XM-L2 LED. Built from high-quality aluminum, the compact flashlight is water and shock-resistant. This LED flashlight is powered by four AA batteries that fit inside of the included adapter to ensure they always make a good connection for reliable operation.
This bright flashlight has built-in zoom as well as five different light modes: high, medium, low, flash, and SOS. With its tactile grip, you'll always be able to keep a good grip on the light as you make your way through an emergency in the dark, go on an evening walk, or tell ghost stories at your next camp out. Regardless of what your need is for a flashlight, the GearLight S2000 is a bright and reliable option.
GearLight S2000
Solid back-up choice
Reasons to buy
+
Great brightness
+
Uses standard AA batteries
+
Good construction
Reasons to avoid
-
Prefer a dedicate light mode switch
-
Not rechargeable
-
Limited power options
This is a durable, bright flashlight, and though it uses standard AA batteries, dual-power sources would be a welcomed addition.
Best Value: GearLight S1000 Tactical Flashlight
GearLight is right back on the list with its S1000 tactical flashlight. Much like the S2000 that got the runner-up spot, it is a fantastic LED flashlight, only in an even smaller package. You'll be quite surprised by the amount of light that beams from this little flashlight.
It is made from the same high-quality military-grade aluminum that its S2000 sibling is crafted from as well as the textured handle for a sure grip. Even though the flashlight runs on two AAA batteries, there is still a long run time on the batteries. The flashlight does come with five beam modes, same as the S2000 — there's even an adjustable zoom included.
The big kicker on the S1000 linked here is that included with the purchase are two of the flashlights, lanyards, holsters, and the battery holders. The S1000 is weather-resistant and drop-proof up to 10 feet, so it's ready anytime you are.
GearLight S1000 LED Tactical Flashlight
Big light, small package
Reasons to buy
+
Very bright for the small size
+
Durable casing
+
Uses common AAA batteries
Reasons to avoid
-
Not rechargeable
-
Single power source option
-
The tail switch can be inconsistent at times
Like the S2000, the S1000 has a high-quality build and is very bright — perfect for the glove box or kitchen drawer.
Best Spotlight: BUYSIGHT 953 Rechargeable LED
When the need to light a large area calls, you need a powerful flashlight built for the job. The BUYSIGHT 953 Rechargeable LED is just that. Pumping out 6000 lumens from its CREE XHP-70.2 LED that can shine up to 100 yards, you can trust that whatever you want to see in the dark will definitely be seen.
This isn't your compact, keep in your purse or junk drawer flashlight. BUYSIGHT 953 is large enough to light large areas, but not unwieldy. Packed inside the durable, IPX6 waterproof case is a rechargeable 9600mAh battery setup. There's even a USB port on the back for you to charge devices like a cell phone directly from your flashlight.
There are three light modes so you can get just the right setting for your situation, a shoulder strap to go hands-free, and a shatterproof lens covering the LED. Whether it's a camping trip or you just want to have a flashlight to cover a large area, the BUYSIGHT 953 is a wonderful choice.
BUYSIGHT 953 Rechargeable LED
Large and in charge
Reasons to buy
+
Ultrabright 6000 lumens
+
Long-lasting rechargeable batteries
+
A USB port to charge additional devices
Reasons to avoid
-
Can be a bit bulky
-
Unable to use other batteries
-
No stand to prop up the light.
This flashlight can cover large areas and a great distance and is rechargeable, which can also be used to charge your phone too.
Best Rechargeable: Anker Bolder LC40
When looking at a purely rechargeable flashlight, it's a good idea to go with a brand known for their rechargeable products. Anker happens to be one of the best at rechargeable encased batteries, and it shows in the Bolder LC40.
This compact LED flashlight is surprisingly bright and can last up to 20 hours per charge on the medium light setting from the 3350mAh battery. Speaking of light settings, there are five of them: high, medium, low, strobe, and SOS. As for charging, Anker has made it simple to do with a standard USB cord this provided. The charging block isn't and they recommend to use one that is 5 volts 1 amp.
Build-quality for the body of the flashlight is excellent as well. The durable aluminum case gets you IP65 water and dust resistance on top of shock-resistance from drops. You get a built-in belt clip on the side and an anti-slip finish to ensure when you need to use the LC40, it's ready for you.
Anker Bolder LC40
Leading the charge
Reasons to buy
+
Great battery life
+
Simple recharging
+
Water and dust resistance
Reasons to avoid
-
No included charging brick
-
Can't zoom or focus the light
-
Unable to use standard batteries
Recharge this high-quality flashlight with the included USB cord, just bring your own charging brick.
Best Wearable: FOXELLI MX200
There are times when you need to light the night or a workspace, but you need to maintain the use of your hands. That'sThat's when something like a headlamp comes into play, and the FOXELLI MX200 does a fantastic job. With its soft, adjustable headband keeping your hands freed up and your area well lit, it's hard to go wrong.
A key feature for a headlamp is for it to be lightweight to avoid any strain, the FOXELLI MX200 weighs in at a mere 2.4 ounces. FOXELLI added another handy option with the 45 degrees adjustable light body to get just the right angle for your light. Speaking of the light body, it's also water-resistant so you can wear it in the rain without the worry of damaging your light.
Packed with a 1200mAh rechargeable battery via the included USB cable, you get up to 40 hours of use from the 180 lumens LED light. You also get five light modes for the LED: high, low, strobe, red light, and red SOS light. Whether jogging in the evening or working on your vehicle, this headlamp is there to help you get it done.
FOXELLI MX200
Head above the rest
Reasons to buy
+
Lightweight
+
Adjustable light angle
+
Long-lasting rechargeable light
Reasons to avoid
-
Cannot swap out the battery
-
No included charge brick
-
There isn't an option for a top strap
The MX200 is light, rechargeable, and has an adjustable light to help you tackle your tasks in the dark and keep your hands free.
Bottom line
There are so many choices for LED flashlights when you start shopping for one online, literally hundreds of options. Prices and styles are all over the place, and finding the right one can be difficult — and not all are created equally. It's good to have the right tool for the job. That's why the EcoGear FX TK120 (opens in new tab) is the best choice for most situation. It's reliable, bright, and very durable.
There are brighter flashlights and ones that may be a bit easier to recharge, but for its size, it's hard to go wrong with the EcoGear FX TK120. The fact that you get 1000 lumens of brightness from a small form factor and the rechargeable batteries are included as is the charger, makes this the choice for your "do-it-all" flashlight. Plus, the inclusion of an adapter for using standard AAA batteries as well means that should you forget to charge up the batteries, you can swap to a precharged option. So the next time you are in the market for an LED flashlight, be sure that you find one that is ready to light the night when you most need it.
Get the best of iMore in in your inbox, every day!
Thank you for signing up to iMore. You will receive a verification email shortly.
There was a problem. Please refresh the page and try again.