Best Low-Cost Lights for Your Smart Home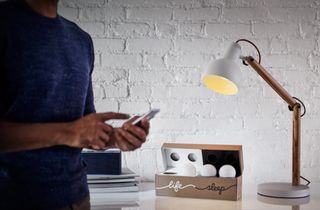 Smart bulbs (light bulbs that feature wireless communication for adjusting your lighting) are one of the most exciting, easiest to use smart home products. Whether you're thinking about dabbling in smart home tech for the first time or you're an experienced automator who just needs to add a few extra bulbs to your home, I've put together a list of some of the best low-cost smart bulbs money can buy. I'm focusing on low-cost options this time around, because going all-in on smart home tech can get costly quickly. Trust me, the first smart home product you buy will not be your last — building out a smart home setup is addicting; you'll end up wanting to add connected lighting, fans, plugs, etc. in every room of your home. So let's save you some money!
One thing to keep in mind: All of the bulbs featured in this article are white light bulbs; you're going to have trouble finding high-quality color bulbs at these prices. In fact, I'd recommend skipping any sub-$30 bulbs that claim to be multicolor; shortcuts and compromises start to happen at prices that low.
TP-Link Smart LED Light Bulb - White
TP-Link's white LED light bulb goes for $25 on Amazon; at that price, the bulb's feature set is pretty incredible.
The Wi-Fi connected bulb is dimmable, it works with both Amazon Alexa and the Google Assistant, and it doesn't require a hub or bridge for control. You can also control the bulb while you're away from home, giving the appearance that your house is occupied to deter break-ins.
With nearly 1,500 customer reviews on Amazon, the TP-Link Smart LED Light Bulb maintains a 4-star rating. Customers are thrilled with the bulb's Alexa integration and its freedom from a bridge or hub. Check out this excerpt from a customer review 😂:
Without the need for a hub, you're on your way to smart-home bliss after you purchase this bulb; if you've yet to invest in smart lighting and don't already own a bridge or hub, the TP-Link is a great choice!
Here's a handy spec chart:
| Category | Features |
| --- | --- |
| Lumens | 800 (60W equivalent) |
| Color Temperature | 2700K (soft white) |
| Dimmable | Yes |
| Bulb Life | ~23 Years |
| Lighting angle | 270º |
See at Amazon (opens in new tab)
Cree Connected LED Light Bulb - White
The Cree Connected LED light bulb goes for a mere $15 on Amazon, but don't let that price fool you. The major caveat here is you need to have a ZigBee hub in your home to control these lights. If you're wondering what the heck a ZigBee hub is, here's the skinny: Smart home products need low-energy, reliable means of communication in order to carry out your interactions (turn on the light, turn off the furnace, etc.). ZigBee is one of these means of communication — Z-Wave, Bluetooth LE, Wi-Fi, and Thread are some of the others. If you need help choosing a ZigBee hub, head over to my guide on HomeKit alternatives for recommendations!
OK, now that we're through that (admittedly long) tangent, let's talk about the Cree Connected bulb. If you've already invested in a ZigBee hub at some point, this bulb is going to save you so much money in upgrading to smart lighting.
Cree is already a popular lighting brand that's got a solid rep. for its LED bulbs and this'n's no slouch. Not only is it dimmable, its ZigBee connectivity means you'll be able to set up automations, out-of-home control, light scenes, and more. Now, all the automation magic happens via the ZigBee hub, not the bulb, so make sure you get a full-featured one.
If you're after some bright bulbs that work reliably with a ZigBee hub, you've gotta check out the Cree Connected LED Light Bulb. And I'm serious about that bright thing; review after review on Amazon praised this bulb for being "brighter than expected."
Here's a handy spec chart:
| Category | Features |
| --- | --- |
| Lumens | 815 (60W equivalent) |
| Color Temperature | 2700K (soft white) |
| Dimmable | Yes |
| Bulb Life | 25,000 hours |
| Lighting angle | omnidirectional |
See at Amazon (opens in new tab)
C by GE Bulbs
The C by GE line is rather interesting. With more products on the way, GE is currently offering two bulbs: C-Sleep and C-Life which are meant to be used in your bedrooms and the rest of your house, respectively. You can pick up a pair of C-Life bulbs for $28 and a pair of C-Sleep bulbs for about $40. C-Life bulbs are bright and slightly cold lights; C-Sleep bulbs vary between warm and cold light and dim and bright light.
The bulbs are Bluetooth-enabled, so you don't need a Hub to control them. But Bluetooth means local connection only — you won't be able to adjust these lights while you're outside of your home.
C-Life bulbs are meant to replace your everyday light bulbs — they turn on, they turn off, and they dim at your command. C-Sleep bulbs, on the other hand, are a bit more special: They automatically transition between periods of warm dimness and cold brightness to follow your sleep schedule. The lights will help wake you up in the morning by gradually fading on and cooling the light temperature and they'll help you fall asleep at night by gradually fading out and warming the light temperature.
It's worth mentioning the GE C-Life bulb gets a shout-out in The Wirecutter's best smart LED light bulbs roundup. Here's what it had to say about the bright, easy to use bulb:
C by GE is still relatively new, but one thing's for certain: GE knows what it's doing when it comes to lighting. If your idea of smart lighting is set it and forget it, C by GE is probably the right choice for you!
Here's a handy spec chart:
| Category | Features |
| --- | --- |
| Lumens | 800 - 850 (60W equivalent) |
| Color Temperature | 2000K - 2700K - 7000K |
| Dimmable | Yes |
| Bulb Life | ~20 Years |
| Lighting angle | 180° ± 20° |
See at Amazon (opens in new tab)
Sylvania Lightify LED Light Bulb - White
Sylvania Lightify is a $28 "tunable" white LED light bulb. "Tunable" means it can change the color temperature of the white lighting from a soft white 2700K to a cold bright 6500K. Just like the Cree Connected bulb, Sylvania's Lightify bulb uses ZigBee, so you're going to need a ZigBee hub to use these lights. As a reminder, you can check out my piece on the best alternatives to HomeKit for recommendations on ZigBee hubs.
$28 is a good deal for a multi-white LED lightbulb (as long as you already own a hub). It also doesn't hurt that the bulb has maintained a four-star rating on Amazon and is often bundled with hubs for a cost-saving way to start your smart home. Lastly, given that you've got either a Wink or SmartThings hub in your home, you can use Alexa to control these bulbs.
If a soft white light isn't exciting enough for you, this tunable white LED light from Sylvania might be just what you're looking for!
Here's a handy spec chart:
| Category | Features |
| --- | --- |
| Lumens | 800 (60W equivalent) |
| Color Temperature | 2700K (soft white) - 6500K (daylight) |
| Dimmable | Yes |
| Bulb Life | 20,000 Hours |
| Lighting angle | 180° ± 20° |
See at Amazon (opens in new tab)
Philips Hue White LED Light Bulb
You honestly can't go wrong with Philips Hue. The $15 Philips Hue White bulb is an easy addition to any Philips Hue setup. But that last part is especially important: This is a good deal if you've already got Philips Hue bulbs — and, more importantly, a Philips Hue bridge — in your home. If you don't yet have a Hue bridge, you can get two Philips Hue White bulbs and a Hue bridge for $70.
See at Amazon (opens in new tab)
When I'm asked for smart lighting recommendations, I recommend Philips Hue about 98 percent of the time. The bulbs are reliable, long-lasting, bright, inexpensive, and they're HomeKit-enabled! Unsurprisingly, The Wirecutter says Philips Hue's White and Color Ambiance bulbs are the best smart LED light bulbs. CNET says the Philips Hue Wireless Dimming Kit (which features a Philips Hue White bulb) is one of the best smart devices on the market, and PCMag gives Philips Hue's White and Color Ambiance bulbs an Editors' Choice award. It's because of their consistently stellar reviews and reliability that I suggest investing in a Hue bridge and going all-in on Hue lighting. Once you get over that initial cost, you're free to slowly (or quickly) collect bulbs over time.
If you want a reliable, well-reviewed, HomeKit-enabled light bulb, go with Philips Hue.
Here's a handy spec chart:
| Category | Features |
| --- | --- |
| Lumens | 840 (60W equivalent) |
| Color Temperature | 2700K (soft white) |
| Dimmable | Yes |
| Bulb Life | 25,000 Hours |
| Lighting angle | 180° ± 20° |
See at Philips Hue
Thoughts?
Did we miss your favorite low-cost smart bulb? Have you used any of the awesome bulbs we've included in this list? Be sure to give us a shout in the comments or over on Twitter — we'd love to hear your recommendations!
Mikah Sargent is Senior Editor at Mobile Nations. When he's not bothering his chihuahuas, Mikah spends entirely too much time and money on HomeKit products. You can follow him on Twitter at @mikahsargent if you're so inclined.
You do not need a bridge for Zigbee based products. Even the Hue bulbs will work without a Bridge. Lutron sells a remote control at Home Depot that will control just about any Zigbee based bulb. A bridge may be complicated to setup if you are mentally challenged. Regarding the TP-Link ...congrats you don't need a bridge but because they don't use Zigbee or have a bridge when your internet goes down so does your bulbs https://www.smallnetbuilder.com/smarthome/smarthome-reviews/33019-tp-lin... "Like most other Smart Home devices, all TP-Link Wi-Fi LED bulbs require an Internet connection to work. I disconnected the Internet connection of the AP that all of my wireless Smart Home devices use and tried to execute a command. The app was unable to execute the command until I reconnected the Internet connection." SmallNetBuilder Sorry that's a dealbreaker. You do not have a smart home if it breaks when the internet goes down. My advice to people is to choose something that is self-contained (requires no internet for basic functionality) yet offers remote access/control. Without a bridge a vendor must use a cloud account which "will" go down and strand you. What you want is a bridge with excellent coverage which is why Wink is popular. It supports Zigbee, Zwave and Lutron's ClearConnect. That's a lot of flexibility

The lack of HomeKit support in any product for the connected smart home is an absolute non-starter. No HomeKit, no sale!
Get the best of iMore in in your inbox, every day!
Thank you for signing up to iMore. You will receive a verification email shortly.
There was a problem. Please refresh the page and try again.