Best motion control games for Nintendo Switch 2022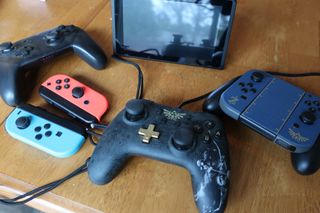 (Image credit: iMore)
Motion controls have been synonymous with Nintendo ever since the company popularized the control scheme with the Nintendo Wii. Some may scoff at motion controls, but they are often a great way to introduce non-gamers to games and add immersion for more experienced players. Luckily for us, Nintendo hasn't forgotten about motion controls just yet. The Nintendo Switch has many motion control games, and some of them are even some of the best games on the system. Here are the best motion control games on the Switch.
(opens in new tab)
Ring Fit Adventure - Nintendo Switch
Featured favorite

Ring Fit Adventure is unlike any other fitness game we've seen. Using the special Ring-Con, traverse 100 levels across 20 worlds, using real-life exercises to battle with a bodybuilding dragon. Burn calories and level up your character at the same time, and if adventure is not your thing, you can turn to quickly play for quick, traditional mini-games guaranteed to help you break a sweat.
Make your body the controller
Why you can trust iMore Our expert reviewers spend hours testing and comparing products and services so you can choose the best for you. Find out more about how we test.
These are the best motion control games on the Nintendo Switch. Any time we scoff at the idea of motion controls as a system gimmick, Nintendo turns back around and surprises us with incredible games that use the feature. You can't go wrong with any of these choices, but our favorite is Ring Fit Adventure. Taking advantage of the Joy-Cons in unexpected ways, Ring Fit Adventure is more than just exercise; it's a full-blown, fully realized action-adventure title.
But for those interested in solely fitness, Fitness Boxing 2: Rhythm & Exercise is a solid choice that will help you reach your fitness goals. Sync up with the music, and punch to the rhythm of the beat. Even cooler, if you have the first Fitness Boxing game, you can transfer your progress and goals into the new game, so it'll be like you didn't miss a day of your workout. Be sure to grab an extra pair of Joy-Cons so a friend can join in on your workout.