Best Nintendo Switch Cartridge Cases 2022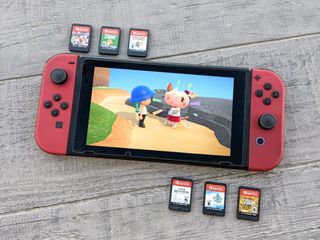 (Image credit: Rebecca Spear / iMore)
Considering the diminutive size of Nintendo Switch game cards, it only seems like a matter of time before one slides into the couch and just disappears into the ethereal world of missing socks. Some players prefer to have a digital collection to avoid the problem, but that can make it harder to share games and require extra storage via a microSD card. Luckily, there are plenty of great options for keeping track of your collection of games when you're home or on the go while also protecting them from being damaged. These are the best Nintendo Switch cartridge cases for players that prefer a physical game collection.
Storage wars
While many games are only available digitally, if you prefer to have a physical collection, you'll want to make sure it's safe and secure. There's nothing worse than wanting to sit down and play a game but being unable to locate it, except for maybe finding that the cartridge has been smashed or ruined by a spill. We recommend picking up the HORI Game Card Case as it's affordable and made specifically for Switch games.
Devoted Pokémon fans might like the FUNLAB Premium Game Card Case since it's designed to look like a Pokédex, though it only fits six cartridges. If you've got a bigger selection of games you want to keep secure, you can opt for the Sisma 80-Game Cartridge Holders Storage Case. Whatever you choose, you're sure to find value and peace of mind in having your games all in one place.
Get the best of iMore in in your inbox, every day!
Thank you for signing up to iMore. You will receive a verification email shortly.
There was a problem. Please refresh the page and try again.