Best Nintendo Switch Christmas games 2022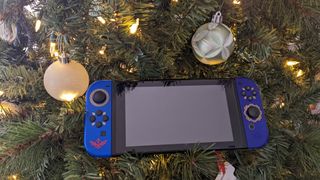 (Image credit: iMore)
For those who love Christmas, this is the most wonderful time time of the year. If you want to be all in on Christmas and bring some jolly experiences to your Switch gaming too, we've got the games for you. Get a full on Christmas experience with some Christmas time titles or see how developers bring a jingle bell touch to an evergreen game. Here are our favorites.
Animal Crossing: New Horizons
In Animal Crossing: New Horizons, villagers get to enjoy the change of the seasons in real world time. In addition to the snow beginning to fall on the island, fans can look forward to the famed Toy Day that happens on December 24. Music, presents, ugly sweaters, snow, and a special Toy Day event with Jingle the reindeer really immerse you into the Christmas spirit in paradise.
(opens in new tab)
Animal Crossing: New Horizons
Special Toy Day items are on the way! Make sure to visit your island on December 24 to see Jingle and help him out to earn some special presents.
Stardew Valley
While this game doesn't work in real time like Animal Crossing, from within the game during the winter season on the 25th day there is an event called Feast of the Winterstar. Players are given a villager at random to buy a gift for and the whole village does a gift exchange. There is snow and a beautiful Christmas tree in the center of Pelican Town giving all the vibes of the season.
(opens in new tab)
Get to winter in-game and get into the giving spirit! Build up your farm and your relationships with others in the town however you want.
Cozy Grove
This adorable indie title may be about camping in haunted territory, but that doesn't mean you can't catch any winter feelings from it! It runs based on real time so there are seasonal things available based on the time of year. The game just released in March of 2021 so we will be seeing their version of the winter season for the first time. While we aren't sure exactly what to expect yet, the Cozy Grove Twitter page indicated that the winter update will drop on the 20th of December.
(opens in new tab)
The island is changing all the time and the creatures on it need your help. You are quite literally the light in this world.
Super Mario Maker 2
Part of the joy of Super Mario Maker is the ability to create your own levels. This means you can get really creative with your designs and play on colors and items to create a winter wonderland of your own! Bring together objects in a new way to make your own Christmas in-game.
(opens in new tab)
Create a wonderland all your own in Mario style. With a little bit of creativity and the right items, you can make a magical Christmas level through your perfect vision.
Fortnite
What can make you feel more jolly than taking it to the battlefield with your buddies? This free-to-play battle royale offers players new skins, new challenges, and more. These are all offered with a winter theme and are given as part of a free update.
Show off your Christmas spirit with the Winterfest event update! Buddy up, gear up, and be prepared to be the last one standing.
Overwatch
Another shooter game offering a winter event is Overwatch with the 2021 Winter Wonderland event. Special Christmas skins for characters as well as winter-themed objectives will appear for players during the event. Players will also enjoy some new decorations around the maps for an extra touch of winter.
(opens in new tab)
It's 6 vs. 6 and it's up to your team to take over the map. It will take all of you working together to get it just right as each character has unique abilities to help each other.
Cthulhu Saves Christmas
Bringing back the old 8-bit style games and mixing horror and Christmas is Cthulhu Saves Christmas. If we can depend on a flying reindeer with an inexplicably glowing nose, why not count on an Eldritch Terror who has to save Santa to regain his powers? This is a short and funny adventure that has you fighting the evils of Christmas and laughing all the way.
Take on the League of Christmas Evil and help save Santa so he can deliver presents to all the girls and boys, or so you can get your powers back. This will have the whole family laughing all the way.
Have yourself a merry gaming Christmas
There are plenty of games to enjoy on your Switch with a Christmas flare. If you'd like to customize some things and add your own set of decorations, build your own island and deck the halls to your desire in Animal Crossing: New Horizons. But if you'd rather have a jolly good time taking down other teams with just a dash of Christmas spirit try the winter events in Overwatch or Fortnite. For a quick adventure with a lot of laughs, dive into Cthulhu Saves Christmas and enjoy the classic 8-bit style while you take down Krampus and other Christmas evils. No matter what you do, have yourself a Merry Little Christmas with your Switch in hand.