Best Nintendo Switch games under $20 in 2022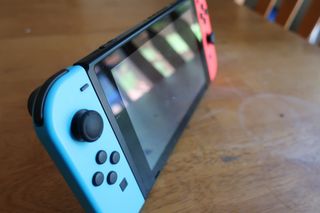 (Image credit: iMore)
Even years later, Legend of Zelda: Breath of the Wild will still set you back at least $40, which is fair for a massive open-world game that can easily occupy players for hundreds of hours. However, many of the best Nintendo Switch games don't cost that full AAA game price. There are tons of free Nintendo Switch games and plenty of Nintendo Switch games under $10, but if you're looking to spend just a little more without breaking the bank this holiday season, this collection is sure to have the perfect game!
(opens in new tab)
Celeste for Nintendo Switch
Featured favorite

Do you like platformers? Do you like challenging platformers? If you do, Then Celeste is certainly in your wheelhouse. The mechanics of Celeste are easy to learn and nigh on impossible to master. This game has pretty much everything going for it. It looks great, plays great, and is incredibly engaging for a 2D platformer. What's more, Celeste manages to construct a narrative that makes you genuinely care about your character. There's a reason this game was nominated for and won several awards.
Scandanavian folklore come to life

Nominated for the Game Awards Best Debut Game of 2020, Röki is an adventure and puzzle game that places you in the role of Tove, a young girl who must traverse an ancient wilderness. Tove will face creatures from Nordic folklore and solve the riddles of the wild if she is to save her brother Lars from the eponymous Röki. This beautiful and unique game tells a heartfelt story that will stay with players long after setting down the Switch.
(opens in new tab)
Now with four times the Kirby

Super Smash Bros. is a fine enough series of games, but don't you think it could use a little more Kirby? Well, if you do, this game is for you! All the fun of a Nintendo fighting game with easily four times the Kirby, Kirby Fighters 2 brings together all of Kirby's copy abilities, along with other iconic characters from the Kirby universe in a free for all fighting game.
(opens in new tab)
Namco Museum Archives, Vol. 1
Eleven classics in one

Why settle for one game under $20 when you could have 11? The Namco Museum Archives, Volume 1 features Galaxian, Pac-Man, Xevious, Mappy, Dig Dug, The Tower of Druaga, Sky Kid, Dragon Buster, Dragon Spirit: The New Legend, Splatterhouse: Wanpaku Graffiti, and a newly "de-mastered" 8-bit version of Pac-Man Championship Edition.
(opens in new tab)
Taking over grandpa's farm

If you love laid back sim games like Animal Crossing: New Horizons and Harvest Moon, consider Stardew Valley. This farming RPG may not be for everyone, but for those interested in a spiritual successor to the Harvest Moon games, you will be in hog heaven. Take over your grandfather's farm, clean it up, grow crops, make friends with the townspeople, and even battle your way through cave systems.
If you can't stand the heat...

Welcome to the Onion Kingdom, where you and your chef friends prepare epic meals to save the day. Each level in this quirky little time crunch game is a new cooking puzzle, and this Special Edition of Overcooked! includes two expansions found on other platforms. Even if you've played this game on another platform, you've never played the special Nintendo Switch version. It's lots of fun, especially if you've got local friends to jam with.
(opens in new tab)
An innovative co-op puzzle game

It's not often a launch title for a console that holds up well enough to recommend after the second wave of games is launched, but Snipperclips is just that good. This puzzle game forces you to think about yourself as both the character and the tool needed to solve the puzzle, making it uniquely challenging. It's also a solid multiplayer game, though single-player options exist if you're tired of your friends failing to follow instructions.
(opens in new tab)
Shape the world around you

After being separated from her granny in a storm, the hero of this game, Carto, must solve puzzles to find pieces of a map that, with her special cartography powers, can change and rearrange the world around her. If you can solve all the puzzles, you will lead Carto back to her family. Carto is a delightful game set to a beautiful soundtrack.
(opens in new tab)
Erase the past to face the future

If you're looking for a game that will really make you feel something, If Found... might be just what you're looking for. Described as a game about searching for a connection, this coming-of-age tale begins on the last day on earth. A black hole is about to swallow up the planet. Meanwhile, you are presented with the diary of Kasio, a trans woman struggling with her past and her present. This visceral story is likely to make you cry, laugh, and just feel.
(opens in new tab)
Overcome your inner demons

Iris and the Giant is one part RPG, one part roguelike, three parts collectible card game, and five parts poetic storytelling. You are given Iris's role, a young woman who struggles with depression and anxiety, and you must help her overcome these struggles by fighting monsters in her mind. Each battle rewards you with points to strengthen Iris, all while uncovering the memories that trouble her. This game has a lot of heart and a powerful story, coupled with a minimalist art style that really lets the story shine.
Co-op party fun with explosions

Alright, so you've got four robots, and each one is a different color with a different path they can take. Your job is to navigate all four across a series of increasingly challenging puzzles, so they all get to the goal without exploding. Got it? It gets harder because, in multiplayer mode, everyone gets to control a different color, and if you all don't work together perfectly, it's all ruined forever. This might be the best party game on the Switch right now, as long as that party is full of puzzle-addicted nerds who love being casually insulted by the in-game voices.
An immersive rhythmic ride

Grab the nicest headphones you can find, dock the Switch into the biggest screen available, and turn the lights all the way down. Thumper is a ridiculously immerse, frenetic thrill ride with a crazy good experience to match. You ride the rails down deeper and deeper into an impossible nightmare, doing your best to avoid being blown up by just about everything.
Graceful Explosion Machine
The colors, Duke!

Who says a 2D side-scrolling spaceship shooter needs to be all greys and reds and blacks with "realistic" ships and explosions? Clearly not the folks at Vertex Pop, creators of Graceful Explosion Machine. This 2D shooter is made of bright colors and diamond explosions with the friendliest soundtrack you're going to find in a game that doesn't have actual fluffy bunnies as the main characters.
What's your favorite?
Why you can trust iMore Our expert reviewers spend hours testing and comparing products and services so you can choose the best for you. Find out more about how we test.
While you can't go wrong with any of the games on this list, there are definitely some that stand out from the rest. Röki, of course, is incredibly unique and a touching story, not to mention beautiful. Celeste is easily the most challenging game on the list, making it the most rewarding to beat.
Snipperclips is both a ton of fun and keeps everyone in the room laughing, even if they're just watching. All three have won multiple, well-deserved awards, and though it was only nominated for an award, If Found... made me feel more than most any game out there. Just make sure you have enough storage for all of these awesome titles.