Best Nintendo Switch Stocking Stuffers 2020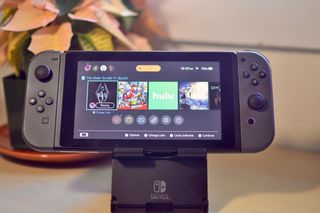 (Image credit: iMore)
Even with the release of two new consoles this year, the Nintendo Switch remains at the top of many holiday wish lists. $300 makes for a pretty pricey gift, and many of the best Nintendo Switch games cost about $50. Luckily, if you're looking for something more affordable, or just a little add-on to a bigger present, you have plenty of options. This guide to the best Switch stocking stuffers should help make any gamer's holiday a little brighter.
Play money

If you know someone with a Switch but aren't sure what games they might like, let them choose for themselves by buying them a digital card that will help them pay for one of more than 1,000 titles to download directly to their console. The cards are available in a wide variety of denominations, so you can choose the size that's right for your budget.
(opens in new tab)
amFilm Tempered Glass Screen Protector for Nintendo Switch
Keep it safe

The Switch's screen is vulnerable to being scratched and smudged. However, this highly durable screen designed specifically for the console will prevent damage and fingerprints while ensuring your game still looks great. The package also includes wet wipes and a micro-fiber cleaning cloth to keep it looking sharp.
(opens in new tab)
Orzly Carry Case Compatible with Nintendo Switch
Travel ready

The Switch's portability is one of the best things about the system, but it also leaves your pricey console vulnerable to damage. Protect it with the carrying case that also has room to stash up to eight game cartridges or microSD cards, straps to keep the Switch secure, and a pocket that can fit cables, Joy-Cons, and other small accessories.
(opens in new tab)
Teyomi Protective Silicone Case for Nintendo Switch
Get a grip

Most carrying cases won't actually keep your Switch safe while you're playing. However, this one features a shock-absorbing grip cover and tempered glass screen protector to prevent scratches and damage that could happen if you drop your console. It comes in five different colors and also has space to store two game cards. The grip should also make it more comfortable to play in handheld mode.
(opens in new tab)
AC Adapter Charger for Nintendo Switch
Power play

It's always a good idea to have a backup charger in case you lose one while traveling or you're like me and have pets who are prone to chewing through cords. This version will keep your Switch powered when you're playing docked or in handheld mode, and it can fully restore a charge in three hours. It also works for a Pro Controller, so you won't have to give up on playing the way you want.
(opens in new tab)
HORI Compact Playstand for Nintendo Switch
Stand and deliver

If you prefer to play your Switch in docked mode but don't want to take the dock with you when you travel, a play stand is an easy, lightweight alternative. This version will let you play while charging and can adjust between three different viewing angles so you can pick what's most comfortable. Rubberized grips will keep it from slipping off your table, and it folds up when you're ready to head out again.
(opens in new tab)
FastSnail Charging Dock Compatible with Switch Joy-Con
Joy to the world

Charge up to two sets of Joy-Cons at once on this stylish dock, which will protect them from short-circuiting or overheating while also providing you with a better place to store them than in a drawer. The LED lights glow red or green based on whether your controllers are still charging or ready to go.
(opens in new tab)
LeyuSmart Cat Claw Design Thumb Grip Caps
Press paws

Personalize your console with these cute covers designed to fit the joystick on a Switch or Switch Lite perfectly. The soft material will make play sessions more comfortable, keep your fingers from slipping and protect the Joy-Cons from scratches, dirt, and other damage.
(opens in new tab)
Joy-Con Comfort Grip for Nintendo Switch by TalkWorks
Get a grip

The Joy-Con grip that comes with the Nintendo Switch isn't particularly comfortable, but you can upgrade your experience on the cheap. TalkWorks' version is 4.5-inches by 6.8-inches compared to the standard 4-inches by 5.25-inches, making it a better fit for adults, and the ergonomic design will keep your hands from cramping during longer play sessions.
(opens in new tab)
DinoFire Upgraded for Nintendo Switch Controllers Wireless
Take control

If a Pro Controller isn't in your budget, you can still gift an upgrade experience with this wireless gamepad, which offers 10-16 hours of battery life and will automatically go to sleep if you leave it idle for five minutes. It's got turbo, motion control, and vibration functions, so you'll be able to use it for any game, and it comes with a three-year warranty.
Nintendo Switch Online 3-Month Individual Membership
Play together

Nintendo Switch Online membership gives you remote access to multiplayer games like Mario Kart 8 Deluxe and Animal Crossing: New Horizons, data backup, and a library of more than 70 classic NES and SNES games. It'll definitely help anyone make the most out of their Nintendo Switch.
Gifts that keep on giving
Getting a Nintendo Switch fan a Christmas gift doesn't have to be expensive. The best Switch stocking stuffers provide a mix of fun and functional add-ons to let players really enjoy the awesome console. If you don't know what they have or need, your best bet is to pick up a Nintendo eShop Gift Card (opens in new tab) since they can put it towards whatever game is on their wish list.
A Nintendo Switch Online 3-Month Individual Membership (opens in new tab) is another great choice since it's needed to use the multiplayer features of some of the most popular games on the system and plenty of classic games come with Nintendo Switch Online. If you know someone who just got a new Switch, you can also outfit them with an Orzly Carry Case (opens in new tab) to keep it safe. Whichever of these Switch stocking stuffers you pick up, they're sure to be appreciated.