Best photo editing apps with extensions for Photos on Mac in 2020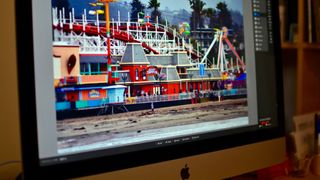 (Image credit: iMore)
Photo editing programs are hugely popular on Mac. There are lots of opinions on which are the best. With the Photos app on Mac, some of the best editing programs have extensions so you can quickly jump in to edit your photos without having to first load them into their full-service apps. If you want to quickly touch something up or add some filters, highlights, and corrections, these great apps are perfect for your in-Photos for Mac experience.
Pixelmator
You can always trust iMore. Our team of Apple experts have years of experience testing all kinds of tech and gadgets, so you can be sure our recommendations and criticisms are accurate and helpful. Find out more about how we test.
Chances are you've probably heard of Pixelmator. Often lauded as the ultimate Adobe alternative for Mac users, this full-featured photo editor (and its even more impressive Pro version (opens in new tab) was built specifically for macOS, allowing you to really harness the power of your Mac's unique capabilities.
With Pixelmator, you can make adjustments, add effects, and do pretty much anything else you'd expect to be able to do with an image editing program. However, you don't even have to open Pixelmator to reap its benefits — once downloaded, the app also offers an extension called Pixelmator Retouch that allows you to retouch your favorite shots without ever needing to leave the native Photos app. This includes blemish repair, complex object removal, cloning, light adjustments, color adjustments, and the ability to blur or sharpen your images.
$30 - Download Now (opens in new tab)
Affinity Photo
Like Pixelmator, Affinity Photo is a pro-level photo editor often praised for its sophistication and versatility. In fact, its iPad version actually won App of the Year back in 2017. Affinity is engineered to enhance the workflow of professional photographers, designers, and digital artists, but don't let that scare you away if you're interested — its interface and tools are intuitive enough for a beginner to use, making it super easy to amp up your images no matter your skill level.
Within the app, you can do everything from editing RAW images to creating multi-layer compositions (and much, much more). The fun doesn't stop there, though. Affinity Photo also boasts six extensions that can be used within the Photos app: Affinity Develop, Retouch, Liquify, Miniature, Monochrome, and Haze Removal. Each pretty much does as its moniker describes. For instance, Monochrome allows you to create artistic black and white images, while Retouch lets you correct images by removing red-eye, healing blemishes, and getting rid of pesky extra objects. The only one that doesn't have a function easily discernible from its name is Miniature, which allows you to give your photos a cool depth-of-field blur.
$50 - Download Now (opens in new tab)
Polarr Photo Editor
Polarr is a good option for those who want something like Lightroom, but would prefer to be able to try it before committing. Polarr has a free version that you can grab and use, and if you like it, you can opt for the Polarr Pro subscription, which is $2.49/mo or $24 a year. There's also a one-time purchase option for $70 if you'd rather not subscribe.
With Polarr, you'll get many of the same functions as Lightroom, and it also works with both RAW and JPEG images, so there's no issue with compatibility. However, Polarr has a much cleaner and simpler interface that is lightning fast, while still providing you with all of the tools you need for a perfect photo. You have custom filters, batch exporting, dual lens effects and adjustments, layers and blending modes, and more. Polarr is highly customizable, so you can make it entirely yours.
The Photos extension for Polarr brings many of the editing tools in Polarr right into Photos itself, so you don't even need to have Polarr open to edit with it. Edits you make get rendered instantaneously with no lag, so you don't need to wait. The only drawback is that this is destructive editing, so your original won't be available once you save any changes.
Free - Download Now (opens in new tab)
Photoscape X
For those who want a fun and free photo editor, Photoscape X is a great option to consider.
Photoscape X combines a photo editor, batch editor, photo viewer, cut-outs, collage combiner, animated GIFs creator, and more, all into one single package. It also works with RAW images too, so no worries there. The photo editor part of Photoscape X has all of the standard tools that you need, and the cut outs make it super simple to remove the background from images. And with things like batch edit, collages, and animated GIFs, it's easy to deal with multiple photos at once.
The extension allows you to harness the editing power of Photoscape X directly in the Photos app, without having to have Photoscape X open. Of course, you won't be able to do things like creating animated GIFs or collages this way, but for basic photo editing, it's great.
Free - Download Now (opens in new tab)
Photolemur 3
What if you want great-looking photos but don't have the time to edit them all individually? Then Photolemur has the Photos extension for you.
Photolemur's strength lies in its artificial intelligence, which automatically enhances any image without you having to do any legwork. With Photolemur, it analyzes images and then identifies their weaknesses, making adjustments to them with powerful and advanced algorithms. There's even a new feature called Face Finish, which will automatically smooth skin, remove imperfections, enhances eyes, and whitens up teeth. Portraits will never have looked better, and you don't need to lift a finger. There is even batch processing with Photolemur, so you can spend less time editing and more time shooting photos.
$36 - Download Now (opens in new tab)
Luminar 4
Luminar 4 is the latest iteration of the powerful photo editor and browser from Skylum. It works as a standalone app or as a plugin or extension for both Adobe and Apple products, like Photos and Photoshop.
With Luminar 4, there are a ton of intelligent algorithms to help make your photo editing life easier than ever before. The AI Sky Replacement can replace the entire sky in your photo to change the overall mood of your image, which was a challenging task before, but it's now entirely automated. There is even AI Skin and Portrait Enhancer features to get amazingly realistic results on your portraits that are done outside or in a studio, all through artificial intelligence. Luminar 4 can even detect specific areas in a photo that could be better and enhances them without altering the rest of the photo. Sources of sunlight can be moved around your image too, which can give you a totally new feel to a photo.
There are a ton of other intelligent features behind Luminar 4, but those are the most impressive ones. This is a powerful photo editor that can do amazing things in just a few clicks, and it helps with your overall productivity and creativity as well.
$89 - Download Now (opens in new tab)
Aurora HDR 2019
High Dynamic Range (HDR) may not be appeal to everyone, but there is no doubt that it can definitely improve an image. With Aurora HDR 2019, you're getting a powerful quantum HDR engine powered by artificial intelligence, so it only gives you the highest quality HDR.
With Aurora HDR, you get creative LUT mapping, polarizing filters, color toning, HDR Denoise, dodge and burn, details enhancer, and much more. And if you're concerned about doing a lot of editing work to get the perfect HDR, no problem! Aurora does all of the heavy lifting for you and gives you a beautifully enhanced photo in seconds. There are over 80 different HDR presets that you can use from acclaimed photographers like Trey Ratcliff, Serge Ramelli, Randy Van Duinen, and more. There are also advanced features like layers and masking, batch processing, and RAW support.
$99 - Download Now (opens in new tab)
What are your favorites?
These are some of our favorite photo editors on the Mac that utilize the Photos extension. Do you have a favorite? Let us know what you're using in the comments!
January 2020: Added Photolemur 3, Luminar 4, and Aurora HDR 2019 to the list.
Get the best of iMore in your inbox, every day!
Tory Foulk is a writer at Mobile Nations. She lives at the intersection of technology and sorcery and enjoys radio, bees, and houses in small towns. When she isn't working on articles, you'll likely find her listening to her favorite podcasts in a carefully curated blanket nest. You can follow her on Twitter at @tsfoulk.
I bought luminar 3 because I was so impressed with how well photolemur works on (note SOME) photos. I have somehow amassed 16 thousand photos from my wife's old computer, old cameras, duplicates, and just the sheer number of photos I have collected since 2005. The luminar setup seemed promising. I absolutely detest adobe - the software requires a quantum computer to manage,and worse adobe saddles you with a yearly membership that can't be broken without incurring the remainder of the payments. Moreover, it's unnecessarily difficult to use. Luminar seemed to be offering the editing capabilities of adobe, and the organization AI of Google photos. The former is not exceptional (note: it will automatically adjust photos when you import for the first time unless you are paying very close attention). However, the editing features seem to be improving quickly. I don't care about filters that much, but would like to be able to edit red eye or teeth and modify the colors of a photo. It does all of that fairly well. As an extension it's cumbersome tbh. I ended up not using it as an extension but switched between photos app and luminar as needed. Unfortunately when it comes to facial recognition, metadata, and the ability to organize photos it is way WAY behind the curve. I contacted support and they assured me these features are on the way, but right now you can basically sort photos in the same way as email: create folders and subfolders.

I've found Luminar 3 to be a great alternative to photoshop. You can download a 30-day free trial and try it. There is no subscription plans, once you buy you own. A great photo editing program for all forms of photographers. Beginners can use the program as a great starting point to learn photo editing. Luminar offers one click filters and universal tools like cropping, noise reduction, and image healing. For the more experienced photo editors Luminar offers editing tools such as brushes, layers, blending modes, texture overlays. Skylum, the makers of Luminar, offer educational webinars and a YouTube channel with many tutorials on learning Luminar. Skylum has a lot to offer and is a great value for the photo editing software. The support team is very helpful also and can get your questions answered pretty quick.