Best places to try a Nintendo Switch before you buy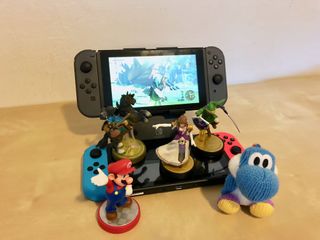 Spending hundreds of dollars on a console might seem crazy, so you might be the kind of person who wants to try it out before you spend that kind of money. If you're looking for places to try out the Nintendo Switch, there are several. Here are the best places you can try out the Switch in store today.
Target
Why you can trust iMore Our expert reviewers spend hours testing and comparing products and services so you can choose the best for you. Find out more about how we test.
Target is a great store to look at the Nintendo Switch. The kiosk is well set up and easy to find, and you can try out some game demos before you purchase some of them. The games for the console are located right next to the demo kiosk, so if you find a game you like, you can purchase it along with the Switch itself.
See at Target (opens in new tab)
Best Buy
Best Buy is the home of console demos, so it's no surprise that it made its way on this list. You can play through game demos, look at the gear it offers, and check out all the games. If you end up loving the console, you can pick up almost everything you need there, including traveling cases and even amiibos.
See at Best Buy (opens in new tab)
Walmart
Walmart might not be your first stop to check out the Switch, but it's just as good a place as any on this list. It may not have as many options as Best Buy or GameStop, but it's still a good place to start when looking at Nintendo Switch gear. It's a great go-to if you're still curious about the switch, but you don't want to get overwhelmed by gear as well as the console.
See at Walmart (opens in new tab)
GameStop
GameStop was one of the first places to get a kiosk with the Switch, so it's one of the best stores to go to try out the console. It has loads of amiibo, games, cases, and more, and it's a great place to start your hunt for all things Switch. If you want to try it out, GameStop is a good start that might even suck you in to buying a Switch and all things Nintendo!
See at GameStop (opens in new tab)
Where will you try out the Switch?
Where do you go to try out consoles before you buy them? Sound off in the comments below!
Updated January 2019: We've ensured that these are still the best places to try a Nintendo Switch before you decide to buy one!
Get the best of iMore in your inbox, every day!