Best Portable Charger for Philips Hue Go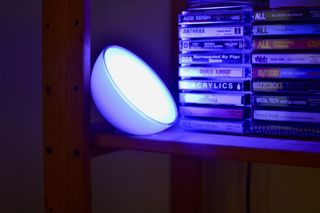 If you want to add some portability to your Philips Hue Go then you're probably going to want a power bank with an AC plug that doesn't take up a ton of space. There are other chargers that'll provide more juice but you probably don't want a box that's twice the size of the Hue Go sitting there looking like an eyesore. The Jackery PowerBar (opens in new tab) is perfect for these specific needs.
Our pick
(opens in new tab)
Mobile AC power in a small package

The Jackery PowerBar packs a mighty punch for its size. If you want to feed power to your Phillips Hue Go but you don't want a massive power bank distracting from its beauty, the PowerBar is the way to go.
Truly mobile AC power
There have been mobile power banks that provide power to plug-in devices for years. Unfortunately, most of them were constructed with little thought for visual design. Jackery is aware of this issue and set out to create a device that is designed with technological applications in mind rather than industrial. The PowerBank is housed in a sleek and attractive metal casing that gives it an awesome look. Its footprint is downright dainty compared to other power banks that offer an AC outlet.
This little powerhouse would be perfect for using with your Hue Go without drawing attention to itself. In fact, you could tuck it behind the Hue Go and not even notice that its there.
Excellent visual design
Small footprint
TSA approved
Awesome look with a small footprint
If you want a power bank that looks awesome and isn't a huge box that requires a handle to tote around then the Jackery PowerBar is perfect for your needs. There are not a ton of power banks on the market that are small and also offer an AC plug. The PowerBar measures only 6 x 2 x 2 inches and offers a relatively impressive 20,800 milliamp-hour battery. In terms of size versus capacity, it strikes an awesome balance Also, this little baby is TSA approved so you can take it on the plane with you. The Jackery PowerBar runs a little bit on the heavy side at about one and a half pounds, but all power banks that offer an AC plug could be considered heavy.
The great part about Jackery power banks is that it's clear that they put considerable thought into how their products look. When so many power banks with AC functionality look like lumpy hunks of plastic that would be more at home on a construction site than a desk, the Jackery PowerBar is a breath of fresh air. It looks great and it does the job incredibly well. I would have to assume that anyone who is a fan of the beautifully designed Hue Go is going to be conscious of visual design. If that's the case, consider the Jackery PowerBar to keep your light glowing in sleek minimalist style.
Alternatives to the Jackery PowerBar
If you don't really care about what your power bank looks like, or you find that the $120 being asked for the Jackery PowerBar is a bit too steep for your taste, there are other options. If all you care about is power capacity, you may want to check out the Jackery Explorer 160. If all you want is a power bank with a low price, look into the certified refurbished RavPower iSmart power bank.
Big capacity, big size
(opens in new tab)
When capacity is king

This box has such a vast capacity that it's measured in watts and not milliamps. The Jackery Explorer will provide you with hours of power for your Philips Hue Go and other devices to boot
This may not exactly be a power bank that you can slip in your backpack — it's about the size of a lunchbox. However, it'll give you 167 Watt-hours of juice. It also provides one USB-C port and two fast charging SUB-A ports. At $200 it's not cheap, but it is a beast. In addition, if you feel like dumping more money into this endeavor, you can also purchase solar panels implicitly designed for this charger. As far as I'm concerned, this is overkill for a Hue Go. However, if you could use it for other purposes like camping, it may be perfect for you.
Value pick
(opens in new tab)
Certified refurbished RavPower iSmart power bank
Low cost doesn't get much better

I understand that not everyone has hundreds of dollars to throw at a portable charging solution. No need to worry, RavPower can help you out!
This power bank may not be brand new in the strictest terms. However, it is refurbished and sold by the company that built and designed it and if you're going to buy refurbished, this is probably the best way to do it. Considering the fact that it can save you around $70, it may be worth considering.
Bottom line
As far as I am concerned The Jackery PowerBar (opens in new tab) is perfect for keeping some juice in your Phillips Hue Go when you are away from an outlet. It looks good, its small, and it has an AC outlet. It ticks all the boxes and can handle a simple specific task like keeping your light lit. There are other options that may be a bit more powerful or cheaper but I think the PowerBar is the Goldilocks charger for this application.
Get the best of iMore in in your inbox, every day!
Thank you for signing up to iMore. You will receive a verification email shortly.
There was a problem. Please refresh the page and try again.