Best replacement dock for Nintendo Switch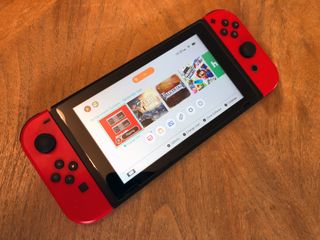 (Image credit: iMore)
Should you ever lose your Switch dock or have it break on you, the best move at this point is to replace it with an Official Nintendo Switch Dock Set (opens in new tab). Despite the price, this is currently the best and safest option.
Our pick
(opens in new tab)
Official Nintendo Switch Dock Set
The safest dock on the market

Unfortunately, there are a lot of reports about third-party docks bricking Switch consoles. The best way to be sure that your Switch is safe is to buy a real deal first-party dock.
For those looking for a reliable replacement dock
Why you can trust iMore Our expert reviewers spend hours testing and comparing products and services so you can choose the best for you. Find out more about how we test.
Whether you lost or broke your original dock or you just want a second one, you may be wondering which dock is best for your needs. There are plenty of third-party docks out on the market. However, it is important to be aware of the potential issues the come along with third-party docks. While they can be cheaper than an official Nintendo dock, there a lot of reports about third-party docks bricking Switch systems. An official dock may cost a bit more than third-party options when you consider the potential cost of replacing your Switch it's totally worth spending the extra cash.
Definitely wont brick your Switch
Reliable
Supported by Nintendo
The genuine article
For years now any time a video game console gains a foothold in the market, there a multitude of third-party hardware developers that unleash tons of add-ons and replacements onto the consumers. The Nintendo Switch is no different. There are loads of third-party options when it comes to replacement docks. However, when it comes to reliability, there is no better option than an official Nintendo dock.
The very fact that one can run the risk of bricking their Switch with a third party dock should be enough to push the average consumer to buy an official dock. And while Nintendo does offer a Stripped down version of the dock for quite a bit less, that version only charges your Switch and does not output HDMI to your TV.
I know that when I wanted to pick up a second dock to use on my other TV, the choice was clear. The official Switch Dock is the best option available.
Alternatives to the Official Nintendo Switch Dock
If you are dead set against paying $70 in order to pick up an official dock there are other options available. Here is what you can do if the price tag on the official dock is just too steep for you to pay.
Runner-up
The best second option

At almost half the cost of the official Switch dock, this may be something to consider.
While there are many third-party docks which are reported to brick you Switch, this Insignia dock is not one of them. It may not have the official support of Nintendo but it will get the job done for less than half the cost of our first recommended dock.
Bottom line
When it came to picking up a second Switch dock for myself, there was really only one option. I am not about to run the risk of bricking my Switch just to save a few bucks. The official Nintendo switch dock (opens in new tab) may cost a bit more than others but it is well worth the price in order to have the peace of mind that comes with it.
Get the best of iMore in in your inbox, every day!
Thank you for signing up to iMore. You will receive a verification email shortly.
There was a problem. Please refresh the page and try again.