Best ring lights for selfies 2023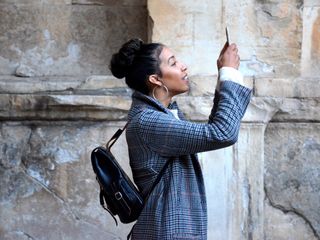 (Image credit: Angela Franklin / Unsplash)
Good photography is all about lighting. Get that right and you have a masterpiece, but get it wrong, and your snapshot is mediocre. Your selfies and videos will stand out from the sea of bad portraiture with a selfie light. My favorite model, the Neewer 18-inch ring light, comes with all the equipment you need to put yourself in the best light, and then some. It's perfect for selfies, group shots, and steady videos. There are other worthy choices to be had, though. These are my top picks for the best selfie lights this year.
Best overall: Neewer 18-inch LED ring light kit
Why you can trust iMore Our expert reviewers spend hours testing and comparing products and services so you can choose the best for you. Find out more about how we test.
Photographers everywhere should recognize the Neewer brand name. They've been releasing forward-thinking accessories since 2010. This pro-level selfie light set comes with all basics, plus a few extras you won't see in other offerings. Investing in Neewer gives you a 5500K LED ring and three-legged light stand, white and orange filters, a hot shoe adapter for cameras, a power adapter, a remote, a rotatable smartphone holder, and a carry case.
Let's start with the light. 240 efficient LEDs power this Neewer model. They're dimmable and cycle between low, medium, and high settings without trouble. The phone stand rotates 360 degrees and the tripod is made of heavy-duty aluminum alloy that stands up to the test of time while remaining lightweight enough to move from place to place. With the included remote, you can capture your best side, adjust light settings, and turn the ring light off and on. Unique to this model is the ability to shoot with a mirrorless or DSLR in addition to your phone. Sweet!
I love the included diffuser filters. You'll get two orange and two white filters that add a warm glow or give photos a crisp, bright, clean look. This kit is on the pricey side but it comes with so many extras that it's hard to argue the cost. This is a good setup for webcam streaming, pro shooting, or casual usage. Whether you're a videographer, star on TikTok, or take stills, this selfie light takes photo quality up a notch.
Neewer 18-inch LED ring light kit
Use a Phone or a camera
Reasons to buy
+
Low, medium, and high settings
+
Remote snaps photos and adjusts lights
+
Excellent build quality
+
Orange and white filters included
+
Phone stand rotates 360 degrees
Neewer's light has adjustable LEDs, a remote, tripod, filters, and a hot shoe that works with phones and cameras.
Best value: UBeesize 10-inch selfie ring light + tripod
UBeesize designs camera equipment accessories for professional photographers and budding hobbyists. They have an extensive selection of tripods and lighting options, all of them revered in photography circles. The product that really stands out is their 10-inch selfie ring light kit. It's been adopted as the tool of choice by YouTubers, live streamers, makeup artists, and selfie perfectionists.
The ring light has three color options: warm, cool white, and daylight, in addition to 11 brightness levels for each color. All totaled, that gives you 33 lighting options every time you shoot. The ring light sits on its own included pannable tripod that slides up from 16-inch to 50-inch, guaranteeing a good angle every time you mug for the camera.
The UBeesize kit comes with a Bluetooth remote for mostly hands-free operation and an iPhone 13 holder with an adjustable arm. It's a cinch to move smoothly from portrait to landscape mode and back again. The entire kit is a breeze to assemble and take down, plus it's lightweight enough to go anywhere. If I must find fault, it is with the remote. It does an excellent job of snapping pictures but is unable to adjust the light's settings. For most, this is a lightweight kit that includes everything you need to get professional-looking snapshots.
UBeesize 10-inch selfie ring light + tripod - Pink
A full kit when you need it
Reasons to buy
+
Three light colors
+
11 brightness levels
+
Full kit easy to assemble
+
Includes remote and tripod
+
Universal phone holder
When you want it all, grab this kit. You'll get a tripod, ring light, remote, USB cable, and universal phone holder.
Best portability: QIAYA Clip-On selfie fill light
Most selfies are spur of the moment and don't require an over-the-top or pricey studio setting. If that's how you operate, you want a portable setup that's small enough to tuck in a pocket while still adding a burst of fill light when needed. Allow me to introduce you to one selfie light that can do all that and more.
The QIAYA is an LED ring light that clips to the top of your phone, tablet, or computer. Its internal battery is rechargeable via USB, and yes, the cord is included. The QIAYA has 36 LED lamp beads that are controlled by a touch-sensitive switch. Push the button once for dim light, twice for medium-level light, and three times for ultrabright spotlights. Cycling through the light settings is intuitive and easy.
If you wear glasses, this may not be the ideal selfie light. My needed eyeglasses catch a glare on most shots. It happens more in the dark, but it's present in daylight pictures when I use it as a fill light. Still, the QIAYA is a steal at this price, and I continue to hang on to it because it is lightweight enough to go anywhere, and it has awesome battery life. If you need something portable and fun to use, this is one of the best selfie lights around.
QIAYA selfie ring LED circle
A Beautifully Designed Entry-Level Light
Reasons to buy
+
36 LEDs
+
Small enough to pocket
+
Touch-sensitive design
+
Rechargeable battery
+
Cheap
Reasons to avoid
-
Casts glare on those who wear glasses
The battery life is subpar, but it does an excellent job of lighting close-ups.
Best pro lights: GVM 600S
The GVM 600S is for those who want to take their photos and videos to the next level. This is one of the best selfie lights for pros. This kit comes with a selfie ring light, six detachable light bars, two power cords, a tripod, and a carrying case. When you need perfect lighting everywhere, this is the gear to put in your shopping cart.
GVM's 600S lights are dimmable so that you can set the mood for any video or photoshoot. The three-legged tripod is sturdy and adjustable, going from 32-inches to 87-inches. Set the tripod up on a desk, on the ground outside, or in a studio for perfect lighting anywhere.
This setup comes in a nylon carrying bag big enough for the whole setup. Grab the bag and go to any location or set up shop on your makeup desk or in a studio. The GVM 600S lets you add as much or as little light as you need and is the perfect selfie ring light kit for your professional-level photos or videos.
GVM 600S
Pro level lighting
Reasons to buy
+
Six removable light bars
+
Dimmable
+
Tripod included
+
Carry case
+
Camera mount
The GVM 600s is an LED ring light with six removable light bars that guarantee you get the best light everywhere.
Best halo light: Lamicall 10-inch ring light with tripod
Halo lighting places a perfect circle of soft light directly on your face doing away with strong shadows that harsh lighting produces. The circle halo light from Lamicall is 10-inches in diameter, so it casts a wide light that compliments makeup tutorials, TikTok work, YouTube, and snapshots.
This kit comes with a 67-inch tripod. Put it on your desk for Zoom calls and close-up work, or extend the tripod to its full height for action and distance shooting. The LED halo lights and tripod make this one of the most versatile selfie ring lights on our list.
This model only works with phones up to 6.5-inches, so if you're rocking a large phone or want something to use with your iPad, look elsewhere. A 6-foot USB cable powers this model, so you'll need access to electricity. If that fits your needs, we think you'll love Lamicall's quality and price.
Lamicall 10-inch ring light with tripod
A versatile light for your phone
Reasons to buy
+
Casts a wide, adjustable light
+
Excellent fill light
+
Tall tripod included
+
Versatile
+
Remote included
Reasons to avoid
-
Requires USB power
-
Only works with phones up to 6.5-inches
The handy Lamicall 10-inch selfie ring casts beautiful light and comes with an adjustable tripod.
Put yourself in the best light
Taking a good selfie is harder than it looks, and most fail in the lighting department. Even though phones have improved at a fast clip in the last two years, the front-facing selfie lens still falls short due to a lack of high-quality fill lighting. And this is where selfie lights come in.
My favorite kit is the Neewer 18-inch LED ring light. This is a pro-level kit with an adjustable 5500K LED ring. It comes with a three-legged tripod, white and orange filters, a remote, a hot shoe adapter for your camera, a rotatable smartphone holder, a power adapter, and a carrying case. The 240 LEDs in the ring are efficient, dimmable, and can cycle between settings quickly, so you never miss a shot. The phone stand rotates 360 degrees and the tripod is heavy-duty, strong enough to support a full-size DSLR.
My only groan is the cost. It's a little more expensive than some of our choices, but it comes with extras you won't find with cheaper ring lights. It's also a light that will step up your streaming or photography. For that reason, I think this is the best ring light for selfies this year.
Get the best of iMore in your inbox, every day!
Jodi Owan works behind a keyboard and a camera. She's a freelance writer for iMore, Android Central, and Windows Central.