Best Samsung 4K TVs in 2022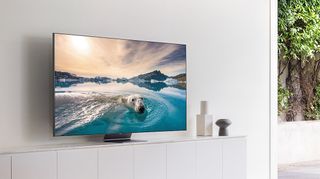 (Image credit: Samsung)
Samsung has been making quality TVs for a long time now. In fact, it has some of the best picture quality in the industry at the moment. If you're looking for a new TV complete with 4K for all your streaming, movie watching, and gaming needs, take a hard look at what Samsung has to offer!
4K Today
Samsung TVs are some of the best in the business with fantastic picture quality, smart features like voice assistant controls, and they available at wallet-friendly price tags. Whether you are looking to upgrade that old 1080p TV to the best possible 4K quality, or just simply need a durable TV that will last for years, there's a Samsung TV for you.
We love the Samsung Q60T QLED TV (opens in new tab) as hits the sweet spot for both quality and price, with a UHD 4K QLED screen and a 55-inch model for around $700. If you are just making the upgrade to 4K, then this TV will
Looking for a Samsung 4K TV for the living room that doesn't look like a traditional big screen? Samsung's The Frame (opens in new tab) line of TVs gives you the image quality that you need, in a package that looks like a work of art. This TV even has a mode that puts some of your favorite paintings or pictures on display when someone walks by.
Christopher spends most of his time writing and dreaming about all things HomeKit. If you wish to join him on his quest to automate everything, you can follow him on Twitter at @itschrisclose.
Get the best of iMore in in your inbox, every day!
Thank you for signing up to iMore. You will receive a verification email shortly.
There was a problem. Please refresh the page and try again.