Best Zelda Switch controllers 2022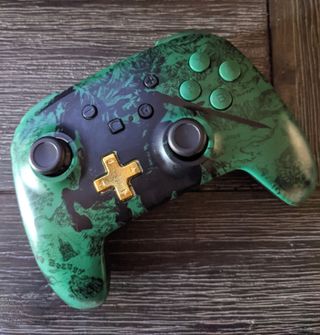 (Image credit: iMore)
When playing The Legend of Zelda games on the Nintendo Switch, your success is all about wielding the right tool, which translates in real life to having the best Zelda Switch controller. Many of these are PowerA controllers because they have a wide variety of design and style choices. They are also very well made and comfortable to hold. As you know, it's dangerous to go alone, take one of these!
Please note: These controllers are sold in limited quantities and may not be available directly through any retailers. If you want to get your hands on something rare or previously sold out, you may have to purchase through a third party. Please check to ensure you're buying from a reputable seller.
(opens in new tab)
PowerA Enhanced Wireless Controller - Midnight Ride
A wireless work of art

This is a beautiful-looking controller from PowerA with 30 hours of gameplay on a full charge. It's wireless to help you keep the handheld freedom the Switch offers. Motion controls are even included, so you get all the same playability you'd get from the Joy-Cons or Pro Controller.
PowerA - Enhanced Wireless Controller - Link Silhouette
Gorgeous and green

A wireless controller in another Zelda design is the PowerA Link Silhouette controller. It has the same motion controls and battery life as the Midnight Ride controller but has more of your traditional Legend of Zelda colors. The map as a background to Link and Epona's silhouette brings beautiful detail to this design.
PowerA - Wired Controller - Breath of the Wild
A wild choice

In the style of Breath of the Wild, this wired controller comes with a velcro strap so you can wrap up the cord and keep it tidy when you're done playing. It's an affordable option with a 10-foot cord and is officially licensed by Nintendo.
PowerA Enhanced Wired Controller - Hylian Shield
Simple and beautiful

Enjoy the beauty of the royal symbol and a clean controller with this Hylian Shield design. The directional pad has a nice golden touch. This wired option also has programmable buttons on the back and a place to plug in your headphones.
(opens in new tab)
Hori Pad Controller The Legend of Zelda
Change of direction

This Hori Pad controller is also Nintendo licensed. It is a subtle design with dark gray Zelda symbols on a black controller with a gold Hylian Crest in the center. The directional pad can be individual buttons, or you can place a cover on it to have the + pad instead. The back features a place to safely keep the pad in case you want the buttons.
(opens in new tab)
PowerA Enhanced Wired Controller – Retro Zelda
Going retro

If you want to take it back to the very beginning of it all, take this! The retro design celebrates the 8-bit days of gaming and has a brilliant pop of green of the buttons and joysticks on a flat black controller with the classic line, "IT'S DANGEROUS TO GO ALONE! TAKE THIS." written in a shiny black. It has a 10-foot cord and an audio jack spot for a headset.
Which will you take?
There are various options for choosing the best Switch controller to fit your Zelda needs. Many of these options include PowerA controllers as they are Nintendo licensed with long battery life for wireless controllers and a long cord if they're wired. Luckily they have created many designs, so you have options!
Our favorite is the PowerA Enhanced Wireless Controller - Midnight Ride. It has a beautiful design with unique color, and not being tied down with a wire makes it easier to play, however, wherever. But the wired options like the PowerA Enhanced Wired Controller – Retro Zelda are a great option to save money as long as the cord doesn't bother you. Which option is your favorite?
Alex has been working with iMore as a Freelance Gaming Writer for three years. You can also find a few articles of hers on Android Central and Windows Central. She regularly covers Nintendo Switch games and accessories as well as iOS game apps. In addition to the Nintendo Switch, you may also find her playing on the PlayStation and PC. When she doesn't have a controller in hand she likes to spend her time with her husband, son, and dogs, exploring new places, or hiding away with a book (or comic book). A few of her favorite games include the Zelda franchise, Little Nightmares, and Animal Crossing.
Get the best of iMore in in your inbox, every day!
Thank you for signing up to iMore. You will receive a verification email shortly.
There was a problem. Please refresh the page and try again.