BiteSMS vs Messages+ for iOS 5: which should you use?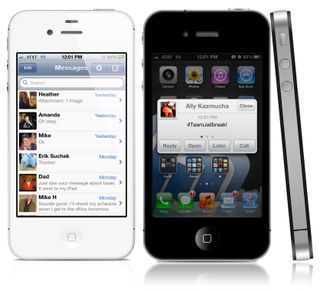 The amazingly functional and customizable BiteSMS takes on the deeply integrated and easy to use Messages+ in a battle of the jailbreak messaging apps
Are you jailbroken on iOS 5 and wondering whether you should purchase BiteSMS or Messages+? Both applications add quick reply functionality and make messaging more functional. But which is a better choice for you?
BiteSMS for iOS 5
BiteSMS has been a long time favorite when it comes to messaging enhancement applications. Many competitors have come and gone while BiteSMS seemingly manages to stay at the top of its game.
One thing that sets BiteSMS apart is its ability to customize almost every aspect of your experience. You can choose what buttons you'd like to show up on your quick reply windows such as send, open, close, mark for later, Skype, FaceTime, templates, and more. The quick compose feature provides the option of auto-populating contacts. You can choose for it to auto show favorites, the last person you messaged, and more.
If you send a lot of international text messages, Bite allows you to buy credits to use on their own network. I don't necessarily recommend it as a way not to have traditional text messaging as the rates aren't cheaper than most carriers domestic rates. They are, however, cheaper than most carrier international texting rates. AT&T, for example, charges $10/month for 100 international messages. After that, it's $0.20 per message. You can set up per contact rules for sending messages as well. So if you have certain contacts in a different country, only then will Bite utilize your credits. Bite's prices are as follows -
$6 for 50 SMS credits
$12 for 105 SMS credits (includes 5 free credits)
$24 for 215 SMS credits (includes 15 free credits)
$60 for 550 SMS credits (includes 50 free credits)
$120 for 1200 SMS credits (includes 200 free credits)
While BiteSMS has a sleek user interface in its own right, you can definitely tell it isn't something made by Apple. People who choose to theme and don't like the stock look of iOS may actually prefer this. Those of you who like to stick with the stock look may have an issue with it. It's also worth noting that BiteSMS is compatible with both LockInfo and IntelliscreenX.
Messages+ for iOS 5
Messages+ is an update of the messaging enhancement app TLert. The update not only brought a more streamline experience but deep integration into iOS 5. It literally looks like something Apple would release.
While BiteSMS aims to bring you an array of different customizations and user controls, Messages+ aims to be an easy to use add-on that just works. There's next to nothing to configure. You just enable Messages+ and set up a quick compose gesture and you're on your way. Messages+ also comes built-in to IntelliscreenX.
If your main reason for wanting a messaging enhancement app is to not have to stop what you're doing to compose a message, Messages+ will provide this functionality without any added icons. It simply adds a quick reply and quick compose function to the default iOS messaging app.
While Messages+ ties in nicely with IntelliscreenX, it is not currently supported by LockInfo. If you're a LockInfo user, BiteSMS is going to be your best option. We don't know if LockInfo will add support for Messages+ in the future.
BiteSMS vs Messages+ - which is better?
There's no arguing that BiteSMS still has plenty more features and controls than Messages+. It will really come down to what you personally need from a messaging enhancement application.
I personally prefer Messages+ over BiteSMS as I don't send that many international texts and just desire quick reply and quick compose functionality. I also like the stock feel of iOS and Messages+ gives me that. There are no added icons or tons of settings to configure before you start using it. Enable it, set a quick gesture for composing, and you're done.
There are no doubt users out there who care more about control and functionality than interface and ease of use. For those of you that think heavily of these things, BiteSMS is probably going to serve you much better over the long run. Let us know what you decide on and why. Make sure to check out our other resources below for tons of jailbreak apps, themes, tips, and more!
Master your iPhone in minutes
iMore offers spot-on advice and guidance from our team of experts, with decades of Apple device experience to lean on. Learn more with iMore!
iMore senior editor from 2011 to 2015.