Bug: iOS 5 Newsstand icons out of place on iPhone and iPad Home screen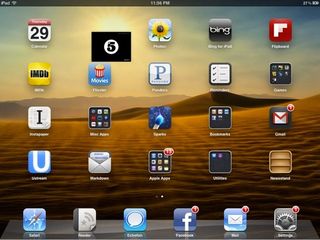 The other day I noticed an oddity on the Home screen of my iPad 2 One of the magazines that I'm subscribed to decided to jump out of the Newsstand folder and place itself on the Home screen.
I'm not exactly sure what caused this -- maybe it's the fact that I haven't updated this specific subscription since I first downloaded it -- but for whatever reason, after I performed a normal power cycle the magazine decided to randomly plop itself smack dab in the middle of my homescreen.
At first, I attempted to move the magazine icon back into the Newsstand folder, but that didn't work because the icon refused to enter jiggly-mode. In addition, I couldn't delete the subscription app because tap-and-hold wasn't working at all. Another aspect of the bug is that one of my favorite apps, Bloomberg TV+, had been removed from the Home screen completely (although it was still accesible via Spotlight search).
What's more, after performing a full restore of iOS 5.0.1, the same exact thing happened on my iPad, removing the Settings app from my iPhone Home screen not allowing it to to enter jiggly-mode in order to delete the magazine download.
Keep in mind, this bug is not incapacitating, but it is frustrating to see a big fat rectangular icon on your Home screen.
Magazine and newspaper subscriptions from Newsstand place themselves on the Home screen after reboot or restore
Upon attempting to remove the magazine/newspaper download, tap-and-hold as well as app deletion no longer works
Depending on how many subscriptions have this bug, you will lose the same amount of app icons from your Home screen once the problem arises
Failure to update effected subscription(s) over a certain threshold of time (unconfirmed)
Perform an additional power cycle after you notice the issue on your iPhone or iPad, then tap-and-hold to remove the effected subscription(s)
We've decided to cross-post this in the TiPb bugs forum to see if anyone else might be running into the same issue. If you know of a simpler fix -- or better yet, a confirmed explanation of what's going on here -- drop a comment in this post or jump into the forums to help other users who may be less fortunate if this specific fix doesn't work out for them.
Get the best of iMore in in your inbox, every day!
Andrew Wray is a Salt Lake City, Utah based writer who focuses on news, how-tos, and jailbreak. Andrew also enjoys running, spending time with his daughter, and jamming out on his guitar. He works in a management position for Unisys Technical Services, a subsidiary of Unisys Corporation.
Have you filed this as a bug with Apple?

This happened with Distro on my iPad. Wound up deleting the app to remove it from my home screen. Would love to see a fix to this problem asap!

Yep Distro did this for me too after the last update to news stand, preferred it as a standalone anyway... Not considered a fix yet or noticed any missing icons

Tottaly off topic, but I loved the iPhone wallpaper! Would you care to share it?
Thanks in advance!

some similar bug happened, but not with Newsstand:http://img825.imageshack.us/img825/6339/photo20120101020124.png

Ok! That's a really great update – have found a lot of useful there. Nice post!
Thank you for signing up to iMore. You will receive a verification email shortly.
There was a problem. Please refresh the page and try again.