Sex Tape is Cameron Diaz's new, cautionary comedy about iPad, iCloud, and Siri gone wrong! [NSFW]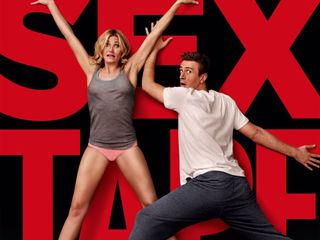 Cameron Diaz and Jason Segel star in the upcoming movie Sex Tape about a couple who use their iPad to record themselves in the throes of passion only to discover that iCloud has synced the video to all the iPads they've given away as Christmas gifts. Hilarity, as you might imagine, is supposed to ensue, and even Siri can't escape the resulting shenanigans unscathed.
Yeah, the very non-iOS-like video uploaded interface is painful to see but, Hollywood. While the premise might sound far-fetched, but we've heard a few stories here at iMore about how cloud sync has ended up putting private material in very public hands, so let this serve as a cautionary comedy for all — if you don't want to see it online, don't put it in digital form. Heck, don't put it in any form. That's what mind palaces are for!
Official synopsis and Red Band trailer below. (Red Band means adult language and partial nudity, so NSFW and parental guidance warnings in full effect!)
Get the best of iMore in in your inbox, every day!
Rene Ritchie is one of the most respected Apple analysts in the business, reaching a combined audience of over 40 million readers a month. His YouTube channel, Vector, has over 90 thousand subscribers and 14 million views and his podcasts, including Debug, have been downloaded over 20 million times. He also regularly co-hosts MacBreak Weekly for the TWiT network and co-hosted CES Live! and Talk Mobile. Based in Montreal, Rene is a former director of product marketing, web developer, and graphic designer. He's authored several books and appeared on numerous television and radio segments to discuss Apple and the technology industry. When not working, he likes to cook, grapple, and spend time with his friends and family.
May I be the first to point out that 'tape' recording went out years ago. Sent from the iMore App

It's just part of the vernacular now, like "record album".

You gotta love what appears to be a FCP 7 rendering pop-up for a cloud syncing animation, but hey, other than that - this looks hilarious!

Too bad iCloud doesn't sync video. :p Sent from the iMore App

Syncing pictures and photostream are two of the first things I turn off on a new iOS device. The same would be true if it could sync video. I am just not a fan of my digital media being readily available to others.

iCloud Theater will sync ya iMovies!

pictures can be damning enough … or very good for blackmailing your boss!

Now that's looks funny, and I'll bet Apple did not pay one cent of advertisement? Sent from the iMore App

While I'll find this hilarious for those days I just want to watch a dumb comedy movie, I know the tech nerd inside me will cringe at everything they're inevitable going to get wrong.

Trouble is tho. A couple of years from now that WILL really happen. Also it will be to someone that knows computers.

It looks awesome, really does anyone really understand iCloud? The whole 1000 photo max thing was news to me until I realized I had photos missing. Sent from the iMore App

I think iCloud is constantly evolving and it doesn't help that Apple doesn't release an instruction book (not that many would read it). How many people only get 10-30% usage out of their device compared to what a poweruser can get?

the problem is - the cloud is dangerous - very dangerous and I do not trust any company with any "data" .. and by "data" I mean data I deem important and sometimes unique to my identity. also the "cloud" has been around for at least 20 years - maybe more. The cloud is more of a marketing term and they are upgrading it a bit by attempting (sometimes failing horribly) to sync all your devices - from the phone, laptop, computer (traditional), car, phone and home. Security, functionality (and protection from this) along with privacy are often underestimated by many … Companies like FaceBook and Google I trust less than say Microsoft or Apple or Sony - since both have a vested interest in being as creepy as possible - maybe more so than the NSA - though at least they don't use tax payer money to spy of its products (us) and Google and FB are some what voluntary (no way to opt out of the NSA's illegal activities), but now i'm getting off topic.

Best line in the trailer: Its in the cloud. NOONE understands the f****** Cloud!

Let's start with the fact that no device starts syncing stuff by itself right out the box. They would have to setup each device with their own account for any of this to be even remotely possible which states just how smart they if they did that. And video doesn't even sync via iCloud. The shenanigans to get the iPads back look funny but the tech premise the movie is based on is so wrong it takes away from the comedic aspect ruining the movie as a whole. This is a movie I will gladly skip.

No one understands the Cloud. It is a f*ck'n MYSTERY!
So wrong and so funny - I hope there is more to this money that what's in the trailer.
and the mailman! It wuz (angry tone) Christmas! Spoiler! This is like the opposite of that Google movie were a young Google intern develops a program to prevent drunk txt - ops - Spoiler! Which is great and all, but this one might be better (not saying much).

That's THROES of passion Rene!

Oh, Marshmellow, what happened to ye. All those bad words! L:OL

Been here before how does it go, life imitates art or art imitates life.

for their video to be synced though icloud dont all those ipads have to be synced to their itunes account (unless they decided to share it which i highly doubt

This looks like it will be a very fun movie......assuming all the best parts weren't just those in the trailer......

It's. A. Movie. Relax. You probably sat around finding the faults in Harry Potter and were scared pantless by "scary" movies. Have a bit of fun.

"if you don't want to see it online, don't put it in digital form" Since everyone in public now has a smartphone with a couple cameras on it, this also means "if you don't want to see it online, don't do it in public". Since there have been many cases of cameras on laptops being turned on and recording, without their users' consent or knowledge, this also means "if you don't want to see it online, don't do it in the same room as any device containing a camera (even if it appears to be off)". Short of going all Enemy of the State (Will Smith), I don't know how to ensure something doesn't end up online. Zuckerberg can't keep his private data private, and he surely understands this technology far better than I ever will. If people want to see you, they will. As this (admittedly corny looking) movie demonstrates, it only takes one person to open the floodgates on your life.
Thank you for signing up to iMore. You will receive a verification email shortly.
There was a problem. Please refresh the page and try again.