Camera Plus is back, with more features and a brand new design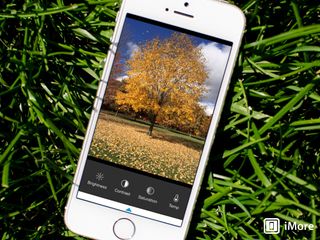 Camera Plus was quite a popular app a while back but sadly, had an extensive period of time where it went without being updated very often. After the iOS 7 launch, it appears as if the developers have decided to breathe new life into the app, and fortunately for us, they've succeeded.
The first time I launched the newly designed Camera Plus app I knew it would quickly become one of my favorite photo management and editing apps again. The interface is gorgeous and intuitive. One of my favorite features is that when you're scrolling through photos in your Camera Roll or any album, the menu bar floats and stays at the top of the screen. This may seem like a little thing, but it's a big deal for folks who switch albums frequently and don't want to have to keep tapping the menu bar and backing out of screens. One tap and you've got access to all your albums.
In edit mode you find the usual suspects which include adjusting things such as saturation, contrast, exposure, and more. When taking a photo, you can even adjust the brightness with the Lumy slider off to the right. Tap on the plus sign next to the focus point to switch between normal, macro, and far modes. This is a feature I can see myself using often as I've never been particularly pleased with the way the stock Camera app for iPhone handles manual focusing.
Camera Plus also offers locked options so you can protect some of your photos from prying eyes. You can easily do this to any existing photo by tapping on the lock button. From the main Camera Roll view, just swipe to the left to access your locked photos.
The good
Beautiful interface that's easy to use
Great control over images with focus, macro, and far modes
Locked mode for photos you don't want everyone seeing
Direct share options to Facebook, Twitter, Flickr, Instagram, and more
The bad
Aside from the great interface, it isn't incredibly different from other photo editing apps that have been around a good long while
The app went without being updated for a long time, it's a gamble that it won't happen again
No AirDrop support from what I can see
The bottom line
Camera Plus faded into the night at some point but it's great to see that the app, and the developers behind it, came back swinging. The interface is gorgeous and the feature set is a nice compromise between too much and too little. For those not experienced with photo editing, Camera Plus makes it easy to learn how. Let's hope the app is continually supported this time around though.
iMore senior editor from 2011 to 2015.
The more popular app with the same name is Camera+ (by tap tap tap), in case anyone is confused. http://campl.us/

Thanks for that, for a minute I did confuse this article with Camera+, which I love ! Sent from the iMore App

Camera Plus was one of the first camera replacements apps on the AppStore (Oct 2009). Camera+ came later (June 2010) and clearly copied their name. Also, there are better alternatives to both.

Camera+ is overrated, and the company ethics bug me. They frequently get snippy on twitter about other services, and it has left a bad taste in my mouth, and there are many other apps with better feature sets in any case.

Wow, I was wondering why my copy of Camera+ didn't look like that. Developers should stop doing things like this. Just check out the mess of Flashlight apps that us iOS 7 users thankfully don't have to deal with anymore. Sent from the iMore App

Used this for a while before they went so long without updating and it was a great app. I wish they would add a fisheye option but other than that perfect to me Sent from the iMore App

This used to be my go to photo app. However I just deleted it the other day. With all of the improvements to in iOS camera app I don't need it anymore. Sent from the iMore App

First thing I did was go look for an update to Camera+. Didn't realize this was a different app. This looks good, and worth a try for a dollar, but it doesn't appear to be anything more than the many other apps, so I'll probably pass. Even though I don't live the stock camera app, it's still the default app and the fastest to launch so it's the app I use the most. The rest are just for editing. Sent from the iMore App

This is a great app, i've had it for a couple years and don't regret paying the price i did. Sent from the iMore App

Camera+ is by for the best camera app on the App Store, hands down. It combines great features and design to fit everyone's daily lifestyle. Most of the other camera apps out there aren't nearly as good, but Camera+ destroys the competition. Although camera+ has been updated for IOS7, it has a lag on devices which are not running IOS7. A well designed and handy camera app that fits right in your pocket. Worthy of the name Camera+ 4.9/5

Let's just hope they'll continue with the updates. I still use Camera+ as my main camera app. It takes much better photos than the stock iOS camera app. Sent from the iMore App

Will give it another try. I got kind of bored with it last time, but the redesign and new features look great Sent from the iMore App

Will give it another try. I got kind of bored with it last time, but the redesign and new features look great Sent from the iMore App

This use to be my go to photo app. But then I found pure shot. Now that this app has a new update I might try to use it again. Sent from the iMore App

bought this app as the first apple app i ever paid for. I never use it. It's fine but it's just i can do most of it in other apps like editing with snapspeed. side note: every ios 7 app now looks darn near the same.

Camera+ on my iPhone 3GS was my first camera app ever and was my go-to camera for a long time. I feels like a camera more than an editing app but the editing tools are simple and easy to use. Time to check out the update. Sent from the iMore App

Hello Everyone. We have a small clarification we would like to put out there. 'Camera Plus' may sound similar to another camera app, but we came out with the first version of Camera Plus well in advance (Oct 2009) as one of the most pioneering iPhone apps of it's time. We've consistently grown since then and now Camera Plus itself presents a sense of brand recall, with over 9 million users and 21 million downloads. Read more about our humble beginnings and the ensuing journey in our blog here. http://www.globaldelight.com/blog/2013/10/the-tale-of-camera-plus/ Thank You

Great app but I tend to stick with the standard camera because the new features are enough for me. When editing my pics I love snapseed !! Sent from the iMore App

Seems like a great app. Will have I download it. Sent from the iMore App

Seems like a great app. Will have I download it. Sent from the iMore App

Thank you for featuring this app. I have never heard of it before and it looks like something I would enjoy for my iPhone 5s photography. Sent from the iMore App

I've been using snapseed lately. I like it's simple ui. Sent from the iMore App

I think Snapseed is one of the better editing apps and to be honest I like iOS 7's stock photos app for photo managing! Sent from the iMore App
Get the best of iMore in in your inbox, every day!
Thank you for signing up to iMore. You will receive a verification email shortly.
There was a problem. Please refresh the page and try again.