Does Animal Crossing: New Horizons support save transfers?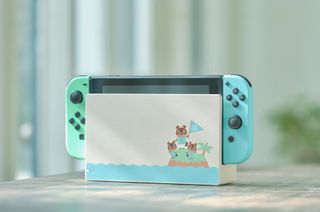 (Image credit: Nintendo of America)
Does Animal Crossing: New Horizons support save transfers?
Best answer: Yes, though in an elaborate manner. When it comes to island creating, Animal Crossing: New Horizons only allows one island per console. Save data is stored within the console and requires a special cloud backup and the Island Transfer Tool to be transferred to other consoles.
Plenty of hoops to jump through
Animal Crossing: New Horizons is here. While we've thoroughly enjoyed one of the best multiplayer experiences on the Nintendo Switch, not everything is smooth sailing. For anyone hoping to transfer data from console to console by just using your copy of the game, it's possible! However, you have to follow a lot of extra steps.
Nintendo stated that the new game works with one new island per console. Players who wish to keep their island's data safe, or transfer their save data to another console, will have to enable the Island Backup & Restore Service on their Switch. While it is possible to transfer your Animal Crossing island to another console, you also won't be able to play on your personal island on more than one system.
In addition, island backups and transfers are only possible with a Nintendo Switch Online subscription, so offline players are out of luck. While this may not seem like a big deal, it could be a problem for anyone who may have their Switch or Switch Lite stolen, lost, or broken. Animal Crossing is a slow game that fosters its players coming back for years, so some may not be happy about paying for NSO just to keep their island safe.
What about local multiplayer?
Having a single island on a console won't necessarily affect solo players unless, of course, they want to play Animal Crossing: New Horizons on both their Nintendo Switch and Switch Lite. However, the one island per console could pose a problem for anyone interested in playing locally with friends.
To play local multiplayer, each player must have a house on the island. While playing, this isn't really an issue. However, once the game stops and your friends want to transfer save data to their own consoles, it could prove to be troublesome. Only players who are not the Island Representative can move out and start their new island elsewhere on another Switch. So if you're playing with siblings and one of them gets their own console, only they can move out if you're the Island Representative.
For now, it looks like anyone who creates a home on one Switch or Switch Lite will be landlocked for the foreseeable future, since Island Representatives are tied to the islands they create. Hey, at least it gives you an excuse to hang out with your friends more! Plus, there's always the online multiplayer option.
Your paradise awaits
(opens in new tab)
Animal Crossing: New Horizons for Nintendo Switch
Build your island

Avast! Enjoy paradise and create your perfect island however you please. Catch some bugs, decorate your home, or chit-chat with your friendly neighbors in a world that changes daily — even if you aren't there.
Sara is the Freelance Coordinator, writer, and editor at iMore. When not editing or writing away, she's glued to her Nintendo Switch, Xbox, or PS5, though she's a retro gamer at heart.
Get the best of iMore in in your inbox, every day!
Thank you for signing up to iMore. You will receive a verification email shortly.
There was a problem. Please refresh the page and try again.