CarPlay has some growing up to do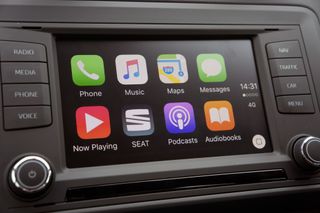 When Eddy Cue first announced iOS in the Car back at WWDC 2013, the idea behind it sounded great. Bringing iOS into your vehicle was going to be so awesome, right? Well, fast forward three years and we are seeing very little progress and quite a slow roll out to new vehicles. Sure, Apple boasts that it is available in more than 100 vehicles, but the software is just too basic to get excited about.
In general, the automotive industry moves slower than the tech industry, so we have to understand that developments may not be quick on this front. But, the software does not feel mature. It's super simple, and while that appeals to some, others may want more out of it.
When it comes to the interface, there is no mistaking that Apple designed it. You've got the large iOS-style icons on your screen with your compatible apps paginated. Unfortunately, you can't re-arrange the icons like you can on your iPhone or iPad, so you are stuck with their layout. This sucks.
Say you are a heavy Spotify listener or want to stream the baseball game through your vehicle — you have to flip through the pages to find the app icons. While this may seem like a minor gripe, it would be much easier if Apple let you put your favorite apps on the main page for quick and easy access.
Navigating the interface is easy, though. The buttons are large enough that you can easily select the correct one, and the navigation forward and back is at the top, like on most iOS apps. You can navigate various elements of the UI with your voice, including searching for directions, sending messages and more.
Unlike Android Auto, CarPlay doesn't lock down your phone while it is in use. Android Auto doesn't allow you to access any of the features of the phone unless you disconnect the software. While this is a great safety feature to help keep the driver focused, it can be a pain if the passenger has their phone connected and wants to use it as well.
CarPlay allows you to navigate your phone as you would without it being connected, but it can get distracting quickly. The UI elements on the display change as you bounce between apps, so if you launch Messages, it pulls up a list of your contacts you have threads with; when you press the Home button, it closes that and goes back to the main screen.
When you plug your phone into CarPlay for the first time you get a simple prompt asking you to allow it access while the phone is locked. Beyond that, nothing else is required to get set up. You may be shocked at how few of your installed apps actually show up on the display, as it only really works with streaming services. You'll see Music, Spotify, Pandora, MLB, etc, but none of your other apps. Sure, you can make the case that all you need are the basic services and some music streaming options, but the possibilities branch much further than just that.
Sure, you can create reminders using Siri, or check your calendar, but those options don't exist in the interface. For some, having that information readily available is important. Lots of people spend a bulk of their day in the car and need quick and easy access to that information.
It is great to see Apple making it easier to use your iPhone in the car, but the software needs to develop faster. Basic features like remembering where you were on a playlist so you can resume playback when you get in the car, or keeping the screen on an app view when you are navigating the phone feel basic. Being able to customize the order of the icons should be a no-brainer, but yet you can't do it.
Apple needs to make some advancements on the CarPlay front in order to entice people to use it. As it stands right now, it would be hard to recommend that someone go out of their way to get CarPlay installed instead of using their existing set up.
What are your thoughts on CarPlay? Do you like the current feature set, or wish it could do more? Let us know in the comments!
Get the best of iMore in in your inbox, every day!
Jared started off writing about mobile phones back when BlackBerry ruled the market, and Windows Mobile was kinda cool. Now, with a family, mortgage and other responsibilities he has no choice but to look for the best deals, and he's here to share them with you.
I have a 2016 VW GTI with CarPlay. I use it daily for Apple music, maps, and phone. It does those 3 things very well and for me justified waiting for a 2016 to get it on my car. Unfortunately the rest of it feels more like a forgotten product from Apple. 3rd party apps are practically nonexistent and the ones that are available are horrible. I will use Pandora as an example. It crashes frequently and the user interface (that I believe Apple is forcing) is rudimentary and simple things that are a crucial part of Pandora like thumbs up/down are hidden in a secondary menu. This is a prime example of Apple holding back the growth of this platform. This doesn't surprise me, as iOS has had a history of starting simple and locked down. Then gradually adding features. I hope this comes sooner vs later as it has a lot of potential.

I have a 2016 Yukon with Car Play. It's very sensitive to the cord in use and often the Bluetooth connection will grab a call before the car play app does. Or neither will grab the call once it's answered it defaults to the headset. It's a guessing game as to where a caller will be heard when picking up a call. Siri works well as far as text reading and response. I would like to see them open up 3rd party GPS apps like Waze.
The UI is very elementary and reminds me of a tube television graphically. Sent from the iMore App

I also have a 2016 Yukon. I frequently have to unplug/reconnect my phone a dozen times or more to even get CarPlay to connect. Extremely frustrating!

Might try a different cable?

I've had an aftermarket Kenwood DDX9702S for about six weeks in my Scion, and I've not had any reason to complain. While I might be more of a purist than some (I'm using Apple Music and iTunes Match and no other streaming services, for example), I have yet to be disappointed with CarPlay. It does what I expected: plays music and podcasts, makes hands-free phone calls, Siri dictation for messages, and Maps. Since I don't use Rhapsody, I don't have any need to scroll to another page, and I like the layout of the apps. And, since I'm driving when I use CarPlay, having a limited selection of sensible apps displayed in easy-to-tap large icons makes sense to me. I'd probably enjoy it a little more if it could be wireless, but keeping my iPhone charged is a nice tradeoff for the cord. For me, CarPlay is great.

CarPlay was just made available for my 2015/2016 Genesis via a download to the Navigation/Infotainment memory card over the myHyundai site. The download worked well and the install process took about 30 minutes. The Genesis has a pretty large screen so the CarPlay icons are rather large... a bit too large in my opinion. Like one of the reviewers above I am only using iTunes downloaded to my phone... I'll download one or two CDs at one time and thats it. My commutes tend to be pretty short so no need to load up major amounts of CDs. So far, everything has worked well. I get messages fine and can respond via Siri vs. having to wait until I stop the car. That's nice since my wife and kids expect an immediate response, which I can now give them. I haven't used the map yet, so not sure how that works. The phone picks up fine, no problems there either. So at this point I anticipate that I'll be using it for the most elementary functions... which is fine for me. So far, so good. No glitches of any type.

I have had CarPlay for about 8 months now and mostly like it. The Audible app crashes a lot. And at least once a month CarPlay will not recognize my phone until I restart it. Other than that it has most the apps I need. Granted I really only use Audible and Apple Music.

Just got a 2017 Ford Escape with the Sync 3 system. In my first week of ownership, have only had one issue with it (that was my phone's problem). I very much agree with this article, though. I feel like Apple needs to (if they don't already) release a CarKit API. Make it dead simple for devs to implement CarPlay with almost no additional work. I could use a few more apps like the SiriusXM app, GasBuddy, Yelp, and a few others. And the ability to rearrange. And wireless CarPlay. That would pretty much take care of it for me.

Installed an Alpine ilx-007. I like CarPlay well enough but it's inconsistent. Support is sparse. Still no wireless.

CarPlay is good .. but apple needs to allow 3rd party Navigation apps or enable offline maps. The system becomes useless if you go through a cellular dead zone.
Thank you for signing up to iMore. You will receive a verification email shortly.
There was a problem. Please refresh the page and try again.