Clips: The best way to copy, paste, and re-use text snippets on your iPhone and iPad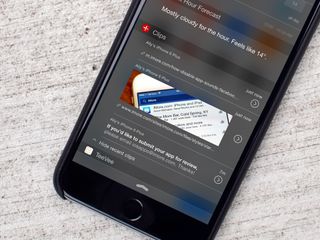 Clips is a simple app with one main purpose: to make copying, pasting, and re-using text snippets as simple as possible. Unlike keyboard shortcuts, Clips can import anything on your clipboard with just a swipe and a tap. You can also activate the keyboard and action extension to access your snippets in even more places.
When I discovered Clips in the App Store a few weeks ago, I was intrigued by the idea of having frequently used blocks of text available to me via Notification Center. At first I had to train myself to remember to use them, but once I did, Clips immediately became a necessary part of my workflow.
Anytime I need to use a canned email response, I just swipe down in Notification Center and copy the text I need. And if I need to copy a huge block of text for later use — whether that's a code snippet, links, or plain text — Clips instantly recognizes what I've got on the clipboard and lets me import it with one tap.
If you frequently work with links and embedding images, Clips supports both. With links, you can choose many different formats including Markdown syntax and many different title plus URL formats. You can even share images with Clips for easy access. I've found this convenient for images that go with articles I want to share more than once on social media, for example. Once I'm done, I can remove it from Clips. You can even be slightly evil and save your favorite memes for convenient reuse. GIF files, however, are touch and go and sometimes showed up as blank for me.
I haven't found it necessary to use the keyboard that comes with Clips, preferring the Notification Center widget. If you prefer the keyboard method, however, you've got that option too, and need only activate it in Settings to get started. Aside from a quick shortcut panel, you also have a nicely laid out dark-themed keyboard at your disposal. I personally prefer the stock iOS keyboard, but this one isn't a bad option, either.
Last but certainly not least is Clips's action extension: It lets you share multitudes of content in just two taps. Clips will show you a preview and if everything looks okay, you can save it for later use and it'll instantly be available in Clips everywhere. It doesn't get much easier than that!
The good
Multiple ways to share snippets to and from Clips: keyboard, Notification Center, and the app itself
Supports multiple types of media
Automatically formats Markdown links for instant use
iCloud sync for multiple devices (requires additional in-app purchase)
The bad
Currently no way to edit existing clips without re-doing them (unless I'm overlooking something obvious)
GIFs don't seem to save well in Clips, if at all
The bottom line
Clips is currently the best way to manage text snippets for anyone running iOS 8 and above. With multiple ways to access content, the possibilities of what you can do with Clips are virtually endless.
For anyone who has ever had to type the same thing more than once and found themselves wishing there was an easier way than standard keyboard shortcuts, Clips is for you.
iMore senior editor from 2011 to 2015.
Nice find, Ally. This may be the app I've wish for regarding better use of the clipboard features. Thanks for this helpful app review. Sent from the iMore App

I'm downloading it now to test out. Thanks for the review...:)

Been using Clips for a couple of months now. Initially just gave it a go because of the developer (Clean Shaven Apps - makers of Dispatch). I prefer using the keyboard though, since I don't like filling the pull-down widget area with too much. Shame the qwerty bit of keyboard kind off sucks - no click sfx or autocorrection. Other than that, superb.

Thanks for so best advice! Now I'll prefer use for manage text only this one

"Currently no way to edit existing clips without re-doing them (unless I'm overlooking something obvious)" You are ;-) You can edit existing clips through the extension in the app itself: tap the extension icon and you get a share sheet with your previous clip that you can edit to your hearts content and have the new edited clip added to the list of clips.

One more downside of the Clips widget, clips always visible even when iOS devices is locked!!! At this point no option to lock / hide clips. Also good app for copy and paste is Heapo app, not perfect but clips can be locked on lock screen. Sent from the iMore App

Excellent app, especially with the devs taking advantage of iOS8 features so well........only complaint/addition I will bring forward is it is sorely lacking a way to organize your "clips", whether with folders or "tag/keywords" this is much needed imho. Still waiting for a reply from the devs on that suggestion.
Thank you for signing up to iMore. You will receive a verification email shortly.
There was a problem. Please refresh the page and try again.