Comparing Apple's new AirPort Extreme and Time Capsule to the old models: Should you upgrade?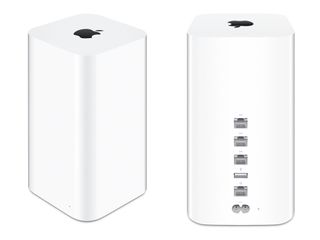 To accommodate newly introduced MacBook Airs that ship with 802.11ac "Gigabit WiFi" capabilities and Apple's forthcoming redesigned Mac Pro, Apple also introduced a new AirPort Extreme and Time Capsule at WWDC this week. This is the first update to the AirPort Extreme in several years and the first complete redesign since Apple moved from the UFO shape of the original to the Mac mini-like beveled rectangle, so it's worth taking a closer look at what makes the new products worthwhile.
First, let's start with the name: "Base Station" has been excised; Apple now calls it simply "AirPort Extreme" (perhaps to simplify and better align with the AirPort Express, which remains unchanged - it's still an 802.11n-capable box that can hook up to a stereo system and stream audio as well as route data for a small wireless network group).
It's been two years since the AirPort Extreme was last revised, and it's undergone some major changes - the flat box style, cribbed from Apple's Mac mini and measuring 6.5 inches on a side, is gone, and replaced with a smaller but taller cuboid design - 3.85 inches on a side and 6.6 inches tall. It's also about half a pound heavier, weighing in at 2.08 pounds.
The biggest difference, outside of the industrial design and name, is the new networking technology that's under the hood: AirPort Extreme supports 802.11ac, backwards compatible with earlier WiFi protocols but on its own capable of transmitting up to 1.3 gigabits per second - almost three times faster than the rating for its predecessor. Inside the box are six antennas, which Apple describes as a "beamforming antenna array."
The antennas can broadcast simultaneous dual-band 2.4GHz and 5GHz frequency bands, just as before. And Apple says the AirPort Extreme can support up to 50 users simultaneously, just as before. Also unchanged are the ports on the back of the device: A Gigabit Ethernet WAN port, three Gigabit Ethernet LAN ports, and one USB 2.0 port, to support a printer or external hard drive.
The price has risen for the new device by $20, to $199.
Just as with the previous generation, the new AirPort Time Capsule uses the same industrial design as the new AirPort Extreme. The Time Capsule is designed for users who want to easily backup data from their Macs over the network using Time Machine, OS X's built-in backup software.
The networking specs and interface port array of the AirPort Time Capsule is identical to the AirPort Extreme; what's different is the hard drive inside. Just as before, the AirPort Time Capsule is available in 2TB and 3TB capacities, but there's been a price realignment: the 2TB model is still $299, but the 3TB model has dropped $100 to $399 - a better value for users looking for maximum Time Machine backup storage capacity.
Even if you haven't put in an order for a new MacBook Air yet, if you haven't jumped on the Time Capsule bandwagon, now's a better time than ever because of the cheaper big version. It'll work with all the older WiFi gear you have in the house, plus you'll be future-proofing yourself a bit for 802.11ac when you're ready.
Get the best of iMore in in your inbox, every day!
I've had three Airport Extremes, but won't be upgrading to this one. Honestly, what were they thinking with this design? I'll wait to upgrade to the 802.11ac version when the form factor changes back in 2015.

6 antenna mounted high in the chassis for better send/receive. Apple does do a lot of form over function but in this case the function informs the design appropriately.

Well what is more important? The design? Or the function?
Personally for me I like this new design. Now the air port extreme has a smaller physical footprint and can be left in a corner somewhere while it seamlessly does its job . Plus 6 new antennas don't hurt to boost reception. Sent from the iMore App

In this case, the design. My current Apple Extreme in is my living room, tucked behind a small clock, naked to the eye. This thing would tower above the clock and stick out, well, like a white plastic tower. Also, I can envision the connected ethernet cables flipping this thing backwards.

Seems like it would have come with usb 3.0, it's so much faster.

802.11ac doesn't saturate USB2, why is USB3 required?

Isn't ac 1.3gbps vs. 480mbps for USB 2?

802.11n is 600mbps, in the real world, (even in the same room), when have you even got close to this?

Any inkling given on 802.11 ac coming to the Express line, or are there size constraints that prohibit it for the short/medium term?

I'll probably upgrade at some point, especially once I get computers that have 802.11 ac cards. I've been thinking about getting a Time Machine for a while now... so when I do I'll definitely get this new version. I just wonder how easy is it to have the Time Machine work as a secondary hard drive. That's the one thing that's holding me back on it. Yeah I'd love the automatic backups, but i'm not going to need all of that space just for backups. I'd love to be able to put the other space to work.

I thought the image in this story was a fake!
Wow, this is ugly. Jony must have been too busy "simplifying" iOS that he just let this one go.
Makes me chuckle thinking about having this sitting next to the new "MacPro", maybe a stack of those black WD drives plugged in beside them.
Family of ugly boxes = Apple Pro products.

I have an Airport Extreme and Express to expand to a dead zone. They are working great and are top notch even though they don't score the highest on the Small Net Builder charts they are more or less rock solid and smooth sailing. I heard 802.11AD is going to blow away AC so its not worth rushing to upgrade particularly since I don't have any AC compatible WiFi gear at the moment anyhow. Network World says not to "Sweat" 802.11ac since 802.11ad will knock your socks off since AD will add 60GHz connectivity in comparison to the standard dual band 2.4 & 5GHz

Don't stress it. 11ad is going to be for line of sight short ranges. It'll need to work in conjunction with 11ac because it's running at 60Ghz and won't go through many walls. I think it' going to be great for a lot of things that need speed and would benefit from a fast connection. 4K video streaming, storage and more.

Like the specs...but my 802.11n APE is humming along just fine, and I don't have any 802.11ac devices yet. When I get my first ac device, I'll consider the upgrade to max out the capability between them.

Like the new Mac Pro, onde you start pluging cables it will look horrible. I'm all for six antennas, but the cable outlets should be lined at the bottom, not vertically.

First, it looks like a brick. Second, I don't care because I never look at it anyway. Third, I'll wait because I don't buy to say I was the first.

I'd love to see this combined with Apple TV.
Thank you for signing up to iMore. You will receive a verification email shortly.
There was a problem. Please refresh the page and try again.