Crash Bandicoot N Sane Trilogy: Everything you need to know!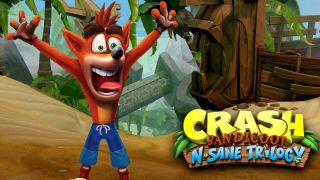 Crash is back, or rather, he's been back for awhile. The Crash Bandicoot N Sane Trilogy debuted on PS4, but in June of 2018, it's headed to the Nintendo Switch. This trilogy is a full-fledged remaster/remake of three original Crash Bandicoot games that leaves all of the challenge, but takes out some of the unnecessary frustrations many felt when they originally played the game.
I went hands-on with Crash Bandicoot N Sane Trilogy at E3 2018 and got to experience not only the crate-smashing fun of the game we know, but a brand new level, too!
See at Amazon (opens in new tab)
What is the N Sane Trilogy?
The Crash Bandicoot N Sane Trilogy is three remastered games in one: Crash Bandicoot, Cortex Strikes Back, and Warped. Each of the three games features the titular hero, Crash Bandicoot, in various 3D levels with both vertical and horizontal paths. These levels are full of enemies to defeat, incredibly difficult (at times) jumps to pull off, hazards, and fruits to collect. Crash is able to move, jump, and unleash a spin attack to defeat enemies or destroy crates and other obtacles.
Is there anything new?
With the trilogy, developer Vicarious Visions wanted to clean up some of what frustrated players in the original Crash games. To that end, they added unified checkpoints, pause menus, and automatic and manual saves across all three games where previously not all three had them. They also spread Warped's Time Trial feature to the other games so that you can rush through each level and try to beat your previous time. You can also play most levels in both games as the character Coco.
The version of the game already out on PS4 includes Stormy Ascent, a level that was cut from the original Crash Bandicoot game. Stormy Ascent was cut for being too difficult at the time, but in the remaster, the developers have cleaned up the level a bit while retaining its incredible challenge. Although Stormy Ascent was initially free and later paid DLC for Crash on PS4, it will be included as part of the trilogy when it launches for Nintendo Switch. That's not the only new level, though...
Future Tense
At E3 2018, I went hands-on with a portion of a brand new level being added to all versions of the Crash Bandicoot N Sane Trilogy: Future Tense. Future Tense is accessed in Crash Warped via a floating platform in the hub and is available from the very beginning of the game. It's a completely original, futuristic level featuring some familiar hazards that have been molded or reimagined to form far more difficult challenges. The level takes place in a chrome, futuristic setting, but it includes some redesigned ideas from the cut Waterfall level, such as water wheels. You won't see any actual Waterfalls, but you may see some nods to the cut hazards!
Future Tense is completable at any point in Crash Warped, but all the collectibles cannot be gotten until you've unlocked some other abilities by playing through the game. So you can try it right away when you pick up Crash, since the level is free and included with the game.
When can I get N Sane with Crash?
Crash Bandicoot N Sane Trilogy launches for Nintendo Switch (opens in new tab) on June 29, 2018 and will cost $39.99.
See at Amazon (opens in new tab)
Ask the Bandicoot!
Any questions about Crash Bandicoot N Sane Trilogy on the Switch? Shout them out in the comments!
Get the best of iMore in your inbox, every day!
So much nostalgia when playing this game, I absolutely loved it as a kid. Even if you've not played it before, try it, it's a fantastic platformer although the 2nd and 3rd game are better than the first, so don't judge it if you dislike the first one (most people will play them in order). I didn't really have any criticisms of the remake, some sound effects were lost and the time trials that were introduced on the 2nd and 1st game are far more difficult than the 3rd game (which used the time trials from the original). I tried to get all the trophies on PS4 but I really didn't have the patience for the time trials in the 1st and 2nd game. Overall, really fun, and I'm even more looking forward to playing the Spyro remake, which I enjoyed even more as a child than Crash