There may be a few hours until Cyber Monday is officially live, but there are already plenty of live deals to go around, including one of the best bundle deals we've seen on the Nintendo Switch all year. During Black Friday, many retailers were offering a bundle with Mario Kart 8 Deluxe and the original version of the console. Today however, Best buy has the new, enhanced Nintendo Switch bundled with two games for just $299.99. You can choose between Gray or Neon Red and Blue Joy-Con Controllers while supplies last, and with a deal this good, that won't be long.
Best Bundle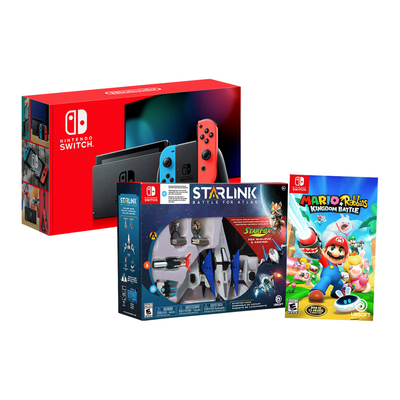 Nintendo Switch bundle with Mario + Rabbids and Starlink
This Nintendo Switch bundle at Best Buy includes the new, enhanced model of the console along with Mario + Rabbids: Kingdom Battle and Starlink: Battle for Atlantis Starter Pack.
$299.99 $419.98 $120 off
Best Buy's bundle comes with Mario + Rabbids: Kingdom Battle and Starlink: Battle for Atlantis Starter Pack. That not only comes with a game but also small pieces you can use to build a modular starship model. While previously priced up to $60 apiece, these games sell for around $35 and $40 respectively these days. That added value of $75 won't be found anywhere else.
This is far from the only Nintendo Switch deal available for Cyber Monday, as there are a few holdovers still available from Black Friday that you can still snag for a short time. Best Buy's deal beats all of the others in terms of added value, but the other options may include a game you'd rather own or accessories you feel are essential. You really can't go wrong with any of those other options, though we don't recommend buying the bundle with Mario Kart 8 simply because it includes the original model of the console. You can see the rest of the bundle deals in our best Nintendo Switch Cyber Monday deals guide.
More Cyber Monday deals are starting to go live! Keep an eye on our Cyber Monday headquarters to stay up-to-date with the latest price drops and sales 24/7 during the event.
We may earn a commission for purchases using our links. Learn more.