Daily Tip: how to customize push notifications for Twitter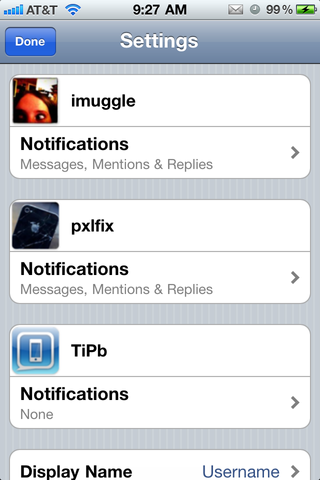 Use a Twitter app on your iPhone and wondering how to customize a balance between getting far too many push notifications, or none at all? Between your main timeline, @ replies/mentions, direct messages (DMs), list notifications, and trending topics - it can be a little overwhelming. There's been talk of Twitter being integrated into iOS 5, but until then, you've got a few options. We'll show them to you after the break!
We've already shown you how to turn notifications on or off in the Settings app, but what if you want something a little more granular? Several iPhone Twitter apps allow you to customize what notifications you get. Since there are far too many to explain every single one, we'll take a look at Twitter for iPhone, the official app and most popular, and Boxcar, which works in conjunction with many of the available iPhone Twitter applications.
The official Twitter for iPhone app is an extremely easy app to use. It also has wicked fast push notifications. But if you're receiving far too many (or none at all), there are a few settings to play with that allow you to customize what you get notified about.
Launch Twitter for iPhone and from your main timeline, tap Accounts in the upper left hand corner.
You'll see a list of all your Twitter accounts, in the bottom left corner, tap Settings.
Then tap Notifications under the account you'd like to adjust notifications for.
You can now choose to receive push notifications for direct messages and mentions. For mentions, you can choose to receive them from only people you follow, or from anyone. I typically choose from anyone. (That's how you find cool new followers!)
You're done! But as a side note, also make sure you have Twitter push enabled under Settings, Notifications in your iPhone's main settings as well.
While Twitter for iPhone has a great push notification system that's extremely reliable, it's still somewhat lacking when it comes to options. Enter apps like Boxcar. I use this in conjunction with Twitter for iPhone, which only allows me to receive notifications for mentions and direct messages. Boxcar supports the following notification types when it comes to Twitter:
Timeline
Mentions
Retweets
Direct messsages
Favorites (when someone favorites a tweet of yours)
New followers (when you gain a new follower)
Added to list (when someone adds you to a list they created)
As you can see, Boxcar has a plethora of options. I personally use Boxcar to notify me when someone new starts following me, when a tweet gets marked as a favorite, or whenever I get added to a list. I let Twitter for iPhone take care of the rest. But if you choose, you can let Boxcar take care of everything. You can even use Boxcar to go into stalker mode and follow someone specific on Twitter. It will alert you every time they tweet if you want it to. Not to mention Boxcar has custom tones for those of you tired of the default tri-tone notification.
These are just the ways I choose to customize my Twitter notifications but there are tons of options out there. Since a lot of Twitter apps don't have native push, Boxcar is a great app to compliment them. How do you customize yours and what's your current favorite Twitter client? Let us know in the comments!
Thanks to @jdipane for the tip suggestion!
Tips of the day will range from beginner-level 101 to advanced-level ninjary. If you already know this tip, keep the link handy as a quick way to help a friend. If you have a tip of your own you'd like to suggest, add them to the comments or send them in to news@tipb.com. (If it's especially awesome and previously unknown to us, we'll even give ya a reward...)
Master your iPhone in minutes
iMore offers spot-on advice and guidance from our team of experts, with decades of Apple device experience to lean on. Learn more with iMore!
iMore senior editor from 2011 to 2015.