Daily tip: How to navigate to contact addresses in Maps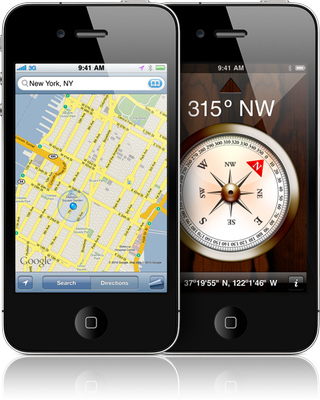 Heading out to family and friends for the holidays and curious how to easily find their addresses in the iPhone, iPod touch, or Maps app? Well here is a great tip to make navigating a little bit easier, and we'll show it to you after the break!
If you are like me you don't memorize anyone's contact information anymore. You simply enter their phone number, email address, website, and address into your contacts list on your iPhone and then, whenever you need it, you just tap on it. Luckily Apple ties iPhone, iPod touch, or iPad Contacts into the other apps, like Maps!
First, if you haven't done so yet, make sure you've entered address information for the Contacts you will be visiting. Then:
Open the Maps application
Select Directions on the bottom menu
Select the Start box and choose "Current Location"
Select the End box and start typing in the contacts name
Select the contact once it appears
Let it load and click on Start at the top right
Bonus tip: If you're in Contacts, you can tap right on the address to switch to Maps and see where they're located.
Now you can be on the way to your destination without having to type in the address manually. Let us know if you plan to use this feature as you hit the roads this holiday season.
Daily tips will range from beginner-level 101 to advanced-level ninjary. If you already know this tip, keep the link handy as a quick way to help a friend. If you have a tip of your own you'd like to suggest, add them to the comments or send them in to dailytips@tipb.com. (If it's especially awesome and previously unknown to us, we'll even give ya a reward...)
Get the best of iMore in in your inbox, every day!
Could any one explain how to work the invitation option in iPhone calendar? After trying several times and adding the contact name from contact list nothing happens. Does the invitee also need to have iOS 4.1 update to get the invitation offer?

Conversation with my coworker:
Coworker: The regular maps app doesn't talk to me.
Me: So that means you can't read a map?
Coworker: No I can't, and stfu.
LOL.

Here's the tip for adding invitations in Calendar:
http://www.tipb.com/2010/12/20/beginner-tip-share-calendar-event-ical-mo...

So I have Gokiva as my GPS app and I am very satisfied with it because it talks to me. If I have found a location on MAPS (say I select an address on YELP) is there a way to easily move it to Gokiva?

I noticed you mentioned how to start using current location. I like the fact that you can take long trips and get half way there. Hit edit then in the top bar hit "C" and it gives you the option for current location. Allowing you to change your location quickly from where you started to where you are currently. Which lets you see how far you have left in real time.

OMG CAN I JUST MARRY YOUU
i swear every time i need something for my iphone its like this website just reads my mind and posts it
i was literaly just thinking about adding location to contacts yesterday
and i was about to google toda
but as i read my feeds i saw this :)
thanks

ops no wait this isnt what i was looking for actually
since tom tom already has this feature
what i wanted to know is how to add contact location ,,
the address system is stupid here in dubai ..
so i kinda want a method that depends on current location

I really like this one. Never new I was so easy to navigate to one of my contacts. Looking forward to the new tip ;)

This is a very interesting article. Thank you for this blog. Well made! You will find more informations on Lingerie de charme. There's everything all you can need!

I love my iPhone and I have used the map app on my last phone, but was disappointed when I was about to use the map app on my new iPhone. This app looks like the same app on my last phone except for the fact that it doesn't talk to you as your driving. You have to watch the screen ever now an then to make sure your traveling in the right direction. Where's the voice, am I missing something?
Thank you for signing up to iMore. You will receive a verification email shortly.
There was a problem. Please refresh the page and try again.