Crossy Road Castle is a new multiplayer platformer coming to Apple Arcade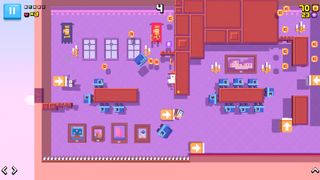 What you need to know
Developer Hipster Whale announced Crossy Road Castle, which is exclusive to Apple Arcade.
The platformer features randomly generated levels and supports 4 players locally.
Crossy Road Castle will be available on Apple Arcade soon.
It's been five years since Crossy Road was released on iOS. Since then, the Frogger-style game has become a worldwide phenomenon, capturing young minds thanks to its charming graphics and addictive gameplay. Now, the Australian developer is back with another Crossy Road title, and it's heading to Apple Arcade.
Crossy Road Castle is a 2D multiplayer platformer that will ditch dangerous roads and cars and challenge players to traverse up an endless tower of randomly generate rooms.
According to GameStop, the game will dynamically change depending on how many players there are. If you're playing solo, for example, Crossy Road Castle won't present players with any obstacles that require more than one player.
The new title supports up to 4 players locally and takes advantage of Apple Arcade's multi-device functionality, meaning you can play on an iPhone, iPad, Mac, or Apple TV. Crossy Road Castle also takes advantage of Apple Arcade's support for third-party controllers, including the Xbox Wireless Controller.
Crossy Road Castle is exclusive to Apple Arcade and is coming to the platform soon. Like other Apple Arcade titles, the game will feature no in-app purchases or advertisements.
It'll be interesting to see how Apple Arcade handles multi player games. Wish Smash Ultimate I can hook up 8 wired Game Cube controllers, but with Apple Arcade does everybody need an iPhone? Does everybody need an iPhone and an Apple Arcade sub? Do they all need to bring bluetooth gamepads?

This is a new game? Why does it have 25 year old graphics?

I'm not a big fan of pixel art, but it's still commonly used in many indie games, or games from small companies. Crossy Road was 3D but still has this blocky design, and then there's games like Minecraft as well
Thank you for signing up to iMore. You will receive a verification email shortly.
There was a problem. Please refresh the page and try again.