Double Robotics teleconferencing robot gives wheels to your iPad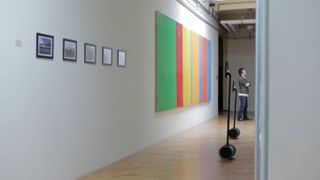 There has always been an argument over whether the iPad was a truly mobile device; well the folks from Double Robotics have certainly put an end to that particular debate. Say hello to the Double teleconferencing robot, it aims to take teleconferencing to a whole new level. Its main feature is the fact that it is a mobile teleconferencing system that is controllable from one iPad while a second iPad sits on top and becomes the systems eyes and ears. It then portrays images and sound as if you are there in person. It could be used for virtual museum tours, advertising and even visiting the in-laws without actually having to be there.
The Double will set you back around $2499 when it becomes available at the end of this year. If you are prepared to pre-order you can get a piece of the action for just $1999.00. When you consider what you are getting, the price really isn't that bad. Batteries are included in this particular robot but what you do need to remember is that iPads aren't.
Could you see a usage case for the Double? Can you see these types of robotic teleconferencing systems taking off in Schools, Museums etc?
Source: Double Robotics via The Verge
Double by Double Robotics - Pre-order Now (opens in new tab) from Double Robotics (opens in new tab) on Vimeo (opens in new tab).
UK editor at iMore, mobile technology lover and air conditioning design engineer.
Absolutely one of the best innovations I've seen in a long time. I will promote these to all of my clients as alot of them travel and this allows them to be at two places at once. Love it!!

Wow, amazing is not the word for this, great product
Get the best of iMore in in your inbox, every day!
Thank you for signing up to iMore. You will receive a verification email shortly.
There was a problem. Please refresh the page and try again.