Duo Games teams up with Gameloft to launch iPad and iPhone Bluetooth controller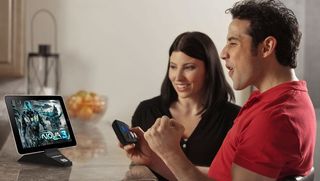 Duo Games has teamed up with well-known iOS games developer Gameloft to launch a game controller to enable a more console like gaming experience on the iPad, iPhone and iPod touch. The new controller, which is known as the Duo Gamer will connect to your device via Bluetooth and comes with two analogue sticks, a D-Pad and six buttons.
The Duo Gamer is compatible with iPad 1, iPad 2, new iPad, iPhone 5, iPhone 4S, iPhone 4, iPhone 3GS, iPod touch (5th generation), and iPod touch (4th generation). It costs $79.99 and will be available from October 5th at Apple.com, Amazon.com and and Target. It is currently compatible with Gameloft's Asphalt 7, Modern Combat 3, Fallen Nation, Order & Chaos Online, Brothers in Arms 2 and N.O.V.A. 3 – Near Orbit Vanguard Alliance.
There is no question that the Duo Gamer is a really nice accessory and one that I would be extremely interested in getting hold of. The problem is that the only games that it supports are games from Gameloft. That is a pretty major flaw with the Duo Gamer and the main reason why other game controllers have never become mainstream. Without support for all games, you are severely limiting your market and there will just not be enough interest to make it a success. Getting every developer to support your game controller is impossible for a third party to manage; only Apple has the ability to do this by including it in the iOS SDK. Until that happens, game controllers are always going to be a niche product.
Source: Duo Games
Get the best of iMore in your inbox, every day!
UK editor at iMore, mobile technology lover and air conditioning design engineer.
Just what people want for an expensive phone.. A dollar store looking controller

And for $80 no one will buy this...

There's a controller that has been on Kickstarter for a couple of weeks. It's amazing that this controller comes out after the support that that controller has been shown.

I might have been willing to pay 29.99, lolol @ 79.99.

This concept (though not sure about the implementation**) will indeed be a game-changer, short of console and PC gaming. I already have a console, so it is unlikely my iPad will become much of a gaming system. But, for the kids or people who don't have a game system, this is the missing link. (There are a few 'touch' oriented games, but the lack of a controller makes most games suck on iOS devices, IMO.) ** Come on folks, if you're going to do something like this, build it with some quality! I agree with some of the comments about, it looks (and likely feels) cheap. Make it more on a PS3 controller level of quality, then you have something. Also, I agree that Apple needs to add something like this at a low level so pretty much any game developer can easily implement it. Otherwise, it's mostly useless unless you love one of the specific games.

Look how excited the guy is looking at the Title Screen for Nova 3!