Emoji: The latest updates coming to Apple's emoji keyboard!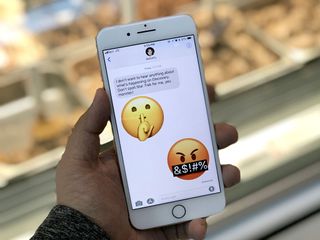 Although they're easy to make fun of, emoji have quickly become a standard addition to text-based communication. They're something we use every single day when talking to both friends and work colleagues, and in 2018, the world will be graced (or cursed) with even more of them.
March 23, 2018: Apple proposes new emoji to better represent people with disabilities
Apple has submitted a proposal to Unicode for emoji that will "better represent individuals with disabilities."
There may be a whole new set of emoji headed to your phones, tablets, and computers! Apple has submitted a proposal to the Unicode Consortium for emoji that would "better represent individuals with disabilities."
In its proposal, Apple points out one in seven people has some form of disability and suggests that emoji should better reflect that:
Image 1 of 13
Some of the proposed emoji include the sign language gesture for "deaf," a person in a wheelchair, a prosthetic leg, and a service dog. You can check out the full list of proposed emoji — along with a description of each — over on Emojipedia. The site says if they're approved at the Unicode meeting next month, we could see these emoji as soon as the first half of 2019.
February 8, 2018: Year of the red-heads
The new emoji for 2018 are part of Emoji 11.0, and they'll be released with Unicode 11.0 this June. I won't go through every single one, but some of the highlights include a freezing and party smiley face, superheroes, raccoon, swan, kangaroo, lettuce, toilet paper, cupcake, and plenty more. However, perhaps the most important addition is that of red-haired emoji.
You can browse the full list of Emoji 11.0 here, and similar to past releases, the new emoji should start arriving on phones in August and September.
October 26, 2017: iOS 11.1 emoji-palooza!
There are hundreds of new emoji coming your way in the iOS 11.1 update for iPhone and iPad. They include new faces, so you can bleep out your anger or shush down the bleeped anger of others.
There are gender-neutral characters now as well, a new, orange heart, and "I Love You", in honor of American Sign Language.
There also coats and gloves and scarves, and dinosaurs, dark elves, and unicorns. Yes, unicorns.
Text-based communication is challenging. Words convey what we want to say but not how we want to say it. They lack emotion and nuance. Type "I'm running late!" and the person waiting for you might get upset. Send 🕗😱🏃‍♀️ and they may just smile.
More Emoji mean more emotions in more context for more situations. And that means better communication for everyone.
(Now I just need UNICODE to approve my "hold down 🍟 to trigger options for poutine, tater tots, and chips" request and we'll be all set! )
The new emoji will be available for developer and public beta testers next week as part of iOS 11.1 Beta 2. If you can't wait, you can sign up to be part of the public beta at https://beta.apple.com/sp/betaprogram (opens in new tab). Otherwise, iOS 11.1 will be made available to everyone as part of the general release later this fall.
How do you feel about new emoji?
Let us know in the comments!