How to jailbreak your iPhone, iPad, or iPod touch on iOS 6.0 or 6.1 with evasi0n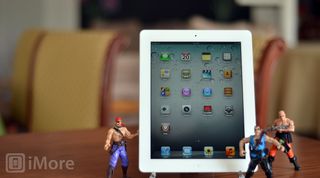 It's that time of year again, jailbreak time! The new evasi0n jailbreak is compatible with any device running iOS 6 or higher, including the just released iOS 6.1. Yep, even the iPhone 5 and iPad mini are supported and completely untethered.
If you aren't sure how to jailbreak using evasi0n, follow along and we'll guide you through!
Before starting, you'll need to download the evasi0n jailbreak software to your Mac, PC, or Linux desktop. Make sure you save it somewhere that you can easily access it.
Once you've downloaded evasi0n from the site, you can proceed on...
Mac users will need to right click and then click open if you're running OS X Mountain Lion to bypass the built-in software security.
Next Mac users will see another popup asking if they'd like to confirm they'd like to open the software from an unknown developer. Simply click on Open.
evasi0n will now ask you to plug in your iPhone, iPad, or iPod touch if you haven't already.
It will now recognize your device. Now click on the Jailbreak button.
Let evasi0n do it's thing. It'll then ask you to unlock your device and tap on the Jailbreak icon. Make sure you only do this one time. You'll find it somewhere on your Home screen.
Give evasi0n a few more seconds and you're jailbreak should now be complete. Just click on the Exit button or close out evasi0n on your computer.
Remember, after a large release jailbreak like this, you may experience issues with Cydia running slow. This is very typical of a new jailbreak since the servers get hit hard. If you can't update Cydia or access everything right away, it'll pass as soon as the initial rush is over, which will leave you to enjoy your jailbreak once again!
iMore senior editor from 2011 to 2015.
Saurik said his repo is up but the payment system is not. https://twitter.com/saurik Seems like its being worked on.

I can't wait to get home and jail break my iPhone5. It has been dying for BiteSMS, SBSettings, MiFi, and Activator.

EDIT.. I had a work profile installed which was forcing the password requirement. Removed the profile and all is well. Anyone encountered any issues turning off back-up encryption in iTunes? I back up via the iCloud but got an error message in the evasi0n program telling me to turn of passwords in iTunes. So I tried switching to pc backup so that I could turn off the encryption however it is "greyed out" and I can't turn it off. I tried changing the password and this hasn't helped either. I'm working with Windows 7 and with the latest iTunes .

are all the old tweaks and programs compatible with this new Jailbreak?

No they are not all supported. There is a list on google docs but it seems to be "down" right now.

I will be doing a full factory restore. My device runs very slow after the jailbreak. Not worth the lag this is causing me. Now, if this JB would allow me to go back to iOS 5.1 that would be a blessing.

That's my worst fear.. I love my 64gb Mini.. and it's as smooth as silk.. I have an Android phone and love the customization aspect of Android but, you have Launchers that have the ability to speed transistions up after Rooting it should you need to.. the only one I have heard of here is speed intensifier I have not jailbroken yet and I am in no rush to do so until I do a full analysis to see what the side effects of this JB are.. If speed intensifier can't help you I wish you luck in going back to 5.1.. If you saved your Blobs you should be good from what I understand..

thx. i think i am sol in that department. I didnt know about saving the blobs back them. i just updated to iOS 6 the very next day, little did I know that there was a small window where you could downgrade but I already passed that. I've explored rooting and it seems more people, at least on XDA are moving away from rooting and going to custom ROMS instead. Unlike with Jailbreaking, the rooting and custom rom installation is a lot more complicated. Not something I am prepared to do. GoLauncher for android works well, but it still can't remove the lagginess of the OS, even on the pure Android device, Asus Nexus 7. In my opinion, iOS' silkiness is 10x better than any Android device. Judging from Google's attitude, I doubt it will ever be better than what we have now.

Hey Spaz.. yes.. you have to Root to run a custom ROM on Android.. I have a Galaxy Note 1 and the stock setup had so much lag it was scary.. I rooted and have been running overclocked Custom Roms/Kernels for some time now.. its not that hard there is a learning curve just like the terms here for jailbreaking are a learning curve for me on this my 1st Apple device.. and yes.. I swear by Go Laucher EX :-) Nova is pretty cool as well.. But I am not going to JB if it means having the experience you are unfortunetely having.. That would spoil everything for me.. I guess I won't know til I try with the few apps I would download/buy just to have a little more customization with Apple.. Having a fully modified Android Phone makes it a little tuff not to have ANY flexability with iOS :-) can't you just stay stock at 6.1? That would eliminate the lagging.

I might think about installing a custom ROM for my Nexus once Google stops offering updates, probably this year. Until then, I'll keep things stock. My Touch is now my guinea pig or test device. It's 64 GB and has my music and large apps. I shouldn't have updated to 6.1 because it was really snappy on 5.1. It's night and day difference with iOS 6. It's actually quite annoying to use at times. I'll just use it as an MP3 player, nothing more. I don't dare try to make VOIP calls since it won't be able handle it, unlike before 6.x. After the JB and update, at most, I have 25 MB of RAM out of the 250 MB available that comes with the device. With 5.1, I had between 80-100 MB available. Clearly, iOS 6 and Cydia is eating virtually all my RAM. Now, with my iPhone 5, it's only 16 GB, I thought about jbing it, but not now. No need to especially since the talk is that is will be the last JB being made. With my iPhone 5, it's quite snappy. I've learned from my last mistake with the Touch. I have to be very very careful when updating my iOS on my devices. I think I am good for this year, at least. After the first few versions of iOS 7 arrive (depending on the features and fixes) I'll be done updating the iOS on the iPhone 5.

Bookmarked. Is there any disadvantage to a JB-ed device?

If you need to take it to an Apple store for support, they may not assist you because the jb violates the warranty. I've never known this to happen to anyone but from what I've heard, it's possible. You could always restore the device, before taking it to them, though.

After jailbreaking and installing BiteSMS, I tried re-booting my phone to make sure it would reboot untethered. It just sat at the apple logo for 20 minutes. Ended up having to put the phone in recovery mode, and do a full restore. Haven't tried the jailbreak again as I'm travelling today and can't risk not having a working device. Anyone else run into this or know what's up?

Yes everyone is, its some bug, if you hold down the home and on/off button it should reboot without any problems.

I was actually doing that kind of restart. Not just a power down and back up. But a hard reset. Never came back. Did I hear that there's an update to the jb? Does it resolve this issue?

Hey is there a TMobile Unlock Out yet? My buddy not knowing anything just upgraded to IOS 6.1 which killed her phone :( I can do the jailbreaking part very easily but I've never done a SIM unlock yet. Do I just jailbreak and then find a SIM unlock program from Cydia? Please help, thanks.

I was so excited for this but it slowed my Iphone 5 down and froze it every few minutes.... I had to add most of the sources I used before and when I did they couldnt work right.... Ill wait until the bugs are worked out

Cydia is returning to normal. Paid/licensed apps are showing, free ones are installing. I'm trying to not abuse it too much right now though.

I still keep getting a HTTP/1.1 403 Forbidden error when i try downloading any paid app i purchased

Did you receive the update to evasi0n untether in Cydia? What is your cydia account tied to? I used Google for mine and everything appeared/is working just fine.

Do I need to reset any device passwords? Or is everything good after you do the install with evasi0n?

Is there a jailbreak for iOS 6.1.3 yet?
Thank you for signing up to iMore. You will receive a verification email shortly.
There was a problem. Please refresh the page and try again.