EverDock Duo for iPhone and iPad review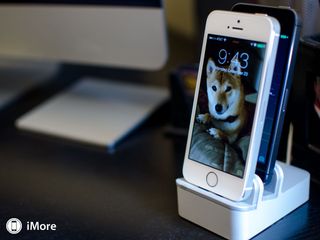 EverDock is a new charging dock accessory made by Fuz designs. Made from a solid block of aluminum, EverDock feels sturdy and looks great. The bottom of the dock itself has a pad that is comprised of tiny air bubbles that stick to virtually any surface. That makes one hand removal of your iPhone or iPad without having to hold the base of the dock possible.
There are two different models of Everock but for this review, we're going to take a look at the EverDock Duo, which is made to charge and dock both the iPhone and iPad simultaneously. Beyond that, since you can put whatever kind of charging cable you'd like into the bottom of the EverDock, it also works with almost all other smartphones and tablets. That means if you've got an iPad and another kind of smartphone, you should be just fine using the EverDock for both.
The EverDock comes in space grey, gold, and silver so it matches whatever iPhone or iPad you've got. I've found the silver and grey look good with pretty much any device, including Android phones. While I have the EverDock Duo, Fuz also makes a standard EverDock that only holds one device at a time. The third option for purchase is a combo back that comes with a standard EverDock and an EverDock Duo.
When you receive your EverDock, you're provided with spacers to use when you don't have a case on your device. When I ordered, I was given a choice of color for the spacers but that doesn't appear to be an option on the EverDock site anymore which means you'll most likely just receive spacers that are color matched to the dock color you choose.
The idea is that when you're using a device without a case, you use the spacer inside the EverDock. If you have a thicker case, you should be able to remove the spacer and use EverDock without the spacer. I've had mixed results with this and it seems to depend on what kind of case you've got on your device. Ones that are thinner, but too thick to use the spacer, seem to create a gap that doesn't look all that great and causes the device to teeter from side to side. With the spacer inserted and no case on, I've had no problems. There's a little give when moving the iPhone or iPad side to side but nothing to be concerned about.
The good
Color matched very well to the iPhone 5s
Tiny air pockets on the underside of EverDock hold it in place on your desk which results in easy one handed removal of your device
Compatible with pretty much any smartphone or tablet
Reasonably priced for the high quality material used
The bad
Certain cases create a gap in the base that doesn't look great and causes the device to wobble back and forth
Sometimes sliding in an iPad or iPhone requires a little bit of fiddling as the chargers seem to be angled towards the rear of the dock too much
The bottom line
If you're looking for a quality docking solution that can also charge your iPhone or iPad at the same time, the EverDock is an option worth looking at. The only time I may be hesitant to recommend it is if you use a lot of cases since the results seem to be mixed. If you go naked however, you should be just fine with the EverDock.
EverDock Duo, $69 - Buy Now

(opens in new tab)

EverDock, $49 - Buy Now

(opens in new tab)

EverDock combo pack, $109 - Buy Now
Get the best of iMore in in your inbox, every day!
iMore senior editor from 2011 to 2015.
How well do those spacers fit? They're not too loose are they? I'm fairly much against using a case, so I'd hate to lose a spacer if they're too loose!

They come with a few extra. They're not loose. Sent from the iMore App

Allyson, This is David from FUZ Designs. Thanks so much for the review. As you've pointed out, the EverDock works great without a case and with "normal" cases. What we are finding out from some of our users is that including an intermediate sized silicone insert will allow the EverDock to work with thin cases as well. We will be making these in the next couple weeks and that should remedy any concerns with different sized cases. Thanks again for the spot on review.

Will Kickstarter purchasers have an opportunity to get these at a special rate?

Absolutely. We will work out all the details in the next few days and send an update discussing everything.

Hi David, I ordered 2 EverDock combo kits back on December 18th, and was wondering if that special rate will be extended to those of us who were not part of the initial kickstarter orders? P.S. I received my order on 12/24, and my entire family is LOVING the EverDocks! Great job!!!

So glad you're loving them. Email us at support@fuzdesigns.com and we can get you whatever you need.

What are the spacers made of? Are they a smooth, hard sort of plastic, or like a grippy silicone?

The part that touches the phone is firm silicone. It provides solid support and protection from scratches. The adapter that holds the cable is made from plastic.

Might I suggest that you also include an insert that covers just the base instead of also the back? In other words, instead of the current L shape, do a horizontally flat insert.

Any idea if this will work with Twelve South's Book Book on an iPhone 5?

I don't know. I would guess it's too thick. Sent from the iMore App

It doesn't work. My wife has a Book Book for her iPhone. The thickness is not the problem but the extension "lip" at the bottom of the case.

The lip is the part that concerned me. Thanks for the heads up. I love my Book Book and don't want to compromise the fit by repeatedly removing it to dock. Guess I'm stuck with the dangly cables.

I have been waiting for one of these, I don't use a case and the Apple version of the old charger was shaped wired too, always had to fiddle with it to fit in.

Any idea if a 30 pin apple cable would fit? I have an iPhone 5 and 4S that I would love to charge simultaneously. Sent from the iMore App

I think the 30-pin is too wide :( Edit Looks like someone below says it does work, as long as you don't use the spacer. So there you go :)

So this is the dock that was on the screenshot of your jailbreak article, along with the promised review. Great job as always, Ally!

To answer your question about the 30 pin cable.
It works perfectly. You just don't use the black spacer, just pop your cable in. For using a case.
I have a sector 5 case from element case and it is "a little thin" and wobbles like Ally says.
To fix this I used a part of the spongy packing the dock comes in, cut and trimmed it to about 1/8th inch depth and shaped the same as the hole.
Then put the cable and spacer in the dock.
It sticks out just a bit so open up the hole in the silicone space a tiny bit and your good to go.
Now my 5S fits as it would without a case, simple :)

+1 for your MacGyver outlook on life! :)

I hadn't seen this before so thanks for a nice review on a good accessory. Sent from the iMore App

Not sure this is dock for me. Too thick and I have to use my cables. Too much work for a dock at that price. Sent from the iMore App

Is it just me, or is the adapter for the lighting cable super hard to get out once its in the dock?

Yes. I had to shove it really hard with a metal rod before it came out.

Same here, I hope it will loosen up over time. :)

I got my kickstarter reward today and I am disappointed that it appears that it won't work with any of my devices.
My iPhone 5s, I just started using a LifeProof case and it has a door on the bottom that is in the way. It might work with my Apple leather case, but I am guessing it is the same as my wife's phone (see below).
Our iPad 3, has a rubberized case that is just barely too thick in the back to fit without the silicone.
My wife's iPhone 5s, the spacer doesn't hold the plug securely so it pulls out when removing the phone. (we only have Apple lightning cables). Maybe if they sent their own lightning cables it wouldn't be such a problem.
My work BlackBerry Bold is too thick between the back and the connector and the front scrapes the metal (it won't fit at all with the silicone in place). If I had ordered this from a store, I would pursue a return. If anyone wants one let me know (I have 6). :(

Do you still have docks available? Are they dual? What color? What price? Thanks! Brian

I also got my rewards, plus a few extras I ordered to use as gifts. I am not sure exactly if the Duo I got to give as a gift will get used at all by it's recipient, but we'll see. If not and she returns it I'll give it to a different family member. I have a feeling it will require far too much explanation and fidgeting for the original recipient to mess with. I am not someone who constantly charges my devices, usually every other night or so, max, so I was hoping I could leave my phone sitting on the dock somehow without having to charge it, but the incline isn't quite steep enough, or the lip isn't quite enough, to allow that to work even without a cable. So far my biggest frustration in making it work for me is that my cables refuse to go into the channels so the docks won't sit flat on any surface. I am also a bit wary of having them bent like that as well since I had issues in the past with devices not charging properly after a while. I have a spare new one though so I am ok with that. Last night was the first time I used it at all and charged, and I did have some issues getting my phone back off of it this morning. Right now, I am thinking about turning it upside down and using the sticky bottom as a mount for the times I don't need to charge, and only using it right side up as needed. They are really slick looking though.

The minuet I saw this doc, I put in a bid at Kickstarter. I was worth the wait. I have a Seioio case on the 5S, and I do not set the cable in the spacer all the way, and leave the silicone off, so far, I have not had to cut the rubber cover out of the case, but that would be no problem. As far as the spacer, it is a tight fit, and will not come out unless you force it out. I have no problem removing the phone, the doc does not slide. The only con, the cable will come out of the bottom if I move it. No big deal, Once I set it on the night table, that is not a problem. I have not tried the iPad mini retina yet. I have the Incipio feather case on it, and the bottom has complete access to the charge port, so that should work, but my guess you would have the use the silicone insert. This is a great doc.
Thank you for signing up to iMore. You will receive a verification email shortly.
There was a problem. Please refresh the page and try again.