Every new Star Wars LEGO set available on Triple Force Friday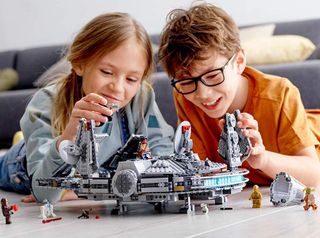 To celebrate all things Star Wars, be sure to check out the newest LEGO sets for Triple Force Friday. The collection features a great mix of transport vehicles, mini-figures, and yes, Yoda. These items are being released ahead of the release of Star Wars: The Rise of Skywalker in theaters and launch of the Star Wars: The Mandalorian television series on Disney+. Trade-in your hard-earned cash for these newest LEGO creations today!
A triple threat
Lucasfilm and Disney's Triple Force Friday celebrates the upcoming arrival of Star Wars: The Rise of Skywalker, The Mandalorian Disney+ series, and the new PS4/XBO/PC Game, Jedi: Fallen Order with the introduction of new LEGO sets. Whether you're eyeing our favorite, the Star Wars Millennium Falcon (75257) (opens in new tab), Kylo Ren's Shuttle (opens in new tab), the ever-iconic Yoda (opens in new tab), or one of these others, you won't be disappointed.
Our advice: Get these fast as they are likely in short supply. Also, enjoy the 2019 Star Wars titles at the movies, through Disney+, and on your favorite gaming platform. You'll no doubt be happy that you did!