Everyone should try Apple Music. But should you subscribe?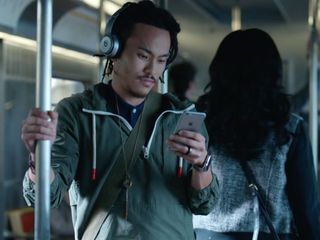 Apple Music has consumed my thoughts lately—in part, because I spent most of the last week writing an epic Apple Music FAQ on the service. The more I learn about it, the more I get excited. But like any service that depends on both the cloud and outside participation, there are potential pitfalls in the road.
As such, like any neurotic list-maker, I put together a pros-and-cons overview of what's really exciting me to subscribe after that three-month trial—and what still gives me pause. (And then, because I write at a technology site for a living, I put it on the Internet.)
So, Apple Music. The company's new service is essentially a four-part bonanza, and that's what I'm going to look at. Part one: streaming music with custom curation; part two: offering your music on every device; part three: redefining internet radio; and part four: how Apple plans to connect you with musicians you love.
Streaming music, Apple-style
We can't stress-test Apple Music until the service is live, but judging strictly by the numbers, its streaming service appears to be on par with Spotify and the others: Large library; custom-curated playlists created by Beats Music alumni, musicians, and music magazines; offline listening and playlist-making; and integration with your local library.
After testing several of the other streaming services—gigantic roundup coming soon!—I have to be honest: I hate pretty much everyone's custom playlists except for Beats Music. Which makes me thrilled that Apple Music appears to be largely keeping the Beats curation team on, with all their playlist expertise. I listen to Beats's playlists religiously at this point, and my experiences with Rdio, Spotify, and Pandora have left a lot to be desired. (Granted, Spotify does have many excellent user-submitted playlists, but it's hard to find ones you love without some digging and recommendations from your friends.)
Without testing Apple Music yet, I don't know just how deep their streaming library goes. If it's like Beats's catalog, I'll be pretty happy, but there may be weird artist omissions at the start—and if people are looking to switch from Spotify and can't listen to their favorite music, that could be a huge downside.
You're also looking at limited device availability, at least until the end of 2015: no support on Sonos until the fall, and no support on Android and Apple TV until the end of this year. If you rely on listening to music from those devices, Apple Music may be a no-go for you for now.
What I'd need to subscribe
The songs I want to listen to, awesome playlists, and the ability to share them with my friends.
Your music, on every device
Apple Music also expounds upon the traditional integration-and-upload offered by other streaming services by tying it to iCloud. If you've used Apple's iTunes Match in the past, Apple Music does the same thing: It automatically links up your purchased or ripped songs with songs from the Apple Music catalog, and anything the service doesn't have, it will upload for free—up to 25,000 that it can't match, though Apple senior vice president Eddy Cue tweeted that the company is working to up that to 100,000 tracks for iOS 9 this fall.
Unlike iCloud Photo Library, your iCloud Music Library doesn't take up your iCloud storage space—it's limited by song number, rather than by gigabyte.
On its face, this option isn't anything special—pretty much every service will let you add your music to your streaming library—but Apple Music does it all automatically, taking away the stress of having to manually add new songs you buy or download.
Spotify's Local Files playlist, which automatically lists any tunes from your iTunes library in a Spotify playlist, isn't bad—but it's limited to your locally-downloaded songs. If you subscribed to iTunes Match (or simply don't want to keep lots of songs on your hard drive) it won't be able to find those. And those songs aren't available on mobile at all if you don't manually upload your library to the service.
If you like not having to worry about syncing your older music or knowing whether brand new tunes you've purchased on one device will be available on a different device, Apple Music is going a long way to alleviating those stresses, and it's proved through its iTunes Match service that it can (mostly) handle that load.
25,000 songs is still not a huge number for those with massive libraries—though by the time your free trial is up, you should have space for 100,000 if you've upgraded to iOS 9.
I also worry about download errors, older songs getting deleted, and all the usual stuff that plagued me with iTunes Match. (Hey, I said that Apple had mostly handled Match well—it's not without its quirks and occasional hiccups.)
What I'd need to subscribe
Integrating iTunes Match's features does it for me; for others, I imagine the 100,000 song limit increase is a huge perk.
Redefining internet radio
When it comes to Apple's radio component, it appears to be a lot like iTunes Radio before it—a slightly lesser version of Rdio's automated channels. ... Or is it?
Beats 1 is where the story changes. No streaming service has gambled on live shows; Apple Music, in contrast, will have one that's run 24/7. Hosted by three top-tier DJs along with programming from a slew of celebrities, artists, musicians, and tastemakers, Beats 1 is reportedly going to combine traditional radio music play with interviews, playlists, live shows, and more.
Moreover, it looks like my initial assumptions about Apple Music being automated were wrong: According to Apple executive Jimmy Iovine, Apple's new radio stations are hand-built, just like its playlists. From an interview with The Loop:
Both Beats 1 and custom-built radio appear to be big promises from a company that's never tried to do live radio before, but the folks behind Apple Music have an impressive pedigree and the monetary backing to make magic happen. Whether they will, well... we'll see on June 30. I'm certainly more intrigued by radio than I have been in recent years.
Custom radio stations are huge. I don't know any service that's really tried to hand-program out its radio features—that's a lot of time-intensive work, especially when you consider that your "radio" playlist is likely to be something like 400-800 songs where your typical hand-built playlist is 12-20.
I've never really been all that impressed with iTunes Radio's automated radio playlists, vastly preferring Rdio; even with Apple's focus on custom-built stations, I don't know how that will transfer when you're creating a new station from your own songs.
When it comes to the other half of Apple's radio service, Beats 1 could be a complete flop—an ambitious one, but a flop nonetheless—and even if it isn't, you can listen to it without a paid subscription.
What I'd need to subscribe
Better automated radio stations in Apple Music—ones worth the ad-free listening. And a bonus, if it happens: The ability for subscribers to save shows from Beats 1 for later offline playback, a la podcasts.
Connect
Connect is Apple Music's answer to Tidal's exclusive artist content combined with a little bit of social media flair. It carries over Beats Music's old artist profiles and beefs them up, letting artists have a face on the service to chat with their fans, advertise their concerts, and post exclusive photos, video, and audio.
Will people use Connect? That... remains to be seen. Apple's making access to the artist profiles free to all-comers—whether they be from Twitter or Facebook, Mac or PC, iOS or Android—but is locking exclusive content to paid Apple Music subscribers. As a paying customer, you could post a link to Pharrell's subscriber-only lyrics on Twitter, but your friends couldn't see those lyrics without a paid Apple Music account.
Artists also appear to have to use Apple's content tools for uploading photos, URLs, videos, and audio—they can't embed photos from Twitter or Instagram, or video from YouTube. Once in Connect, artists can push them to other channels, but not the other way around. I get Apple's reasoning, but as someone who's had to manage multiple social accounts for a brand, it can be infuriating not to be able to share from any service, in any direction.
Apple doesn't want that, of course. They want to be the place for artists to post their photos, or your video, or your song snippet. Unfortunately, the pulse of social media doesn't always listen to a company's wants. Look at Ping, Apple's failed and ultimately discarded first attempt at social media supremacy.
Apple has very different people working on Connect than Ping, and I'm sure they're lining up lots of great content from artists for the Music app's launch tomorrow. Done right, Connect could be an awesome portal for finding out the latest from your favorite artists.
Connect could be another Ping if it's not executed properly—nothing worth subscribing for; just a tab on your Music app that you don't open.
What I'd need to subscribe
I don't follow a lot of musicians, so I don't know how much I'd use Connect even if it were awesome. But I do love hearing about the genealogy of songs; if Connect can let me peek into that world properly—and perhaps be searchable?—that would be potentially worth the subscription cost.
The bottom line
As I said at the outset: If you have an iPhone, Mac, or PC, Apple Music is worth a listen no matter what. You're getting a free three-month trial, and there's no reason not to make the most out of it.
From there, it depends on what you need out of your service: Apple Music's catalog is expected to be as comprehensive as Spotify's, and it additionally brings along the custom playlist expertise of the Beats Music staff. Add in Beats 1 and Internet radio options, and it should prove stiff competition against services like Rdio.
But largely, I suspect Apple Music's big sell will be its software integration: One of the reasons I love Photos and iCloud Photo Library is how easy it is to automatically upload images and have them show up on all my devices; Apple Music promises to do the same for your music collection and hook it into the OS. I've wanted to tell Siri "Play my Beats Music favorites" for months; come June 30, I'll be able to issue commands like that for my entire Music and streaming library. It's a huge perk, and as much as I like Spotify, it may prove to be the ultimate deciding factor.
What about you, dear readers? What are your must-haves for subscribing to Apple Music after the three-month trial is over?
Sweet Music
(opens in new tab)
Millions of songs in your pocket.

Apple's music streaming service boasts over 70 million songs, live radio stations anchored by renowned personalities, and thousands of curated playlists spanning every genre you can imagine.
Serenity was formerly the Managing Editor at iMore, and now works for Apple. She's been talking, writing about, and tinkering with Apple products since she was old enough to double-click. In her spare time, she sketches, sings, and in her secret superhero life, plays roller derby. Follow her on Twitter @settern.
If I update my iTunes for OS X will I still have access to the internet radio stations already on there? Sent from the iMore App

Yup, internet radio (AKA radio you're listening to via URL) shouldn't change.

I think that is a great question Munale. I was thinking the same thing. I would hope, you'd be able to keep them, and better yet, that they would provide and improved selection of music based on the users tastes.

Considering I can still buy any type of physically formatted music should I want, I can't see how this is anything but a tremendously consumer-friendly product. Unlimited downloads of any music I want? I admit, I'm still blown away by the value of streaming music. True, others may want to own their music and build a library, but as someone who seldom listens to a particular song or album or artist repeatedly, it feels like this was built especially for me. I have a premium Spotify subscription presently, but the Mac app skips and stutters incessantly, an issue they're apparently quite aware of, as it's all over their user forums, but unwilling to do anything about. So personally I'm counting down to the release of Apple Music

100% of my music listening takes place on my phone. In my car I'm playing music via bluetooth from my device. The ownership of CD's is no longer appealing to me. The mobility of music on my phone is everything. So the streaming world is wonderful for my needs. So like you, I'm looking forward to what Apple can do in the streaming ring. Ideally it will be enough to force me away from Spotify and Tidal.

have you found a breakdown of each streaming services' compensation to artists? thats a huge factor for me. now that i think about it if the curators are possibly exposing these artists to new ears and listens through the radio and playlist perhaps that could be a reason to pay more to doing that work

Just a couple of concerns to me. The first and biggest is collaborative playlists. When we're on long car journeys, my gf and I have a collaborative Spotify playlist. That gets played. I need that feature in Apple music. The only other concern is I'm annoyed that they weren't upfront on iTunes Match and Apple music and how they related, my iTunes Match expired two weeks ago and I updated it as I could find nothing that explained it was included in Apple music. Sent from the iMore App

I agree being a preload is probably the biggest advantage of Apple Music. But I can't justify $9.99 a month for a streaming music service, when there are free ad-supported Alternatives with a great library and so much music is available for free from other means (like YouTube, where you can easily rip the tracks off and add them to your personal collection). $120 a year... I just don't see the value. I'd pay $120/year for an Ad-Free Facebook before I'd pay that much just to access Apple Music at this point. That's about how wide the disparity is between the importance of those two services is to me. I'll stick to Pandora. Free, and cheaper if I decide to drop the Ads. I doubt I'd even do the Trial for Apple Music because I have no intention of subscribing. If Microsoft's updated Music App is better then I'll switch to that, since Streaming your Collection from OneDrive is free and I can free up a lot of storage on my smartphone with that :-) I don't have a Google Account so I don't use Play Music.

I'll be the one that points out the obvious and state that ripping copies of songs off of YouTube for your personal collection without buying them is stealing.

Would my local playlists get backed up onto the cloud? It is infuriating when you lose all your playlists, play counts, and ratings when your HDD crashes or upgrade OS or change computers.

Yes, they are saved in iCloud Music Library now, and sync to all devices.

I've never fully grasped the concept of streaming (beyond internet radio, such as Pandora) or curated playlists - I prefer my own creation, but I concede that even my extensive playlists can get over-played - but I think that's because I'm one who likes to build my own library and playlists. I don't purchase music often enough to justify the $9.99/mo price tag (hell, I may not purchase that much music in a given year), so I will be testing the bejesus out of the service, during these three months, to figure out what all the hype is about.

Using streaming services are great for listening to music that you may not consider buying. Bands you've heard others talk about and want to check out for yourself. Discover whole new genres and mash it up with your favorites in your own playlists or let the system "radio" it for you depending on your category or mood (depending on the features of the service). Consume all you can - at your pace - for a single fee. Jump in, the water's fine!

I'm most interested in how iTunes Match will play. If Apple Music is going to match and add my music a la iTM, then what's the point of subscribing to both (other than song limit currently)? Otherwise it just seems to be double-dipping. Side note, I missed Beats curation but couldn't stick to the service for it's lacking library. Sent from the iMore App

Unlimited AT&T data customer here. As long as AT&T throttles me. And they still do, I cant take advantage of any subscription based streaming service. So I'll be living my music streaming life through others. :-( Sent from the iMore App

that's exactly how I feel! I have an AT&T unlimited plan and I get throttled at 5 GB. seeing as I use about 30 GB at home on wifi per month, I couldn't stream like this until AT&T ends throttling Sent from the iMore App

Apple Music is a non-starter for me IF the many posts (that I've seen on AppleInsider) complaining about bugs and big issues with files and playlists are true.

I've been using iTunes Match for awhile, and I like the price and convenience. It does have quirks, like replacing edited tracks made for "mix-tapes" (I don't know what you'd call them anymore) with unedited versions from the iTunes Store. Anyway, I'm certainly going to try Apple Music. Taking a leap from $25/yr to $10/mo seems rather steep. I could possibly do a Family Plan with my wife (no kids), and knock it down to $7.50/mo, but I'm not sure if we'd want to deal with Family Sharing's requirements. I'm also going to have to hear what kind of music these DJs play. As someone nearing 60, I grew up on radio in NYC during the Murray the K/Beatles era, and independent radio in DC (HFS!) into the 2000's. If there's just one station, what kind of range will we hear? The thing I'm most interested in is access to all the iTunes music. I've sometimes spent hours following a thread of music history through reviews and previews, wanting to listen to albums I had heard about (or hadn't), but only getting up to 90 sec. snippets. That's the biggest reason I'd subscribe.

Would it be possible to delay the free trial until fall and I can try it on my Android phone as well as my Apple devices at the same time? I just want to do it later on all of my devices rather than now on just some. Can someone help me answer this?

Presumably the 3 months free trial will have expired by then.

I am the only family member with an iPhone (all others are on Android). Because we are on Verizon (3 GB/mo.), I may try the Apple Music for free but don't plan to stick with it afterwards.

I don't see the need for streaming at all. It would eat up my low data plan (yes I realize some allow you to download on Wi-Fi and then play but it's a hassle and you can't just go on a whim) and there's lots of dead zones even ignoring the inside of buildings. CBC Radio 3, my favourite source of music, had a number of podcasts that I used to listen to on a regular basis. One came out every Friday that I really enjoyed. They switched to streaming only to "better track the number of listeners" a couple of years ago. Since then I've listened to their shows a couple of times at most. I forget to tune in and if I happen to remember to when I'm out I won't listen because it'll use up my data plan. It just isn't convenient for me to stream their music. I consume music three ways. Favourite artists or albums are added to a playlist that is synced to my devices. I have a few other playlists that are also synced including one that catches any song that has a four or five star rating. So anytime I add a new song that I really like I just give it a good rating and the next time I sync my device it will appear on there. Finally I have a number of podcasts that are synced with my iPhone. These introduce me to new music (mostly independent artists) and if I really like an artist I'll go out and buy their work. Streaming doesn't work for me so please don't say that everyone should try Apple Music. If it works for you then that's great but don't assume that everyone works the same way as you do.

It irks me that the music industry locks down music lyrics as if they think they can monetize them somehow. Lyrics should be integrated into every music service and accessible from the playback UI. On the rare occasion when I want to see a song's lyrics I'll justGoogle them rather than poke around endlessly through an artist's Connect account.

Shazam works great for music not playing on the device on which you have shazam....

What about the many posts I've been seeing that describe music libraries suddenly becoming disorganized, desktop music files becoming misidentified in Apple Music, DRM being reintroduced to music files and Playlists suddenly disappearing?