Everyone should try Apple Music. But should you subscribe?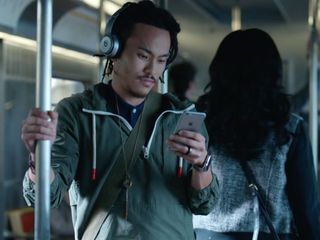 Apple Music has consumed my thoughts lately—in part, because I spent most of the last week writing an epic Apple Music FAQ on the service. The more I learn about it, the more I get excited. But like any service that depends on both the cloud and outside participation, there are potential pitfalls in the road.
As such, like any neurotic list-maker, I put together a pros-and-cons overview of what's really exciting me to subscribe after that three-month trial—and what still gives me pause. (And then, because I write at a technology site for a living, I put it on the Internet.)
So, Apple Music. The company's new service is essentially a four-part bonanza, and that's what I'm going to look at. Part one: streaming music with custom curation; part two: offering your music on every device; part three: redefining internet radio; and part four: how Apple plans to connect you with musicians you love.
Streaming music, Apple-style
We can't stress-test Apple Music until the service is live, but judging strictly by the numbers, its streaming service appears to be on par with Spotify and the others: Large library; custom-curated playlists created by Beats Music alumni, musicians, and music magazines; offline listening and playlist-making; and integration with your local library.
After testing several of the other streaming services—gigantic roundup coming soon!—I have to be honest: I hate pretty much everyone's custom playlists except for Beats Music. Which makes me thrilled that Apple Music appears to be largely keeping the Beats curation team on, with all their playlist expertise. I listen to Beats's playlists religiously at this point, and my experiences with Rdio, Spotify, and Pandora have left a lot to be desired. (Granted, Spotify does have many excellent user-submitted playlists, but it's hard to find ones you love without some digging and recommendations from your friends.)
Without testing Apple Music yet, I don't know just how deep their streaming library goes. If it's like Beats's catalog, I'll be pretty happy, but there may be weird artist omissions at the start—and if people are looking to switch from Spotify and can't listen to their favorite music, that could be a huge downside.
You're also looking at limited device availability, at least until the end of 2015: no support on Sonos until the fall, and no support on Android and Apple TV until the end of this year. If you rely on listening to music from those devices, Apple Music may be a no-go for you for now.
What I'd need to subscribe
The songs I want to listen to, awesome playlists, and the ability to share them with my friends.
Your music, on every device
Apple Music also expounds upon the traditional integration-and-upload offered by other streaming services by tying it to iCloud. If you've used Apple's iTunes Match in the past, Apple Music does the same thing: It automatically links up your purchased or ripped songs with songs from the Apple Music catalog, and anything the service doesn't have, it will upload for free—up to 25,000 that it can't match, though Apple senior vice president Eddy Cue tweeted that the company is working to up that to 100,000 tracks for iOS 9 this fall.
Unlike iCloud Photo Library, your iCloud Music Library doesn't take up your iCloud storage space—it's limited by song number, rather than by gigabyte.
On its face, this option isn't anything special—pretty much every service will let you add your music to your streaming library—but Apple Music does it all automatically, taking away the stress of having to manually add new songs you buy or download.
Spotify's Local Files playlist, which automatically lists any tunes from your iTunes library in a Spotify playlist, isn't bad—but it's limited to your locally-downloaded songs. If you subscribed to iTunes Match (or simply don't want to keep lots of songs on your hard drive) it won't be able to find those. And those songs aren't available on mobile at all if you don't manually upload your library to the service.
If you like not having to worry about syncing your older music or knowing whether brand new tunes you've purchased on one device will be available on a different device, Apple Music is going a long way to alleviating those stresses, and it's proved through its iTunes Match service that it can (mostly) handle that load.
25,000 songs is still not a huge number for those with massive libraries—though by the time your free trial is up, you should have space for 100,000 if you've upgraded to iOS 9.
I also worry about download errors, older songs getting deleted, and all the usual stuff that plagued me with iTunes Match. (Hey, I said that Apple had mostly handled Match well—it's not without its quirks and occasional hiccups.)
What I'd need to subscribe
Integrating iTunes Match's features does it for me; for others, I imagine the 100,000 song limit increase is a huge perk.
Redefining internet radio
When it comes to Apple's radio component, it appears to be a lot like iTunes Radio before it—a slightly lesser version of Rdio's automated channels. ... Or is it?
Beats 1 is where the story changes. No streaming service has gambled on live shows; Apple Music, in contrast, will have one that's run 24/7. Hosted by three top-tier DJs along with programming from a slew of celebrities, artists, musicians, and tastemakers, Beats 1 is reportedly going to combine traditional radio music play with interviews, playlists, live shows, and more.
Moreover, it looks like my initial assumptions about Apple Music being automated were wrong: According to Apple executive Jimmy Iovine, Apple's new radio stations are hand-built, just like its playlists. From an interview with The Loop:
Both Beats 1 and custom-built radio appear to be big promises from a company that's never tried to do live radio before, but the folks behind Apple Music have an impressive pedigree and the monetary backing to make magic happen. Whether they will, well... we'll see on June 30. I'm certainly more intrigued by radio than I have been in recent years.
Custom radio stations are huge. I don't know any service that's really tried to hand-program out its radio features—that's a lot of time-intensive work, especially when you consider that your "radio" playlist is likely to be something like 400-800 songs where your typical hand-built playlist is 12-20.
I've never really been all that impressed with iTunes Radio's automated radio playlists, vastly preferring Rdio; even with Apple's focus on custom-built stations, I don't know how that will transfer when you're creating a new station from your own songs.
When it comes to the other half of Apple's radio service, Beats 1 could be a complete flop—an ambitious one, but a flop nonetheless—and even if it isn't, you can listen to it without a paid subscription.
What I'd need to subscribe
Better automated radio stations in Apple Music—ones worth the ad-free listening. And a bonus, if it happens: The ability for subscribers to save shows from Beats 1 for later offline playback, a la podcasts.
Connect
Connect is Apple Music's answer to Tidal's exclusive artist content combined with a little bit of social media flair. It carries over Beats Music's old artist profiles and beefs them up, letting artists have a face on the service to chat with their fans, advertise their concerts, and post exclusive photos, video, and audio.
Will people use Connect? That... remains to be seen. Apple's making access to the artist profiles free to all-comers—whether they be from Twitter or Facebook, Mac or PC, iOS or Android—but is locking exclusive content to paid Apple Music subscribers. As a paying customer, you could post a link to Pharrell's subscriber-only lyrics on Twitter, but your friends couldn't see those lyrics without a paid Apple Music account.
Artists also appear to have to use Apple's content tools for uploading photos, URLs, videos, and audio—they can't embed photos from Twitter or Instagram, or video from YouTube. Once in Connect, artists can push them to other channels, but not the other way around. I get Apple's reasoning, but as someone who's had to manage multiple social accounts for a brand, it can be infuriating not to be able to share from any service, in any direction.
Apple doesn't want that, of course. They want to be the place for artists to post their photos, or your video, or your song snippet. Unfortunately, the pulse of social media doesn't always listen to a company's wants. Look at Ping, Apple's failed and ultimately discarded first attempt at social media supremacy.
Apple has very different people working on Connect than Ping, and I'm sure they're lining up lots of great content from artists for the Music app's launch tomorrow. Done right, Connect could be an awesome portal for finding out the latest from your favorite artists.
Connect could be another Ping if it's not executed properly—nothing worth subscribing for; just a tab on your Music app that you don't open.
What I'd need to subscribe
I don't follow a lot of musicians, so I don't know how much I'd use Connect even if it were awesome. But I do love hearing about the genealogy of songs; if Connect can let me peek into that world properly—and perhaps be searchable?—that would be potentially worth the subscription cost.
The bottom line
As I said at the outset: If you have an iPhone, Mac, or PC, Apple Music is worth a listen no matter what. You're getting a free three-month trial, and there's no reason not to make the most out of it.
From there, it depends on what you need out of your service: Apple Music's catalog is expected to be as comprehensive as Spotify's, and it additionally brings along the custom playlist expertise of the Beats Music staff. Add in Beats 1 and Internet radio options, and it should prove stiff competition against services like Rdio.
But largely, I suspect Apple Music's big sell will be its software integration: One of the reasons I love Photos and iCloud Photo Library is how easy it is to automatically upload images and have them show up on all my devices; Apple Music promises to do the same for your music collection and hook it into the OS. I've wanted to tell Siri "Play my Beats Music favorites" for months; come June 30, I'll be able to issue commands like that for my entire Music and streaming library. It's a huge perk, and as much as I like Spotify, it may prove to be the ultimate deciding factor.
What about you, dear readers? What are your must-haves for subscribing to Apple Music after the three-month trial is over?
Sweet Music
Millions of songs in your pocket.

Apple's music streaming service boasts over 70 million songs, live radio stations anchored by renowned personalities, and thousands of curated playlists spanning every genre you can imagine.
Master your iPhone in minutes
iMore offers spot-on advice and guidance from our team of experts, with decades of Apple device experience to lean on. Learn more with iMore!
Serenity was formerly the Managing Editor at iMore, and now works for Apple. She's been talking, writing about, and tinkering with Apple products since she was old enough to double-click. In her spare time, she sketches, sings, and in her secret superhero life, plays roller derby. Follow her on Twitter @settern.