Super Mario Party: Everything you need to know!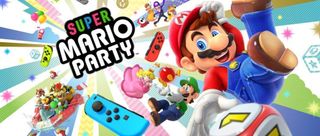 Nintendo just announced the release of Super Mario Party for the Nintendo Switch , coming this October 5. If you're a party gamer, this is going to be right up your alley because it includes all of the awesomeness of party games with the aspect of Mario characters added in. This newest game has added loads of fun to the Switch, and it features some new elements we haven't seen from Nintendo Switch games quite yet. Let's take a more in-depth look at what exactly Super Mario Party has to offer.
All your friends are here
All of your favorite characters will be making a comeback for this latest version of Mario Party. We've got some classic players, like Mario, Donkey Kong, Bowser, and Peach, and some newbies as well, like Rosalina, Dry Bones, and a goomba. There is not a classic Mario face that you won't see in this new Super Mario Party game.
There's a twist on the classic Mario Party
With a game board and mini-games galore, there is still a newer aspect to this game that gives it a Switch feel. Not only is Cappy in this game, but there is a mini-game that seems to be made just for him. There's also one with motion controls, but the best minigames have to be the ones that allow you to connect your Switches together so you can play on the go with more than one.
You can use two Switches for certain minigames
With mini-games like the baseball one showcased or even the tank one, having the ability to have a LAN-like connection to each other helps in some games. With Super Mario Party, you're able to connect your Switches together so that you can use both screens for certain games. The screens are so tiny, so being able to connect to one another makes it so much nicer.
Since the game isn't out yet, I'm not sure exactly how the connection works. When watching the trailer, we see one person swipe their finger across the screen and that seemed to connect it. When October rolls around, we'll have plenty of answers on that connection for you.
I believe that Super Mario Party is the updated Mario Party that we have been desperately waiting for, and I'm glad Nintendo has seemingly listened to us. I'm very excited to have a game that merges together the fun of the newest Mario games to the fun of party games all on the Switch. I hope all that starts well ends well.
So when can I get my hands on it?
Super Mario Party comes to Nintendo Switch on October 5, 2018.
How much will it cost?
No idea. Nintendo didn't include the price when announcing the game at E3. It's likely to be somewhere in the range of $59.99. We'll let you know when we find out officially.
What are you most excited for with this newer Mario Party game?
Let us know down in the comments what you think about this new game!
Get more iMore in your inbox!
Our news, reviews, opinions, and easy to follow guides can turn any iPhone owner into an Apple aficionado