The advent and evolution of Apple's digital hub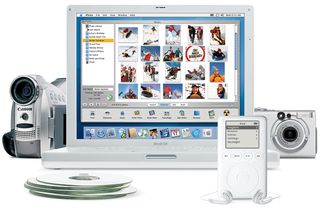 I no longer own a point-and-shoot camera, camcorder, voice recorder or dedicated music player. My iPhone is all of those items — plus more — in one, sleek, powerful and pocketable device.
In 2001, of course, the iPhone wasn't a thing yet, and many people had a whole shelf full of various dedicated devices. That year, Steve Jobs introduced the "Digital Hub" strategy, a cohesive plan to take all of those devices and make them more useful through the power of software.
Here's how Jobs introduced his plan:
Macworld 2001 was nine months before the original iPod was introduced, and as iTunes was introduced in this same keynote, the only example Jobs had to describe the idea of better-media-through-software was iMovie:
While Jobs and company would like the public to think this idea was born in Cupertino, Bill Gates shared a very similar vision a year earlier:
Microsoft was unable to execute on Gates' vision, but Apple moved quickly into the "digital lifestyle age," adding numerous programs to its portfolio.
iDVD and iTunes were announced during the Digital Hub keynote. In 2002, Apple released iPhoto and put all four applications under the iLife umbrella for the first time.
Jobs set out for the Mac to become the central place for all things multimedia, and Apple delivered. GargeBand and iWeb were introduced in 2004 and 2006, respectively, adding music and web content creation to the suite of applications. While at first considered an "iApp," iTunes eventually graduated from iLife, moving into its own track of updates and interface changes.
Integration between the programs became deeper as the individual titles became more powerful. A user could import photos from her camera, drop them into a slideshow or home video, add music stored in iTunes and burn it on a DVD to give to her parents to watch later.
For nearly a decade, iLife was the heart and soul of the Mac. The original Apple Stores were laid out into sections revolving around music and photography. Third-party digital cameras and camcorders graced official Apple product photography, and the Mac slowly became the go-to machine for creatives of all talent levels.
Apple kept on the gas, releasing new iLife versions in 2004, 2005, 2006, 2008 and 2011. In 2013, the company officially moved the suite to the Mac App Store, breaking them into discrete purchases. At $15 each, iMovie and GarageBand are the sole survivors. iDVD, iWeb, and iPhoto have been put in the great Trash bin in the sky.
This unbundling of iLife and breaking down of the Digital Hub strategy has been at the direct hand of cloud services and smartphones. People stream music on their iPhones and don't want to sync purchased tracks over a USB cable. DVDs have been supplanted by video sharing sites. iWeb doesn't make sense in the world of easy-to-use web building services.
Apple isn't afraid to cannibalize itself, however. In what would be his final keynote, Steve Jobs announced iCloud.
With iCloud, Apple demoted the Mac "to just be a device, like the iPhone, iPod or iPad."
Like those early years of the Digital Hub strategy, Apple's been rapidly innovating with iCloud. The latest example, Photos and iCloud Photo Library, is perhaps the best example of what Jobs promised in 2011. Photos.app brings deep integration across OS X (and iOS, for that matter), with the cloud — not local sync — keeping everything, everywhere.
While the Mac still may be my tool of choice to deal with my photos and videos, it doesn't have to be. With iCloud, no single device is the hub, but rather the digital hub is everywhere I am, no matter what device is at hand.
Master your iPhone in minutes
iMore offers spot-on advice and guidance from our team of experts, with decades of Apple device experience to lean on. Learn more with iMore!
Stephen Hackett is the co-founder of the Relay FM podcast network. He's written about Apple for seven years at 512 Pixels, and has more vintage Macs than family members living in his Memphis, TN home.