Facebook alternatives for keeping in touch with friends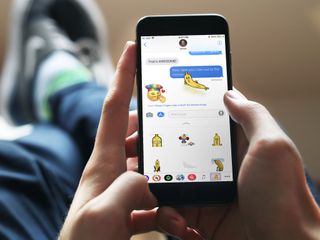 (Image credit: iMore)
Facebook is getting quite a bit of negative attention after news that the data of more than 50 million Facebook users was scooped up by voter-profiling company Cambridge Analytica without those users consenting to it.
News of this nonconsensual gathering of user data inspired folks to take a closer look at how their information was being used and abused on Facebook. Those who aren't deleting Facebook outright are looking at ways to limit where their data goes and how it's used. If you're thinking about deleting your Facebook — or just cutting back on the stuff you share there — you can use these alternatives to stay in touch with family and friends online.
Messages
If you've got an iOS or macOS device, you've got a built-in alternative for keeping in touch with friends. Apple's Messages app is more than just a way to send quick text-based messages back and forth — it's filled to the brim with apps and services that can add to your conversations. You can share photos, videos, GIFs, and voice messages without needing to download any extras. That said, once you start downloading extras, you'll be able to fill your conversations with stickers, live reaction GIFs, board games, and so much more.
While Messages isn't brilliant at handling group chats with Android devices, it's good for everything else! If your family is looking for a non-Facebook way to keep in touch, consider setting up a family group chat and keeping those family photos — and family drama — amongst yourselves. Pro tip: If the group chat is blowing up your phone, tap on the information button in the top right corner of the screen (looks like an i with a circle around it) and toggle on Hide Alerts. That'll keep your phone from notifying you every time someone sends a message, giving you the option to tune in to the group chat on your time.
Google Hangouts
When it comes to user data, Google is rather infamous for its business model: Its users are its product. That said, there's a difference between third-party access to private data that users never consented to giving up (i.e. Facebook and Cambridge Analytica) and first-party access to user data that a user consents to handing over (i.e. Google and its services). If you're looking for a way to keep in touch with your buddies across all sorts of devices, Google Hangouts might be the right app for you!
Hangouts lets you set up group chats, send messages, photos, emoji, stickers, GIFs, and more. You can also use the app to place free voice and video calls. The best part about Google Hangouts is that it's likely available on the devices you're using day to day, so you'll be able to stay in touch with your family and friends regardless of whether you're using your iPhone, Android tablet, MacBook, or Windows PC.
Twitter
If you're looking for another social networking platform, Twitter could work for you. The social network is not without its problems, but Twitter isn't quite the internet-dominating, everywhere-and-in-all-things service that Facebook is. If you used Facebook to share photos, post links, and comment on friends' posts, Twitter can serve as a replacement. Its private messaging service (direct messages) isn't as robust as Facebook Messenger, but you can still share links, text, photos, videos, and more in both one-on-one and group chats.
Twitter is an excellent tool for keeping up with the news both public and personal. If you're leaving Facebook but still want to know what's going on — while also having a way to shout into the void, check out Twitter.
Telegram
Telegram won't feed your social networking needs, but it is a great way to keep in touch with family and friends in a secure way. How secure? Here's what Telegram says:
Don't worry, you don't need to know what Diffie–Hellman secure key exchange is. Just know that Telegram takes encryption seriously. You can use Telegram for sharing more than just photos, GIFs, and videos, too. You can share documents (mp3s, ZIP files, etc.) and even set up bots that'll be part of the conversation.
Telegram also touts a Snapchat-like feature for self destructing messages (just remember these messages can still be captured):
If you want a fast, reliable way to maintain group chats and private messages, Telegram is well-rated, popular app for doing just that.
Signal
Like Telegram, Signal is a communication service that offers end-to-end encryption. It's a free and open source app, meaning anyone with the know-how can check its code and verify its security. Signal says it's the only private messaging app with "open source and peer-reviewed cryptographic protocols to keep your messages safe."
You can use Signal to create group chats, place voice and video calls, and send photos, videos, GIFs, and documents. Interestingly, Signal uses your own phone number and address book so you're not required to create a new account to use the service. Signal also offers a disappearing messages feature but, again, that doesn't mean much when folks can take screenshots or use other devices to capture what's on the screen.
If you're looking for a secure way to keep in touch with friends and family and aren't keen on creating a bunch of new accounts, check out Signal.
Path
When I occasionally inquire about others' Facebook use, I often hear some variation of the following: "I just use Facebook to let my family know I'm still alive." That's a little dramatic, but it seems folks my age — and a little younger and older — are mostly using Facebook to send out the occasional life update so great uncle Norman knows how life's going. If you're looking for a passive way to keep your friends and family in the loop, you should check out Path.
Path is a social network for collecting and sharing moments. Path encourages you to use the app at least once a day, creating a sort of daily journal of your life as you're traipsing through it. You can share photos and videos, text posts, songs, movies, TV shows, books, and more. Much like Facebook or Twitter, you can follow along with what your friends are up to in the Timeline and leave comments and reactions. Path also features granular privacy tools so you can choose who sees the posts you share.
If you're looking for a simplified, easy-on-the-eyes version of Facebook or just want a way to let your family know what you're up to, give Path a go!
Others?
Are you deleting your Facebook? What apps are you planning on using to replace the big blue behemoth? Don't forget: Instagram and WhatsApp don't count — they're owned by Facebook! Be sure to share your thoughts and replacements in the comments!
Master your iPhone in minutes
iMore offers spot-on advice and guidance from our team of experts, with decades of Apple device experience to lean on. Learn more with iMore!
Mikah Sargent is Senior Editor at Mobile Nations. When he's not bothering his chihuahuas, Mikah spends entirely too much time and money on HomeKit products. You can follow him on Twitter at @mikahsargent if you're so inclined.