How to use Find my iPhone to track down a lost or stolen iPad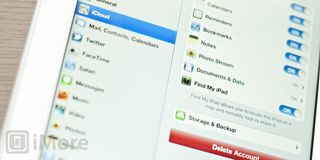 You just spent a good deal of cash to purchase the new iPad. Have you given thought as to what you would do if it were lost or stolen?
Wouldn't it be great if there was a way to "track" your iPad and know exactly where it was at all times? Well, fortunately, there is. If you signed up for Apple's free iCloud service (and we all should) you have an easy way of always locating your iPad –- Find my iPhone.
Yes, it the app is called Find My iPhone, but it finds any iOS device or Mac that is registered with iCloud.
How to sign up for Find my iPad
First, either create or login to your iCloud account when you set up your iPad. If you chose not to create or sign into an iCloud account, you can always:
Go to Settings.
Touch the iCloud icon along the left hand column.
Touch Account and sign into iCloud.
Make sure that the Find My iPad switch is set to the ON position.
Now that you are logged in to iCloud and have the switch turned ON- the fun begins.
How to use Find my iPad via the web
On your Mac, Windows, or Linux PC, go to the iCloud website – www.icloud.com - and log into your iCloud account.
You will see the iCloud icons on the screen – click on Find my iPhone.
The next screen will show you all your iOS devices. Those that are discoverable have a small green dot next to the name of the device. If you see a green dot next to your iPad – you are in luck. If you have a WiFi only version and it is "offline" – you are out of luck (at least for the moment.)
Click on the device you wish to locate – in our case, it is your iPad – and an the map will show the location of your iPad and when it was last located.
Touch the "I" icon next to the name of your iPad and you will have three options listed:
Play Sound or Send Message.
Remote Lock.
Remote Wipe.
If you think you just misplaced your iPad or that someone borrowed it without asking, click on Play Sound or Send Message.
You will then see a dialogue box for you to type in a message. When you are done, just click the Send button.
What happens next is that the message is displayed on the iPad – wherever it is and a sound is played. The message is visible when the iPad is locked and is displayed again when the iPad is unlocked.
The message can be as detailed as you like – in this example, I assumed someone just borrowed my iPad. If I thought it misplaced or I didn't remember who I lent it to I might give my contact information. If it were lost – I might even offer a reward for returning it.
What if you know or think your iPad was stolen? This is where the Remote Lock and Remote Wipe feature comes in. You may not get your iPad back, but you can take steps to make sure that your information is not stolen along with your iPad.
Click Remote Lock and the dastardly appropriator of your iPad will find the iPad useless – the won't be able to unlock it.
Click Remote Wipe and all the information will be deleted from the iPad – a great security feature.
If your iPad is "offline" you still have the options to:
Play Sound or Send Message.
Remote Lock
Remote Wipe
Email you when iPad is found
I would recommend that you enable either Remote Lock or Remote Wipe and as soon as someone tries to take your iPad online, it will become useless to them. (Assuming it was stolen.)
Find My iPad is guaranteed piece of mind that in the event your iPad is lost or stolen you can both locate it (for possible recovery) and lock or wipe it (for security.)
How to use Find my iPad on your iOS devices
If you have another iOS device, like an iPhone or iPod touch, or secondary iPad, you can even use Find my iPad when you're mobile. Apples makes an app for that:
Just download it, login, and you have access to all the same features and can track and secure any devices on the the same Apple ID.
Do you use Find my iPad? Have you ever located a misplaced device this way? Share your experience in this forum thread.
Additional resources:
Does this still work if the device has been wiped? So, if someone stole my iPad, immediately did a wipe on either the device or iTunes, or put it into recovery mode and wiped it that way, would I still be able to lock it down and make it useless, or does this only work if they're stupid enough to leave my data intact?

That's a great question, Will. If you didn't have a passcode on your iPad and they were able to wipe it and associate it with their iCloud account - then I think you are out of luck. I think we need to be smart and use pass codes and hope thieves are stupid and don't know what to do.

Thanks, Gary. If I stole someone's iPhone, I'd just put it in recovery mode and wipe it from there immediately, but there are a lot of really stupid thieves out there, so I guess at least this is something.
Recently, an employee had her phone stolen (or picked up from where she left it) and she was literally watching the thief walk around New York with her phone using this feature. I kept thinking that he/she was stupid for not turning the phone off until they could get it to a computer and wipe it.

True story. Last summer I woke up at home in bed to two masked men, one with a gun pointed at my head and another with a pry bar demanding cash, jewelry and other valuables. My wife and I were beaten with the pry bar and tied up with duct tape and dragged into separate bathrooms. They took my iPhone and iPad which were on the bedside table. We were able to get untied quickly and called 911. There were eventually 25 police including dog teams and swat teams to clear the house. When I got back into the house, the head of the swat team and another officer and I sat in my office in front of my iMac and started up the Find My iPhone. Looking at the satellite images, we found the iPhone on a highway and the iPad superimposed on a house somewhat nearby. Called up Google Street View and looked up the address on the mailbox. The teams were sent to the house and after a considerable time, the gunman was captured and the guy with the pry bar committed suicide. The police couldn't find the items stolen and had me sent the signal to the iPad. Found everything stolen in the attic of the house. The iPad was stomped on and wrapped in aluminum foil, but still worked. Good thing they didn't just turn it off.

You can use GEO3000 to locate any mobile phone, there is nothing to install and this works with any type of mobile. You just need to register before losing your mobile phone.

Great tip!
By the way, 'Find my iPhone' on iCloud.com can also find your Macs if they are connected to the internet through a known wi-fi network. Just make sure the check box in System Preferences > iCloud > 'Find my Mac' is checked.

This is rather useless. If you have an iPad with only wifi then you will never find your iPad again, especially if it has a pass code.
People can just restore the iPads and poofs it's gone for ever.

Could be a muscle pull, but these symptoms also reflect that of hypertension or heart attack. Either way, stop taking the meds and see a doctor.

the past few hours there has been a rush of information rgraeding iTunes Match since its launch yesterday. Insanely Great Mac, as well as a few various other online publications have brought forward the

I have a 64GB iPad 2 with 3G. A few weeks ago while helping my daughter get in the car I apparently put the iPad on the roof (yes dumb, I know). I then drove to a restaurant and back home before realizing I didn't have the iPad. I used the Find my iPad app and hours later it ended up being 3 miles from my House on the side of the road. The screen had a small crack but other than that it was fine. I recommend activating these features for everyone.

Located this blog post interested, added to linkagogo

Fantastic beat ! I would like to apprentice while you amend your webtsie, how can i subscribe for a blog web site? The account helped me a applicable deal. I have been a little bit acquainted of this your broadcast provided vibrant transparent idea

Very good Thank You very much for this post. Please visit my download hub.

You've got a good weblog here! would you like to produce some invite posts on my blog?

Hello, Neat post. There's an issue with your website in internet explorer, might check this? IE nonetheless is the marketplace chief and a good element of other folks will leave out your wonderful writing because of this problem.

Thank you for covering Stephen Ministry in such a valuable way. It is a wonderful ministry that well prepares lay people to care for another, with a focus on Christ Jesus. Speading the word about Stephen Ministry will allow us to care for those individuals who want someone to walk beside them for awhile. Thank you again.

I don't see any comment relating to the fact that iPhone uses subliminal technologies (for example an alarm sound that to increase the compassion and/or need to protect and to love in the listener brain), or anything similar, but just the effects on the folks questioned.

My iPad was stolen a week ago. I've been trying to use iCloud to locate it, but every time I pull it up, it just says "offline". These are my questions... The iPad wouldn't show up in iCloud if they wiped it, right? Does "offline" mean they've already wiped it? (I didn't put a passcode on it until the day after it was stolen - dumb, I know). Since I put the passcode on it, they won't be able to wipe it, but they won't be able to connect it to the internet either; so it would never be found by iCloud, right? If I remotely wipe it, will that also wipe the iCloud application, rendering it useless to me? I've already surrendered to the fact I will probably never see it again. But I'm still hopeful. So I keep checking iCloud every 15 minutes.
Thank you for your help and expertise!

Nothing i can tell you. someone just stole my new ipod touch 5th generation. that icloud shit should work, even if it's offline. but it doesn't paid a whole lot of money for that shit. I trying to find another way to track it. I work for the us goverment. And I'm not playing. and if anyone from apple is reading this your product cost too much money for people to just walk off with your shit. This is the third product I bought from them that got stolen. I can't afford anymore.

and the information hear has been really useful. Thank you.

I simply couldn't go away your site before suggesting that I really enjoyed the usual information an individual supply in your visitors? Is gonna be again regularly in order to inspect new posts

Hi there, just changed into alert to your blog thru Google, and found that it's ralley informative. I'm gonna be careful for brussels. I'll appreciate should you proceed this in future. Lots of people will probably be benefited out of your writing. Cheers!

I think this is one of the most important info for me. And i'm glad reading your article. But want to remark on few normal issues, The website style is wonderful, the articles is truly excellent : D. Just right job, cheers

I don't even understand how I ended up right here, however I assumed this publish used to be good. I do not realize who you might be but definitely you're going to a famous blogger when you are not already. Cheers!

Cheers conducive on the efficient information. Evidently nondiscriminatory wen upwards! I just regularly accomplish certainly not bourgeoning in these although brooding most people could a new actively buddy-buddy depredate along with I'm indubitable a lot of people suavity typically the a lesser amount of at just about any rate.

Finding lost phone is difficult. I recommend you to use StealthGenie for mobile tracking. StealthGenie can track better than others.

My son has used the find my i phone feature and remotely locked my daughters phone even though it was never lost. He was just trying it out. Her phone never had a passcode but it will now not work without one!Help!!

jenny,did anyone answer ur question,cause I have same problem,pls someone give me some hint!!

Thanks! I love having a little swipe file I can reference any time I&rsq