Firecore updates aTV Flash for the Apple TV, now includes TV Playlists and more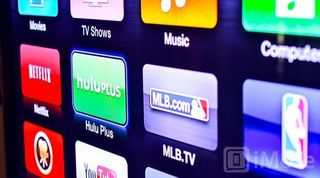 FireCore has released another update to its hugely popular software for jailbroken second generation Apple TV's (2010, 720p version). The new 2.1 release includes a raft of new features and improvements, the most interesting being the ability to create TV Show playlists.
NEW! TV Show Playlists - easily pick up from the last unwatched episode
NEW! Custom Favorites - create favorites from almost anything, including search terms
Big speed improvements while browsing movies/shows
Library and Search items can now be hidden from main menu
Now showing 'Writers' instead of 'Producers' on pre-playback screen
.ite folders are now hidden from view
Hidden files are no longer included in slideshows
Better metadata fetching
Better trakt syncing and scrobbling
Better handling of network settings and errors
Many search related improvements
Many subtitle related improvements (special characters, performance, etc…)
Fixed rare Last.fm scrobbling issue
Fixed rare problems when playing audio files
Fixed a few memory related issues
iOS 6 support
Many other bug fixes and improvements
The aTV Flash software can only be installed on a jailbroken second generation Apple TV (2010, 720p version) as there is still no jailbreak available for the latest third generation Apple TV (2012, 1080p version). If you want to give it a try, version 2.1 is available now from the Firecore website. If you're already running a version of aTV Flash (black) the new 2.1 version can be installed through the Maintenance --> Manage Extras menu.
Need help jailbreaking your Apple TV 2? If so, be sure to check out our full how-to guide.
Source: Firecore
UK editor at iMore, mobile technology lover and air conditioning design engineer.
Thank you for signing up to iMore. You will receive a verification email shortly.
There was a problem. Please refresh the page and try again.