The first VR-friendly iPhone is here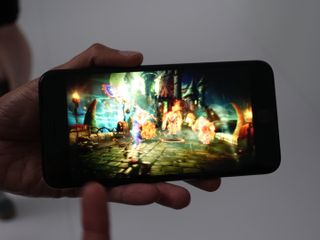 We know that Apple is planning something with Virtual and/or Augmented reality at some point in the future, and while it's fun to speculate on what that might be the simple truth is no one really knows yet. Apple has a long history of observing markets before stepping into them, and the world of VR is still very much that baby step phase. That doesn't mean VR can't happen through the other Apple products, especially the new iPhone. Apple has baked several important features into the iPhone 7, in particular iPhone 7 Plus, that will help provide quite the engaging VR experience.
Russell has had his head in VR headsets since the first Oculus Rift dev kit and is a student of all things virtual. Managing editor at VRHeads, video and podcast host, you can follow him on Twitter @russellholly. For suggestions and updates, you can reach him at russell@androidcentral.com
Better motion tracking with A10 Fusion
While everyone is talking about how fast Apple's new A10 processor is when it comes to delivering a great overall experience and a GPU that offers quite a bit over its predecessor, the big news here for VR is not power-related. Power is great and absolutely means better VR gaming in general, but head tracking is what makes smartphone-based VR great.
Apple's new A10 Fusion chip offers the same motion tracking functionality found in the A9, fine-tuned and ready to be a much smoother in-game experience. Head-tracking is one of the biggest challenges in smartphone-based VR, and an iPhone 7 or iPhone 7 Plus should handle this without issue.
Slightly improved display
For many people, slipping an iPhone into a Google Cardboard headset was the first time the display resolution was a problem. Apple's displays have always managed to be better than or equal to many of the competition, despite those competing displays seeming superior on paper. In a VR headset though, where you're cutting the resolution in half and holding that half up to a magnifying glass, the number of pixels per inch you offer really does matter.
Read more: What is the "screen door effect" and why does it happen?
While the iPhone 7 is going to remain a 1334x750 display with dci-p3 color gamut, and the larger iPhone 7 Plus will remain a 1920x1080 display, VR will still be pretty great. These displays are brighter, sharper, and feature a much more true to life color setup. This means a greater pixel density instead of a greater resolution, which means a much better viewing experience in Google Cardboard. You're still doing to have some of that "screen door" effect, but it's going to be significantly less noticeable.
New Audio features
The use of stereo speakers with increased dynamic range means developers can create directional audio experiences while you are in VR. That means you can hear when something is coming up from behind you without headphones, which is something no other smartphone can do well right now.
If you're still interested in using headphones, Apple's Lightning EarPods and any great set of Bluetooth headphones can offer a great immersive experience in VR as well. You can take that one step further with Apple AirPods or BeatsX, which disappear in your ear and will deliver a superior directional audio experience in VR apps.
Dozens of existing VR apps
The best part of these new experiences is knowing that many VR apps already exist in the App Store. Google Cardboard apps have been available on iOS for quite a while, but the experience has always been comparably lacking. Running these apps on iPhone 7, especially after updates to support the new features made available in the latest release, will be a big deal for those looking to get in on some great VR experiences.
An influx of VR users means more developers will offer support of their apps on iOS, so this experience will continue to rapidly improve over the next year. It may be a little while before we see a dedicated VR experience from Apple, but there's still quite a bit to enjoy right now.
Check out more great VR coverage at VR Heads!
Get the best of iMore in in your inbox, every day!
Russell is a Contributing Editor at iMore. He's a passionate futurist whose trusty iPad mini is never far from reach. You can usually find him chasing the next tech trend, much to the pain of his wallet. Reach out on Twitter!
The iPhone 7 is 1334x750 and the iPhone 7 Plus is 1920x1080.
https://www.apple.com/iphone-7/specs/#mn_p
... Same as the iPhone 6/6s, afaik.
The iPhone 6/6s/7 Pluses rendered at 2048x1536, but down-scaled on the 1920x1080 display.

Yep! I totally messed that up. Good catch!

Well, for OpenGL you can force the 6+ it to render at the native resolution. But there is a missing pixel issue if you turn on zoom mode, which who does that?

Iphone 7 is going 1080p? other sites claiming it is staying the same resolution

The Plus is 1080p, same as before

I have tried VR on my iPhone 6s plus and the 1080p screen it has is not dense enough for VR. I can easily see pixels on any video I watch. So even though apple has updated everything else until they up the screen resolution it's a no go for me as far as VR is concerned.

This post is hugely wrong and should be taken down. I'm really bummed that I believed it for a split second. The iPhone 7 resolutions HAVE NOT CHANGED. Specifically, the 7 plus IS STILL UNDER-RES at 1080p and will continue to cause jitter and garbage animations. Seriously who approved this post?

I don't see how the resolution causes "jitter" and "garbage" animations, the iPhone has always been buttery smooth for me

For VR Posted via the iMore App for Android

That mistake has been corrected. The rest of the article still very much holds true.

Stereo speakers =/= directional sound. That requires more speakers. You cannot direct sound as it moves in waves radiating from their origin. You can't have it wrap around your head. If the phone is in front of your face, sound will come from the front of your face. That high dynamic from what I believe describes the frequency range, not so much the directional range.

There are many examples of virtualized directional audio happening with stereo speakers.

iMore, not sure where you are getting your information about the bumped up screen resolution on the iPhone 7 Plus been 2048x1536. This is from the specs for the 7 Plus on Apple's website: Retina HD display
5.5-inch (diagonal) LED-backlit widescreen
Multi-Touch display with IPS technology
1920x1080-pixel resolution at 401 ppi
1300:1 contrast ratio (typical)

I think they posted it before the announcement, essentially based on rumors

Lmao this article is embarrassing please delete it.

I don't see how? Am I missing something…?

The original article stated that both versions had screen resolutions that were usable with VR. In reality they both return resolutions that were cutting edge three years ago but hopelessly underclassed for VR.

3 years ago? 1080p was cutting edge back in 2012 on phones. Posted from my Nexus 6P

Yes you have. The resolution is not acceptable for VR. Posted via the Android iMore App!

http://www.imore.com/iphone-7-and-iphone-7-plus-specs

Whew, facts were way off here Sent from the iMore App

Apple missed the boat with their displays on the iPhone 7 and 7plus, staying at 1080P is a complete disservice. I thought this would finally be the device they made at least native resolution (2208 × 1242) if not 1440p.

The screen res on the iPhone 7 and 7S suck for VR. QHD minimum. Posted from my Nexus 6P

"Apple's displays have always managed to be better than or equal to many of the competition, despite those competing displays" Hahahhhahahahhah :) :D :) Good one. That's hilarious :)

I understand that several of the original stated facts in this article have been fixed, but my qualm with this write-up is that it claims that the iPhone 7 will be the first to be good for VR and then goes on to state why, but fails to compare it to anything. ...Especially when almost all of the major factors are the same from the iPhone 6S to the iPhone 7. Dual speakers is awesome, and the A10 might be notch better, but those are certainly not enough to claim that the 6S is any less adequate for VR than the 7. Granted, I see pixels everywhere also and it drives me nuts, but VR is still fun.

As always I was around just checking more or less everything I found online about VR... I swear I will be happy working in a company doing something related to that! tech is always something to wonder! Also it's nice to see Rusell's work here! Th iPhone looks like a great device, no matter if you are an Android or Windows fan, they are keeping the most of their public happy with their devices, so, that's really something to consider, also they stated that are not ready yet to release a VR device and they want more an AR device. So what I think is for the time they decide to release the AR device it will be kind of polished one, and in the mid time they will be using the actual devices in the market as test subjects.
Thank you for signing up to iMore. You will receive a verification email shortly.
There was a problem. Please refresh the page and try again.