The first VR-friendly iPhone is here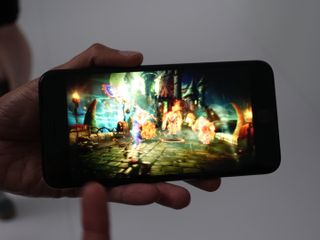 We know that Apple is planning something with Virtual and/or Augmented reality at some point in the future, and while it's fun to speculate on what that might be the simple truth is no one really knows yet. Apple has a long history of observing markets before stepping into them, and the world of VR is still very much that baby step phase. That doesn't mean VR can't happen through the other Apple products, especially the new iPhone. Apple has baked several important features into the iPhone 7, in particular iPhone 7 Plus, that will help provide quite the engaging VR experience.
Russell has had his head in VR headsets since the first Oculus Rift dev kit and is a student of all things virtual. Managing editor at VRHeads, video and podcast host, you can follow him on Twitter @russellholly. For suggestions and updates, you can reach him at russell@androidcentral.com
Better motion tracking with A10 Fusion
While everyone is talking about how fast Apple's new A10 processor is when it comes to delivering a great overall experience and a GPU that offers quite a bit over its predecessor, the big news here for VR is not power-related. Power is great and absolutely means better VR gaming in general, but head tracking is what makes smartphone-based VR great.
Apple's new A10 Fusion chip offers the same motion tracking functionality found in the A9, fine-tuned and ready to be a much smoother in-game experience. Head-tracking is one of the biggest challenges in smartphone-based VR, and an iPhone 7 or iPhone 7 Plus should handle this without issue.
Slightly improved display
For many people, slipping an iPhone into a Google Cardboard headset was the first time the display resolution was a problem. Apple's displays have always managed to be better than or equal to many of the competition, despite those competing displays seeming superior on paper. In a VR headset though, where you're cutting the resolution in half and holding that half up to a magnifying glass, the number of pixels per inch you offer really does matter.
Read more: What is the "screen door effect" and why does it happen?
While the iPhone 7 is going to remain a 1334x750 display with dci-p3 color gamut, and the larger iPhone 7 Plus will remain a 1920x1080 display, VR will still be pretty great. These displays are brighter, sharper, and feature a much more true to life color setup. This means a greater pixel density instead of a greater resolution, which means a much better viewing experience in Google Cardboard. You're still doing to have some of that "screen door" effect, but it's going to be significantly less noticeable.
New Audio features
The use of stereo speakers with increased dynamic range means developers can create directional audio experiences while you are in VR. That means you can hear when something is coming up from behind you without headphones, which is something no other smartphone can do well right now.
If you're still interested in using headphones, Apple's Lightning EarPods and any great set of Bluetooth headphones can offer a great immersive experience in VR as well. You can take that one step further with Apple AirPods or BeatsX, which disappear in your ear and will deliver a superior directional audio experience in VR apps.
Dozens of existing VR apps
The best part of these new experiences is knowing that many VR apps already exist in the App Store. Google Cardboard apps have been available on iOS for quite a while, but the experience has always been comparably lacking. Running these apps on iPhone 7, especially after updates to support the new features made available in the latest release, will be a big deal for those looking to get in on some great VR experiences.
An influx of VR users means more developers will offer support of their apps on iOS, so this experience will continue to rapidly improve over the next year. It may be a little while before we see a dedicated VR experience from Apple, but there's still quite a bit to enjoy right now.
Check out more great VR coverage at VR Heads!
Master your iPhone in minutes
iMore offers spot-on advice and guidance from our team of experts, with decades of Apple device experience to lean on. Learn more with iMore!
Russell is a Contributing Editor at iMore. He's a passionate futurist whose trusty iPad mini is never far from reach. You can usually find him chasing the next tech trend, much to the pain of his wallet. Reach out on Twitter!