Five things Apple can learn from the #madebygoogle event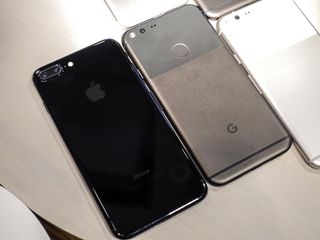 Google just held its #madebygoogle event, where it announced a slew of new hardware (and a few software improvements, as well). I watched the keynote largely to learn about the company's new smartphone and Home initiatives — it pays to be up-to-date on the competition — but in watching Google unveil its slate of products, I found my mind wandering to Apple.
Competition is good for Apple, as it is for all companies: It forces them to evolve and grow. (Heck, if we're to believe SpaceX CEO Elon Musk, competition is what's eventually going to help put a million humans on Mars.) And it's great for the end-user, who benefits from better devices and better software.
So, in the spirit of competition, here are five areas where Apple could take a page from Google's new hardware and software going forward.
Unlimited free photo and video storage
Last year, Google made waves when it announced free Google Photos storage for "high"-resolution versions of your photos and videos. With its Pixel smartphone, however, Google is taking that a step further: Users will be able to store full-resolution copies of photos and videos for free. I've written in the past about the potential information cost of free services, especially where your personal memories are concerned, but that aside: It's a huge offer from Google to its users, and one that Apple would do well to monitor.
Storage costs money — photo and video storage especially so. But in tying images and video to iCloud, Apple has put backing up your images or using iCloud Photo Library behind a cost barrier. Tech enthusiasts may gripe a bit about paying $1 or $10 to store our images, but we'll still do it; regular people, like my cousin, don't even know why they can't back up or store their photos to the cloud — they only know that they're constantly out of storage.
Apple has both the money and the infrastructure to roll out expanded photos storage, and Google has just put a lot more pressure on the company to do so. I'm not expecting Apple to roll out unlimited free storage, but at the very least, upping the iCloud storage limit from 5GB free to 50GB or 100GB could make a huge difference in how people both take photos and video and back up their phones.
Bring on the 4K/HDR for Apple TV
Though they started as fairly useless high-end features from TV manufacturers, 4K and HDR are quickly becoming mainstream as more content creators and video services offer ready-made content. Netflix and YouTube already offer 4K streams, among other streaming companies, and HDR — which, like the new P3 color space on the iPhone 7 and 4K iMac, provides richer quality and color to video — isn't far behind.
That said, these upgrades are expensive, especially in a small set top box like the Apple TV. Google's new Chromecast Ultra doubled in price to bring 4K support for streaming, and I have no doubt that a similar upgrade would cut into the Apple TV's margins.
Regardless, it's an upgrade that Apple needs to consider for the Apple TV to stay relevant in the streaming world. The iPhone has been able to shoot 4K for two generations and the latest version can shoot in wide color as well; it's a shame that we'll be able to send that 4K video to a Chromecast-connected TV, but not one connected to Apple TV.
An ever-present Assistant in the home
Of course, when Apple updates the Apple TV, it may not be solely to add 4K support: With reports of an Apple smart home on the way in 2017, it's entirely possible the Apple TV will hook into that system to help provide you with a wireless voice-activated assistant. But it's going to have some work to do to catch up with Google's Assistant. Much as I like using Siri, Apple's assistant can prove frustrating when it mishears your queries, and it's lacking in key areas when it comes to smart home control and information.
The Apple TV's Siri can't set timers, search the web, or provide you with information like "what do I substitute for cardamom" like Google's new $129 Home box. It also doesn't have multiple beam forming mics, so you're left to talk through the Siri remote.
Moreover, while you can trigger some commands from "Hey Siri" on the iPhone and Apple Watch, it doesn't have the microphone quality to hold up at a distance, nor does Siri have quite Google's contextual confidence when it comes to answering questions. (Try asking Siri when the vice presidential debate is. Sigh.)
There are privacy issues to tackle here, to be sure, but even so: The Siri team should be taking a good look at Google Home and what it's doing well (and not so well) to help get its voice assistant ready for home interaction.
Quick charge batteries
Apple may have optimized its hardware to get an extra hour or two of battery life for the iPhone 7 series, but in the age of quick-charge devices with giant power bricks, its multi-hour charge time and relatively small 1960mAh battery are hurting — and Google's Pixel laid down an even bigger challenge at the company's feet.
The Pixel charges via USB-C, and uses USB-PD (Power Direct) to pull a whopping 7 hours of battery life in fifteen minutes from its 18W charger when starting with a near-dead smartphone. (USB-PD, like most quick-charging solutions, scales down the power draw depending on how badly your smartphone is hurting for battery life.) Combine that with the Pixel's 2770mAh battery, and Google's smartphone is not only going to last longer, but come back from the dead much more quickly than either of Apple's smartphone options.
The thing is, Apple has quick-charge technology in the 12.9-inch iPad Pro and its various mobile accessories; the company is also no stranger to USB-C, having used it in the MacBook. It may not have been feasible to stick that kind of quick-charging into the iPhone 7 given time and resource constraints, but that only makes me more greedy for it in next year's iPhone. The age of slow-charge batteries is coming to a close, and I can only hope that Google is heralding the call.
The future is mesh (Wi-Fi)
Google's new Wi-Fi stations use mesh networking to offer greater Wi-Fi coverage throughout the home. Like Eero and Ubiquiti before it, Google Wi-Fi offers multiple router points so that you never have a terrible signal. In theory, it's similar to Apple's aging AirPort Extreme and Express lineup; rather than use bridging technology, however, mesh networks create smarter connections to take care of network logistics.
Google's also offering a pack of 3 routers for $299 — Eero, in contrast, charges $499, and an AirPort combo (an Extreme and two Express units) would cost you $397.
It's past time for the AirPort series to get an upgrade, and a mesh networking revamp could be just the thing to bring AirPort into the present.
Where Apple shines
I have no doubt there are folks inside Apple's Cupertino headquarters working on these kinds of features as I type, though whether they actually make it out of the cone of secrecy is a different issue entirely. But it's not all critiques and feature wish-lists, here: Google could also learn a few things from Apple after its keynote.
For one, event production: All of Google's presenters appeared to be in various states of discomfort during the event, delivering flat jokes and pausing awkwardly in the middle of sentences. Demos misfired. The live stream ended mid-sentence. Admittedly, I have more awareness of this than most given my theater background, but good stagecraft is not a hard problem to fix. Tech executives are expected more than ever to be "on stage" virtually and physically: By taking a few days to prep for a big hardware announcement, presenters can make or break how features are perceived. Google's VR demonstration had the features to be an exciting entry into the space; instead, the presenters sounded nervous and unenthusiastic, which reflected onto the product.
Also, In an event full of connected technology, Google also failed once again to mention the privacy ramifications of its features outside of a quick nod to Google Home's Mute button. You can intrigue me with mesh networking and connected home technology, but Apple's emphasis on privacy in recent years means that I've grown to expect that kind of disclosure from other tech companies. Without it, it's a lot harder to sell me on your products.
Master your iPhone in minutes
iMore offers spot-on advice and guidance from our team of experts, with decades of Apple device experience to lean on. Learn more with iMore!
Serenity was formerly the Managing Editor at iMore, and now works for Apple. She's been talking, writing about, and tinkering with Apple products since she was old enough to double-click. In her spare time, she sketches, sings, and in her secret superhero life, plays roller derby. Follow her on Twitter @settern.